5 Apps-Ways to Install/Use WhatsApp On Firefox OS Phones | 5 Clients of WhatsApp for Firefox OS Phones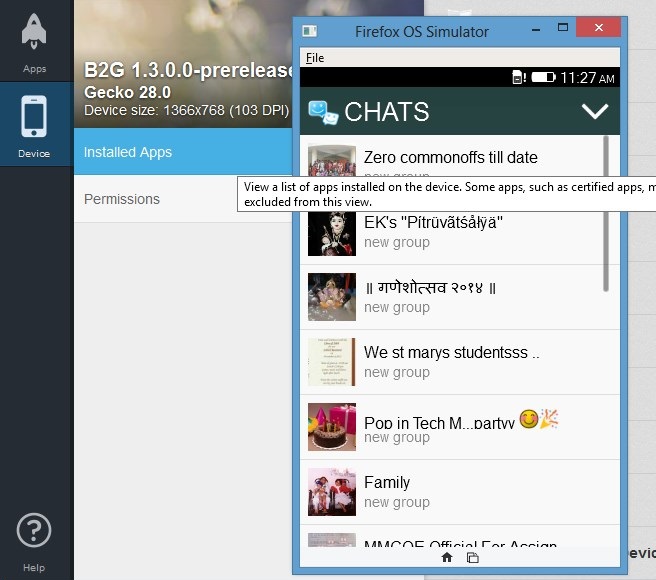 The latest OS in the Smartphone Market – Firefox OS, doesn't have the Most downloaded and popular app for Smartphones – WhatsApp!! , hence a lot of users are hesitating to buy Firefox OS Phones, No matter how good they are and the great Value for Money they provide . However, there's a twist in the tale – Though there is no Official WhatsApp app as of yet for Firefox OS, but it has  not 1 or 2.. but 5 IM Apps which can be used to chat over WhatsApp Protocol . Thus, if you use it cleverly enough 🙂 you can easily use 5 WhatsApp Numbers on a Single Phone which even Android cannot do! 😀 😛  So let's have a look on all the 5 WhatsApp Alternative Client apps for Firefox OS. You can also test the following apps on Firefox OS Simulator on  PC before trying them on your mobile.
Update – Some of these apps fail to generate verification code so, please keep this app handy if you need to Generate the WhatsApp Password for using it on PC – Click here to Download WART (Whatsapp Password Generator/Verification Code Requester)
App No 1. Connect A2
Connect A2 app was the solution given by Intex when users enquired if their firefox OS based phone – Intex Cloud FX supported WhatsApp., and the answer is a valid one!
Though, Some users complained that Connect A2 didn't work for them , I checked it myself in Firefox Simulator and it worked simply fine for me 🙂  (you can Check the alongside screenshot 🙂 )
Connect A2 supports WhatsApp protocol and features such as Personal Contact Messaging , Group messaging ,  Attachments sending and viewing , notifications basically all that is available in WhatsApp! as well as you can register your number too,if not registered with WhatsApp for using the App.
Overall its a worthy app, capable of replacing WhatsApp on Firefox Phones. for some reasons, if you cannot connect with connect A2 don't get disheartened we have 4 Apps more for the same purpose 🙂 mentioned later in this post :).
Note : While Registering do tick-the Whatsapp Net Experimental option as shown in image, else the WhatsApp Chat Protocol won't work 🙁
Click here to download Connect A2 App from Firefox Market Place
App No 2. OpenWapp
OpenWapp is a Whatsapp-only client for Firefox OS, as it was built for WhatsApp only, its user interface is as clean and tidy as compared to Connect A2.I simply love this app for its Simplicity and clean UI, infact, i liked it more than the Official UI of WhatsApp Android App .
OpenWapp also provides all the Features of WhatsApp such as Personal and Group Messaging , Managing Groups , Sending and viewing Attachments, and notifications. Infacr this is my favorite WhatsApp Client for Firefox OS phones! highly recommended! It also supports New Account Registration, which is somewhat buggy in Connect A2.
Click here to Download OpenWapp from Firefox OS Market Place
App No 3. Loqui IM
 Loqui IM is a multi-platform chat client for Firefox OS phones, and it supports WhatsApp protocol too.., hence you can use Loqui IM to chat with
WhatsApp
Google Hangouts
Facebook Chat
Nimbuzz
Nokia ovi
Microsoft Lync
Any other XMPP/Jabber provider in the world
Some users found the UI of Loqui more good than OpenWapp,but not me 🙁 – it comes to personal choice 🙂 but Loqui, still is a great app to manage all the chats from a single app 🙂 . It supports all Whatsapp Functions and Notifications , however i was not able to check attachments 🙁 uploading of the app , still worth giving a try 🙂
Click here to download Loqui IM from Firefox Market Place
App No 4. Yosapp
Even though at the time of writing this Article Yosapp is in beta, it features in because of the promise it provides .. Its a pure – Web App unlike the previous ones , and i was able to launch and run the Yosapp app directly through the Firefox Browser for PC without even installing the Firefox Simulator. hence, this app can prove to be a great solution for PC users with low configs,as it will present them with a very – light weight Whatsapp Client.
The first Beta of Yosapp contains a lot of bugs (No group support in Beta 🙁  ), and functions available are limited such as –
1. Basic Messaging with Phone Numbers
2. Image Receival
3. Video Receival
4. Adding of new Friends
5. Deleting Friends
6. Editing Friends
7. Connecting with Whatsapp Servers.
Click here to Download Yosapp from Firefox Market Place
App No 5. Wassap
Wassap is yet another WhatsApp client for Firefox OS devices, it works pretty smoothly and is stable and supports many of the Original WhatsApp features such as chat function, sending emoji, pictures, receiving audio and voice notes, videos, pictures etc and creating groups as also getting notifications etc.
However , it does lack some features of the original app such as the ability to change subject of a group, seeing others' status, getting real-time push notifications and adding/ removing people from an existing group. Let's wish that the Subsequent Updates will add the missing features too ..
Update : The Wassap app is not visible currently in the Market Place 🙁 , hence, shifting this to the last rank will rank this App as soon as it becomes available once again .
Click here to download Wassap from Firefox Market Place
So , these were some of the WhatsApp Clients which you can use for using WhatsApp on your Firefox OS phones, and they won't let you miss your favorite app 🙂 . If you know of any other good alternative apps for Whatsapp on Firefox OS or if you have any doubts/queries/suggestions feel free to comment 🙂 .