5 Best Free Calling Apps to phone call Mobiles/landlines in India without Internet! | Make free calls using these Free Call apps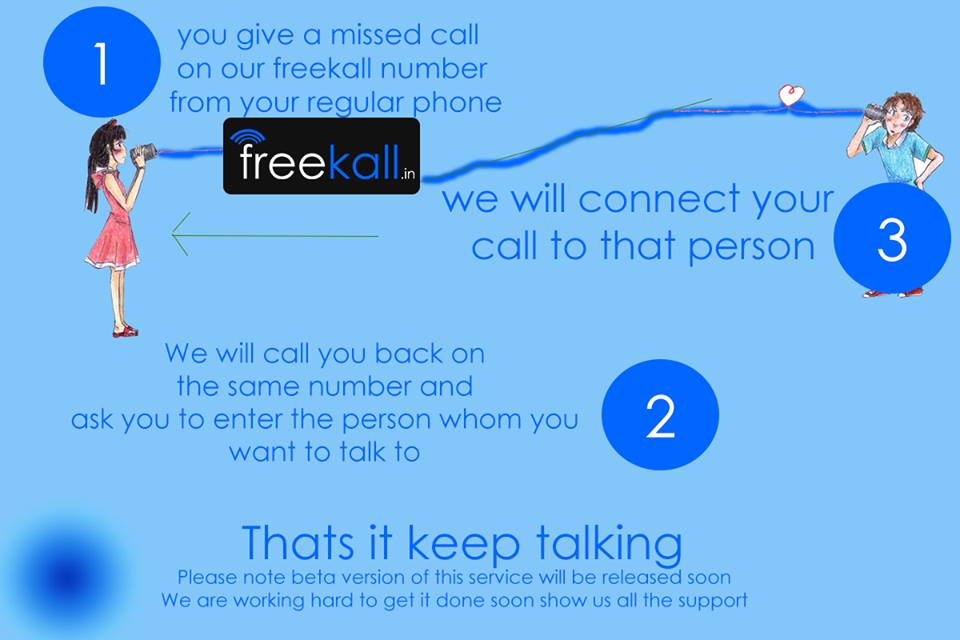 In my last post , I had covered the 10 best apps to get Free Recharge , considering it you will be enjoying the high balance currently, we would like to make your Phone even more "Smart" by enabling free calls to any Indian Mobile /Land-lines that too without internet! Though there exist boasts of apps such as Viber,WeChat,Facebook messenger which enable free calls but they are on-net,which require the receiver too to have an active internet connection for the Call to take place. What if , the call takes place offline 🙂 without the need of Internet Connection ?  Sounds, Amazing isn't it? Keep on reading to know the best 5 Free Calling Apps to make calls without Internet connection required.
WhatsCall! is an awesome app that let's you make Free Calls to any Mobile/Landline in this world! . The best thing about WhatsCall is the called person isn't required to have the WhatsCall app/Internet Connection! . It's more than sufficient if only you have WhatsCall app Installed on your device the call will still suffice.
WhatsCall offers daily 100 credits for simply logging onto the app! (Credits are used to make free calls via app)
It also offers 1000 Credits per referred friend/invite.
You can also earn credits by watching videos, downloading apps, playing games & completing tasks.
Which means, you can earn about 4500 plus credits each month for free! without having to pay for a single credit :).
The WhatsCall credits can later be used to make FREE Calls through the WhatsCall app.
for example, the charge for calls made to India cost 80-140 credits per minute which tallies to around 70 Minutes of Free Call!
while the charge for USA Calls is 30 Credits per minute which account to Over 250 Minutes of Free Calls per Month!
Not to forget WhatsCall even provides Unlimited Free WhatsCall to WhatsCall Calls , which don't require any credits 🙂
Libon is yet-another VoIP (Voice over Internet Protocol) Calling app, which provides free calls to its users! Features of the Libon App are –
Free Unlimited Libon – to -Libon Calls.
Free 30 Minutes Per month to Non-Libon users (Users on Mobiles/Landlines with no internet Connection/Libon)
You can also get Free 60 Minutes per month by referring friends.
We get 5 Minutes per every friend referred!
Nanu is the latest entry in this segment of free calling and it provides Free Unlimited Nanu to Nanu (On-Net calls) and 15 Mins/week Nanu to non-nanu (Offline calls) which can be used to make calls to the mobiles or landlines and they need not to be connected to the Internet! which is the best thing 🙂
Besides India, Nanu also provides services to Argentina, Australia, Austria, Brazil, Canada, China, Columbia, Cyprus, Denmark, France, Germany, Greece, Hong Kong, Hungary, India, Ireland, Israel, Italy, Kazakhstan, Korea South, Malaysia, Malta, Mexico, Netherlands, New Zealand, Norway, Peru, Poland, Portugal, Puerto Rico, Romania, Russia, Singapore, Slovakia, Spain, Sweden, Switzerland, Thailand, United Kingdom, United States, Venezuela 🙂 thus you can use your non-Nanu minutes to save on the ISD Costs  🙂 isn't it amazing 🙂 ?
Click here to download Nanu from the PlayStore.
App No 4. Dingaling
Dingaling is another free-calling app /VoIP provider, Dingaling is the only app that lets you make FREE local, long-distance, and international dialed calls over Wifi, 2G*, 3G*, and 4G* networks— even to people who don't have the app!.
Dingaling provides –
FreeUnlimited Dingaling calls to mobile/landlines.
Our current free call locations include: Australia, Canada, China, Denmark, India, France, Germany, Hong Kong, Hungary, Ireland, Mexico, New Zealand, Puerto Rico, Singapore, Thailand, Sweden, South Korea, the UK, the USA. More free calling area codes and countries coming soon!.
Dingaling provides 1hours and 30minutes calling to countries with a daily limit of

10 minutes per day.
Click here to download Dingaling
App No 5. – GET Rewards! – Powered by m-AdCall
This is possibly the most popular app because of the sheer number of users who have tested,verified and use this app on their Tata Docomo Connections, and now its available for All Indian Telecom Operators!  but with a twist, Tata Docomo and Reliance GSM Customers get the Free call (duration : 2-min to 4-min) directly through the App! while other Operators users get 10.Rs Free Recharge on viewing 40 Ads. It may sound uncatchy for other Operator users, but to be on the secure side this app will always pay and your efforts won't go wasted 🙂 . Some unique features of the app are –
No internet connection required on the Receiver side 🙂
Only need is to watch a simple 15~20 Second Ad to place a call or get Credits !
Works on Wi-Fi connection too ! thus adding and saving your Balance in ++.
So these were the best Free Calling apps to make Free Calls to Indian Mobiles/Landlines, will update it as i discover new apps 🙂 . If you know of any such good app or have any doubts/queries feel free to comment ! 🙂