3 Ways to find & Detect Font of Website or in a Webpage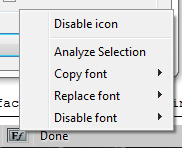 Recently I was browsing through the Line friendconverter site and i really liked the font name, and wanted to add it to my PC . but i had to search around a bit hence thought of writing an article on finding the font of website so as TechApple blog users need not to roam around for doing the same. so here are the Best 3 Methods to find font of website which i found better 🙂 .
Method I : WhatFont Chrome Extension
This is my most preferred method and me being lazy loved it . All you need to do for finding the font of website is –
First of all, install the WhatFont Chrome extension and hover the mouse pointer over the text part of the website whose Font you want to find .
Whatfont will display a box showing the Fontface name, Family,  Size as shown in the alongside Image.
Incase if it doesn't show up Simply click on the "f?" button on the addon – bar and perform the Hover method . Easiest way !
Click here to download the WhatFont Chrome Extension
Method II : Using Font Finder Add-On for Firefox

Not all users will be using Google Chrome, Firefox users too have an addon for Firefox – Font finder which can be used to detect Fonts on the Website which is currently visited. For detecting font using Font Finder
Select the text of which Font is to be found and right click on it.
An image similar to one shown alongside appears , select the option "Analyze Selection" and you will be shown a dialog box showing the Font Name, Size, details etc that too in flash seconds.
Click here to download the Font Finder Add-On for Firefox
Method III : Using the Bookmarklet – Fount by Artequalswork
The above discussed methods work for either Chrome or Firefox, it may happen that you are a Safari or IE or any other Browser user and you want to detect the font of the website, so there's a solution available for other browser users too – A bookmark is provided by Artequalswork – Fount which will help in finding the font.
All you have to do is add their bookmarklet to the bookmark bar, navigate to the website of which font is to be detected or determined , and click on the Fount bookmark , and magic! it will show the Font face name,family as well as the size! and it works on all Browsers – Safari, Google Chrome, Mozilla Firefox, IE 8+ .
Click here to visit the add Bookmarklet page of Fount
Note : In-case if you want to detect / Identify font present in an image, you can read the post – Methods to detect font from Image 
These were the easy methods to detect the Fonts used on a website , while most of the time these tools will work , if however if they don't work we can use the methods used by developers for Font detection purpose – Firebug and Webkit. I will be writing an article with detailed instructions on using the same , but mostly the above tools will save the day ! 🙂 . If you have any doubts/queries do comment also if you know of any other such tool or method feel free to comment, we will really appreciate it 🙂