5 Best Autofill apps for Android to login/fill forms automatically! Works on Default browser/Chrome too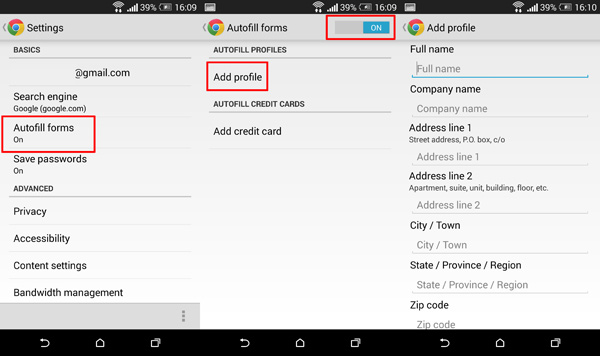 Typing on an phone is a tiresome process  , moreover when it comes to form-filling and other personal data it becomes even a boring one! , many times we come across sites which always ask us to fill up forms which ask us for oour name,e-mail,address,Date of birth etc.. What if all this data is entered automatically! ? and yes, its possible too ! with these awesome autofill apps for android. You just simply enter the data into the app,and next time the app will automatically fill up forms for you , Thus saving the efforts required to type , as well as time too!  , Let's have a look on each one of them,one by one
App # 1 – Google Chrome Browser / Default Browser
Nothing beats the convenience and usage of android's Default browser – Google Chrome, and yeah we can even use Chrome for autofilling forms and passwords while browsing, saving the effort .To set Up Google Chrome for Android to autofill perform the following steps –
1. Go to Browser's settings
2. In  the General section, activate Form Autofill
3. Go to Autofill data section
4. Here fill in each of the following fields which is your default data and which you want to be entered automatically in forms : Name, Company name, Address, City and state, City Code, Country, Phone Number, Email, etc.
5. After done, tap Save Profile .
That's it! Now, whenever you come across any sort of form the browser will automatically fill-in the information for you :)!
App # 2 – RoboForm Password Manager
RoboForm is an online auto-form filler and password manager app for android, which allows you to store log-in information and passwords and fill them up automatically when required. It does so with the help of its own browser with quick speed and simple techniques such as one-touch login! however, it currently lacks support for the android default browser 🙁  but it does gets integrated with Firefox 1.62 and later if already installed .Also, the Roboform Plug-in for Dolphin browser is available here! So , the only drawback of  RoboForm- its browser compatibility is never an issue with RoboForm !  You can also add your form details from PC too using RoboForm everywhere account , which you can later use on your devices with the RoboForm app to fill-up logins and forms online automatically! A must have an app if your major work is focused around sign-ups/form-filling!
Click here to download RoboForm Password from Google Play
App # 3 – Dashlane Password manager
Dashlane is yet another great password manager -autofill app for android phones, though the name suggests it as a password manager but it has an inbuilt-form filler too!! . Dashlane sleek and convenient to use ,and the app makes it easy to keep track of passwords and personal info that you use and by Eliminate typing on tiny keyboards with auto-login and form autofill present in built in the app. The Dashlane provides auto-login /auto-form filling features through its inbuilt light-browser and also it provides a dashlane keyboard which can be used to fill up forms quickly across other browsers/apps. It also provides strong AES encryption so that only you can access the stored passwords/and forms!
The free version of the app itself is very cool and a single dashlane account can be used on cross-platforms such as iOS,Windows,Mac etc to fill up forms and passwords online!
Click here to Download Dashlane app from Google Play!
App # 4 – LoginBox Login Manager
LoginBox is another autofill cum password manager app for android devices . LoginBox comsists of a password manager and a secured browser with a unique autofill form capabilities .It provides unique features such as one-tap log-in to sites so that you never need to remember log-in URLs. also its very convenient to add new sites to the app, The only Downside is that some services of the app are limited in their functionality in the free version and require a subscription.
Click here to download LoginBox Login manager
App # 5 – LastPass
LastPass – the name already must be familier to the PC users, and this one is the mobile version of the same , it provides a hell lot of great features including biometric authentication ! The Built-in browser that will automatically fill your login information for each of your saved LastPass sites. Lastpass also can Automatically fill forms on all sites saved in it. The only downside is that these services are premium and need to be subscribed, but they offer a free 14-day trial too! besides the main app they even provide Dolphin browser Last-Pass Addon .
Click here to download LastPass
So,these are the best 5 autofill apps which ypu can use to fill up forms automatically and reduce the effort and time required to type on the small tiny keyboards 🙁 , I hope you will find them useful , if you know of any such app or have any doubts/queries do comment and let me know 🙂