Best apps to Record Screen in Chrome OS | Easily Record Screen Videos/Screencasts in Google Chrome/Chromebooks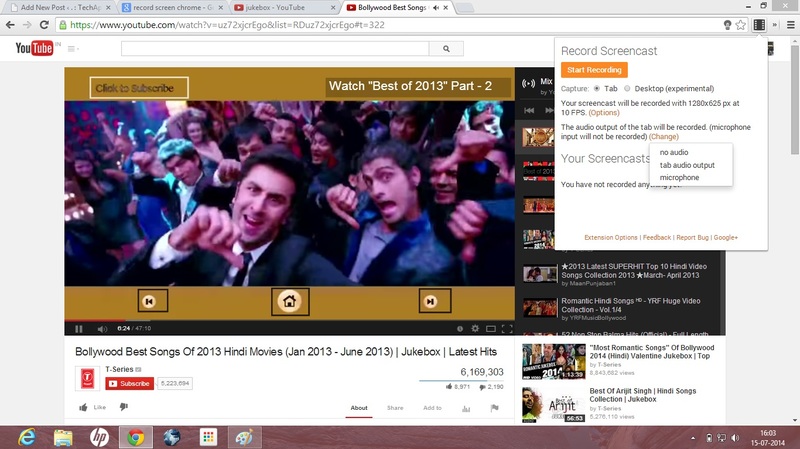 Recently,the number of Chrome OS users/ Chromebook users is on the upward trend, and there may be many scenarios where one needs to record screen or screencasts of Chrome OS . As Google Chrome OS is based on the Linux but it doesn't readily support external apps installation other than those from its Appstore here we  bring you the Best apps to Record Screen Chrome Browser/Chrome OS and works on Chromebooks too .
App # 1 . Screencastify (Screen Video Recorder)
Screencastify is a simple video recorder app for Chrome with minimum and easy to use User-Interface . All you need to do is install the App ,and rest can be easily be guessed from the User Interface itself .
Method to use Screencastify to record videos/Screencasts
First of all install the Screencastify app by downloading it from the Google Chrome store from here .
Now you will see a filmstrip icon on your browser bar, simply click on it and you will see a box as shown in the figure below –
Here you can configure various options such as screensize to be recorded / source of Audio Output which is to be recorded ( You can either use your Microphone or the Speaker Output too! )
After you are done after configuring these simple options, Simply hit the "Start Recording" button.
When you are done with the recording press the "Stop Recording" button.
Now, we can either save this Screencast / Video to Local Disk (Hard disk) for Later viewing or either we can Upload it to youtube/Google drive 🙂 as shown in the figure below. (We have selected "Save to Disk" support , the option on the right is for Uploading online .)
That's it . We have successfully recorded Screencast/Video on our Chrome OS/Browser.
App # 2 . TechSmith SnagIT
This is yet another , awesome app for recording Screencasts for Linux and it comes in with an in-built Media Library +Media Player too ! which can be used for playing or viewing the Screencasts!
Method to use SnagIt to record Screencasts/ Videos
First of all download and install the SnagIt app from the Chrome store by clicking here .
Now start the App from either the Apps tab or the App Launcher. A window similar to the below image appears on your screen –
Select the "New Screen Recording" option, Now a window asking to select the Screen to record appears, you can either select the Desktop or select the tab which is to be recorded. as shown below .
Now select the screen and click on share , The Screen will start getting recorded . You can Stop recording/sharing by clicking the Stop Sharing button.
Once you , Click on Stop Sharing, your video will be synced, after sync you can either view it in the Media Library of the App or Upload it to Youtube! / Google Drive.
Besides, Screencasting SnagIt also adds option for adding Notes,Markers to the Video thus reducing the need of a Video Editor , it also supports adding of Visuals.
You can take Screenshots too with this app . proving it to be a Multi-tasker. The Appstore page mentions that it requires the SnagIt extension too to be installed, but it worked fine for me without the extension. If it gives you error while using the Extension can be downloaded from here.
Edit : The Extension allows/adds additional facility to the App such as selecting a particular ScreenArea/portion to be recorded , as well as configuring Audio capture / output options . So it's a plus situation if the extension is installed as shown below – (with an additional browser bar icon) 🙂
Thus, these are the awesome apps/extensions which help to record screen videos/screen casts in Google Chrome OS . If you encounter any problems/ or know of any other App do let us know by comments 🙂 Thank you!