3 Sites to get Google Drive Direct Link/s of Files and Documents |3 Google Drive permalink sites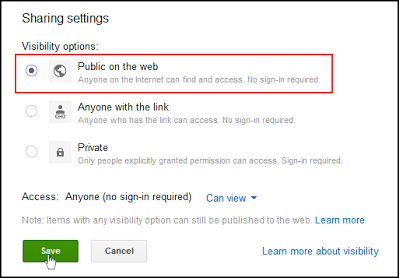 Hello , in my previous posts i had covered 5 File hosting/cloud storage sites which had hot linking support . Also i had covered the methods to get direct links of files stored on Dropbox and copy.com too , Now sharing the same to get Hotlinks from Google drive files or Google Drive Direct Link. Hot Linking or direct linking is very useful while sharing links through Mail / Blogs as its simply enable a single click to start downloading thus saving the users time and efforts to download a file while at the same time saving from those annoying ads.
Prerequisites –  Google Drive sharable URL
The file/document which is to be used for generating direct URL must not be created in Google Drive/docs, if its created in Google Docs then please download and re-upload the same to the Google Drive
The file you are trying to generate direct URL for must be sharable . The method to get the Sharable URL is as below –
Method to get Google Drive Share URL for generating Direct Links
Step 1: Go on to Google Drive and right click the file that you want to share.
Now move your mouse over "Share…" and then click on the "Share.." that appears.
Step 2: On the window that comes up, click the "Change…" link beside the part that
Sites to get Direct link/URL from Google Drive
We have ourselves created a Tool – CloudLinker which will do the same – Click here to Use Online Cloud Linker – Direct Download Link / Permalink Generator.
Site # 1 – Google Drive Direct Link Generator
This is probably the most efficient and easy to use amongst all the Google drive Permalink sites, as guessed from the Screenshot its quite easy to use too , We just have to enter the Sharing URL and click on the "Create Direct Link" button, and that's it ! The direct URL will be generated in the Output Link which we can copy and share as a Direct Download Link .
Click here to visit the Google Drive Direct Link Generator site
Site # 2 – gdURL.com
This is yet another site to generate Google Drive direct links – and is quite easy to use , we just have to enter the Google Drive Sharing URL and click on Generate Permalink button  and the Permalinks will be generated. Also this site contains advanced features such as
Allows Multiple Sharing URL's to be entered thus the generation of Multiple Direct Links :).
Supports direct Google Drive Connect so that the files can be navigated and the Direct links can be generated from the Drive browser itself thus saving the extra efforts of copying the Sharing URL.
Site # 3 – gdriveurl.com
gdriveurl.com is one more site which performs the generation of google drive direct links, it also includes extra features which are useful such as mydrive but for the annoying ads they degrade the overall experience of the site, and hence ranked third in this article .
It also supports multiple Google Drive permalinks generation,a handy site overall 🙂
Click here to go to gdriveurl.com
Note – Sometimes incase of Big files / Google Drive is unable to scan the file for viruses before download and may display a download page,but this is rare and occurs for big files download only. I hope you found this article useful, Thank you for reading and please do like and share this post so that all can enjoy these awesome features 🙂