3 Best Apps to Record Screen in Linux|Capture Screen Videos / Screencast in Linux easily! Ubuntu,Fedora,LinuxMint,ArchLinux etc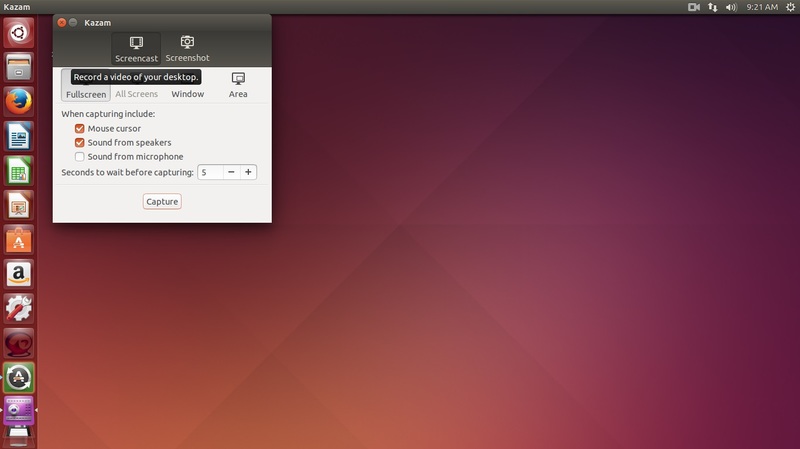 Recently, i had to record some tutorials on my linux machine, but i found out that there are only a few rare options to record screencasts [screen videos ]in Linux / Ubuntu [LinuxMint is based on Ubuntu] , hence i came up with these three Best and Awesome apps to record screen linux . These apps are easy to use and easy to  install as well plus they work on all major linux distros such as Ubuntu/LinuxMint/Fedora/ArchLinux etc. Let's have a look on each one of them one by one.
App 1 . Kazam Screencaster

This app may be called as the best screencast recorder or Screen video Recorder for Linux ! I  found out some really interesting features of the app such as
Kazam is really very easy to install and setup .It is available on almost all linux repositories i tested it from Ubuntu 11.04 to Ubuntu 14.10 . Simply type the "sudo apt-get install kazam" if you are using Ubuntu based distro such as Ubuntu/LinuxMint/etc or "pacman kazam" or any package get command according to your distro , kazam will be surely there!
It also enables to select the area to be recorded be it a particular window/particular screen area or complete screen! Kazam allows it all.
Its really lightweight and works superbly on my Virtual Machine too.
You can check out the Download Instructions[Steps]/Working Demo / Tutorial for Kazam here.
App 2. Simple Screen Recorder

SimpleScreen Recorder is yet another fantastic App for recording screencasts on Ubuntu , it allows easy recording and is based on qt , thus works very smoothly , some of its unique features include
Record OpenGL apps directly, without any extra required codecs/filters.

Automatically reduces frame rate on slow computers.

Pause/Resume the Video recording anytime.

Optional audio recording , if audio is not the Priority.

Specify the Codecs / Encoding to be Used for Recording the video.
Not only this, but the main app lets you keep an eye on the increasing file size, memory size,frame rate,time,thus enhancing the usability !
To install SimpleScreenRecorder on your Linux/Ubuntu enter the following commands in the Terminal
sudo add-apt-repository 

ppa:maarten-baert/simplescreenrecorder

sudo apt-get update && sudo apt-get install simplescreenrecorder


If you are using Fedora or any other distros you can get the Pre-built builds from here .
App 3 . RecordMyDesktop

This app "RecordMyDesktop" is yet another Free Screen Recorder / Screencasting app for Linux , It also supports recording the Screen in various Video Formats and sizes as well as window recording . The App also supports pausing and resuming the recording of Screencast ., but the only drawback was its lag on the Virtual Machine, thus indicating its more hardware dependent , but overall its another small size tool which can be used for Recording Screen.
RecordMyDesktop can be downloaded from the Default app Directory / App Center of Ubuntu/Arch/Fedora. If not available,you can use the command
"sudo apt-get install recordmydesktop" from the terminal to download and install RecordMyDesktop
Besides these three you can also use tools such as "DemoRecorder – Linux"[Adware], "Xvidcap" [Works on 32bit Distros Only],"VLC","ffmpeg"[lag in UI] to capture the ScreenVideos or Screencasts but because of the Bracketed Cons i don't recommend them,If you encounter any problem while downloading/installing/using any of the apps mentioned, feel free to comment 🙂 and also if you know of another screencaster app for Linux, Do let us know !