5 Best Android Emulators for Mac OS X to Run Android Apps [2019] | Run and install Android apps on your Mac OS X , Macbook Air/Pro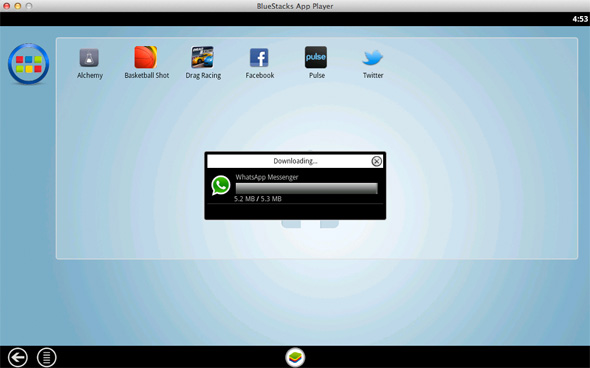 What are Android Emulators for Mac ? Why do you need them ?
Android Emulators are software which let you install Android apps and games on your Mac . Thus, enabling you to run apps and play games made for Android on your system. Considering, the vast number of productive apps and great games for Android, it increases the amount of activities you can do on your Mac. As using it, you can even run Android apps in addition to apps made for your Mac OS X system.
5 Best Android Emulators for Mac OS X –
Bluestacks AppPlayer is probably the Best Android Emulator for Mac OS because it uses the unique "LayerCake" technology which allows android OS apps to be emulated and run without requiring an external Virtual Desktop Application such as Virtual Box or Vmware.
Bluestacks for Mac OS X Features & Drawbacks

| Features | Drawbacks |
| --- | --- |
| Inbuilt Manager to browse and install apps inside the Emulator | Gaming performance needs to be improved. Some games face lag |
| Double click on any apk file in Mac OS X to install in Bluestacks | Snapchat and Pokemon Go do not work |
| Push Notifications support from Bluestacks to Mac, thus enabling use of Chat apps | Free version may show some ads |
| Camera support, thus upload live videos to Android app from Mac Camera | |
2. Nox Emulator for Mac OS X
Nox is a great emulator for Mac and Mac OS X and is the best suited for playing games without fuss.
Nox Emulator for Mac OS X Features & Drawbacks

| Features | Drawbacks |
| --- | --- |
| Drag and Drop to install APK | Difficult to transfer files between Nox and the Mac OS X system |
| Inbuilt Screen Capture and 60Fps Video Recording Support | Camera Module doesn't work , so cannot use Camera based apps (Video Call) |
| Assign Macro and Keyboard mapping to play touch games via Keyboard | The Mac version is less frequently updated compared to Windows version |
| Smooth Video Streaming on Streaming Apps | |

NOTE – You might want to check out this new emulator which runs directly inside Google Chrome Browser – ARChon! Android Emulator., thus it will work on Mac too!
3. Andy OS
Andy OS by Andyroid.net is another great Android Emulator for Mac OS , but it requires Virtual Box to be preinstalled on the MAC. 
You can also use your phone as a controller for controlling / playing the games, the picture alongside explains it 🙂
Andy OS for Mac Pro's & Cons

| Pros | Cons |
| --- | --- |
| Directly launch the apps installed in Emulator from OS X Launchpad | Resource Heavy, long-time usage may heat up your system |
| OpenGL Acceleration for Better Graphics | Camera Module doesn't work , so cannot use Camera based apps (Video Call) |
| Camera & Microphone Supported | |
Update : You might love it to check out the New Firefox OS on PC – Click here to Configure Firefox OS Emulator on your Mac
4. Genymotion
One of the most striking features of Genymotion is unlike other Android Emulators it allows us to change the type of android device as well as android version we are using!!
This is a great feature and allows us to select a particular device as well as particular Android version which we want to emulate.
It also supports configuring the amount of resources e.g RAM ,harddisk to be allocated to the Android device is possible! Great feature if your are limited on hardware resources.
Directly supports networking through ethernet /Wi-Fi , emulates your connected connection directly so you can use internet directly in your emulated android.
ADB Support and it also supports OpenGL hardware acceleration so you can use your Android device fullscreen and play Games on your MAC!
Also supports drag and drop file transfer to the emulated SD Card 🙂 , supports Gyroscope,Light and accelerometer sensors too.
You need an account on Genymotion Cloud – to Download and deploy Genymotion android device .
5. Xamarin Android Player for MAC
Xamarin is yet another android emulator with variety of devices supported, it supports OpenGL, and virtualizes a device instead of emulating it. 
This Virtualization increases speed of the emulator to a great extent!
The Configuration/installation instructions for Xamarin on Mac OS can be found here .
So these were the Best 5 Android Emulators for Mac OS , besides these there are other options available too such as the Android SDK (Official) Emulator ,AndroVM , AndroLite but configuring official Android SDK is a tedious task and other two didn't interest me much , you can check them out too..
Hope you liked this post, if you have any doubts/queries/suggestions feel free to comment!