Top 5 Torrent VPN Apps for Android with Security & Speed [2020] | Anonymous Torrent Downloading & Unblocking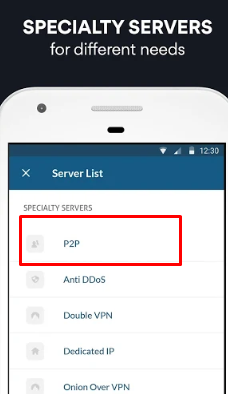 With increasing Internet regulations, and DMCA complaints. It has become very difficult to even browse torrent sites, let alone download torrent files. Now, not all torrents are illegal and a user may be using it to download legal files as well. So, now the most easy way to access torrent sites is via proxies or proxy sites. But proxies also are being blocked or the networks are putting a cap on p2p connections which won't let the torrents download on torrent clients like utorrent. Hence, the only options remain are VPNs. VPNs connect to remote servers securely and encrypt your connection. Thus, enabling you to download torrents the easy way. Thus, we cover here the Best VPNs to download torrents with high speed for your android phones –
Top 5 Android VPNs for Torrenting with Speed and Security *Anonymously* 2018 –
Android VPN # 1 – Nord VPN 
Nord VPN is perhaps the best P2P VPN for Android as it is not only speedy but its the mos secure as well. Some features of the Nord VPN for Android include –
Dedicated P2P servers for Torrent Downloading.
Inbuilt Cybersec feature which provides Ads Avoidance, Phishing Protection, and Malware Blocker as well.
Huge list of Servers locations, so you can select the nearest and fastest server near your location.
Besides, that you can even use it to browse Torrent Sites, Stream them and even download them on your Phone.
No logs stored whatsoever.
Totally Anonymous and secure browsing and downloading.
Click here to get Nord Torrent VPN for Android Phones from Google Play Store
Android VPN # 2 – Zoog VPN
Zoog VPN is the VPN which cares even for its free users. It has a torrent P2P vpn server for free users as well. This thing goes in favor of Zoog VPN except its free trial.
Besides, these P2p and torrent support Zoog VPN app has support like –
Large number of servers to get the best as per your network provider (ISP)
Easy connection modes – Auto, TCP, UDP . Incase if one mode is blocked by your Internet provider, you can use the other 2 for unrestricted access to your favorite sites.
Unlimited Bandwidth for Paid users
Secure 256-bit encryption
No logs/ Purely anonymous
Click here to Sign-up on Zoog VPN and start torrenting anonymously with speed
Android VPN # 3 – Ivacy 
iVacy is the best VPN incase you are onto high volume torrent downloading, Torrent Video Streaming, or any other Video On-demand VoD service. With dedicated servers for high speed P2P downloading, Optimized servers which let you stream from Hulu, Netflix , Amazon prime from any location. The iVacy VPN is a treat for entertainment usage.
Combining the no lag video stream, with complete privacy iVacy also has many choices of servers. Thus, reducing the ping and hence is good option for Gaming too. Besides that it has features such as –
Video streaming optimized special servers.
File Downloading / P2P servers
One-tap connect
Unlimited bandwidth and you can use your account on upto 5 devices.
Click here to get iVacy VPN at FLAT 92% discount (No free trial as the product is truly premium)
Android VPN # 4 – Pure VPN
Pure VPN is yet another feature rich VPN which has all the features required for an Android VPN.
It has separate modes for Streaming, Security / Privacy , File Sharing.
Besides that it has some salient optimizations such as –
Inbuilt ad-blocker
Antivirus
Content Blocker
App filtering (Select which app has access to VPN / Internet as well as see what data they are sending) great tool to check whether some service is stealing your data or personal information.
P2P support
Thus, Pure VPN is handy VPN to keep in Android phone especially for Australia, UK and Indian Regions
Click here to get Pure Torrents VPN for Android
Android VPN # 5 – Express VPN
Though in most cases, the previous 4 VPN are great and there's really no need to look further. But incase, if you are looking for a decent P2P or torrent VPN. Express VPN should do good. Especially since it has support for Android TV, Nougat, Lollipop, Oreo, and Fire as well.
The Speeds provided by Express VPN are decent enough, but we still feel the app needs to be done better.
Click here to Download Express VPN for Torrenting from Google Play Store
Thus, these are the best VPNs for torrents and live streaming. Incase if you have any other queires or know any other good VPN feel free to let us know in the comments section below.