Tutorial to get Discount on Uber for Existing & Old Users in India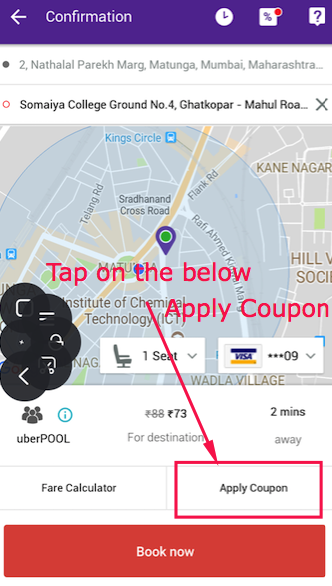 Uber and Ola with their incentive based marketing have changed our habits of travel . Now, we mostly prefer calling Cabs at our places and then travel. The companies with their lucrative offers such as "First Ride Free", "Refer a Friend and get free ride" have got us hooked to discounts. With the recent drying up of offers especially for Regular users – we are now left searching for Promo codes or Offer codes for old users. Not anymore, in this tutorial we will show – How to get Cashback & Discounts on Uber using Promocodes for Old and existing users in India!
Tutorial on How to get discounts for Uber Rides for Old and existing users –
We will be using an all services aggregator app – Tapzo for the same. Tapzo allows you to book Cabs, Movie tickets, order food all features in one app! and it even provides you Tapzo Cash in cashback for each services you order. The tapzo cash thus again can be used to do Recharges, Cab booking, Order food etc.
How to use Tapzo App to get Cashback for Uber Rides (Existing User)
First of All Download the Tapzo app from the link given below –
Click here to Download Tapzo App from Google Play
While you can download the Tapzo app directly from Play Store, doing via our link gives you directly 25% cashback on your first 3 Cab bookings as shown in the image below –

Here's our Tapzo Referral Link for getting the Cashback Offer – Click to Download Tapzo via Referral link

Now, once you have downloaded Tapzo, getting Cashback on your Uber rides is really easy. First on the homescreen , select the "Cabs" option. You will now be navigated to a screen as shown below –

On the screen please enter the Destination, Source and time of the pick-up / cab . you will then see a list of all available options right inside the Tapzo app!

Select the type of Cab, you want to book. Once you have selected the type of Cab to book you will be redirected to a Confirm Booking Screen! as shown below – (Important Step!)

On the confirm booking screen shown above, tap on the "Apply Coupon" section.

It will now show you a list of all available coupons for your Uber rides and the best part being all the coupons can be used even by existing or Old uber users as shown in the following image –

After tapping on the coupon , select the apply button as shown –

As soon as you click on Apply you will be redirected to the Cab Booking Confirmation page with the coupon applied message as below-

Voila! you will now earn discount / cashback on your Uber rides , which you can use not only for next cab rides , but even for Food, Recharges etc. Great isn't it!

Click on the Book Now button and Enjoy the ride!.