How to use Jio 4G Voice App to make VoLTE Calls on iPhone 5s & 5C / iPhone 5 & 4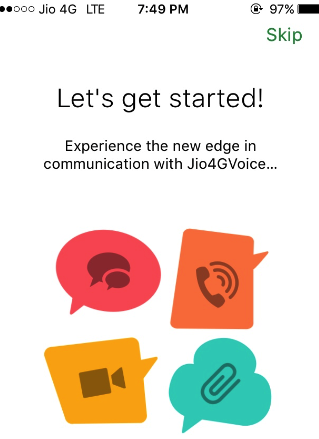 Reliance Jio has one of the best mobile data plans in the Indian Telecom market, but it has one drawback – Reliance Jio is a 4G only network and hence requires VoLTE enabled phones to make calls. Now, since all iPhones are single sim devices and considering iPhone 5S, iPhone 5C, iPhone 5 & 4S do not support VoLTE, Jio cannot be used as the primary network for receiving calls. But not anymore, In this article, we will cover how you can use your Jio 4G Sim to make & receive calls on any iPhone, even iPhone 5S using the Jio 4G Voice app.
How to Dial & Receive Jio 4G Calls on iPhone 5S, 5C (iPhone 5 & 4S) using Jio 4G Voice App –
Pre-requisites –
Jio Sim.
JioFi Wireless Router for (only if you're an iPhone 4S user this is required) else you can directly insert your Jio sim in your iPhone.
In case, if you're using your iPhone 6, 6S, 7, 7S with any other sim and you wish to make calls using Jiofi then also this process will work. Just start from the Step No.2 in below tutorial.
Jio4G Voice App – We will be using the Jio4Gvoice app to make & receive calls, the app functions like your normal phone dialer –
Click here to Download Jio 4G Voice app for iOS (iPhone) from iTunes App Store
Step – 1  Configuring your Device on the Jio Network (Only for iPhone 5S / 5 / 5C users)
In this step, we will enable LTE Network for the Jio network, from our phone settings. No need of doing this step, if you're trying to make or receive calls via JioFi.
First, of all insert your Jio sim into your iPhone.
Now navigate to Settings – > Mobile Data. Now select the option "Mobile Data Options" as shown in the image below –

After you select the "Mobile Data Options", in the next screen – Tap on "Voice" and select the "LTE" option as shown below –

That's it! , Now simply restart your iPhone. You will be on the Jio Network.
Step – 2   Connecting to the Jio Data Network (JioFi + iPhone common step)
Now, simply turn on the Mobile Data of your Jio Sim, or if you're using Jio Hotspot (Jiofi) device connect to Jiofi wifi network.
Once, you're on Jio Internet (via Sim or Jiofi), simply launch the Jio 4G Voice app which we have downloaded from the app store.
It will now, start registering your Jio sim, as shown in the following image –

It will take some time to register with the Jio Sim, once it is registered automatically it will now take you to the dialer screen as shown in the below image –

Now, on the dialer screen simply dial the number which you want to dial or leave the app as it is (for receiving calls). When you dial a number or select one from contacts, simply click on the "green call button" and your call will be connected as shown –

Thus, you can now enjoy any Jio voice calls or even SMS services from Jio on any iPhone via the Jio 4G Voice app.
Note – Please, make sure you do not close the Jio 4G Voice app else you won't be able to receive calls on the iPhone 5S and if you are using JioFi M2 device.