Top 10 Free VCCs Virtual Credit-Debit Card providers in India for Best Deals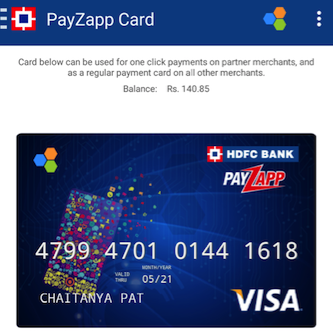 There is a limit on number of transactions that can be done via a Savings bank account, multiple transactions via the same debit card may cause extra charges & deduct money from your account which isn't desired.
Also, many online shopping portals come up with cashback & discount offers for a specific bank account, which we may not have and we may need to avail that offer. Yes, you can avail cashback offers for bank cards even if you don't have an account! – its possible via VCCs or Virtual Credit Cards (virtual Debit Cards offered by apps) . Also these cards support international transactions which isn't allowed by Indian bank, these virtual prepaid cards can come to your rescue here too! . Here, we look on to the Top 10 Free VCCs or Virtual Credit card service providers in India –
Note – You can thus have use your single bank account, to fund these cards and thus enjoy benefits for offers available for all the vcc card providing bank customers!
Virtual Card Service # 1 – FreeCharge –
FreeCharge is perhaps the only mobile wallet from our top mobile wallets in India to have a Prepaid Virtual Card service attached to it. Thus, the Virtual credit card of freecharge extends its functionality and makes it easier to use anywhere on any website.
The Virtual card of Freecharge is powered by MasterCard – Yes Bank and thus can also be used to get any cashback offers which are running for mastercard or Yes Bank card holders.
Click here to Download Freecharge app from Google Play Store
Virtual Card Service # 2 – Udio
Udio is yet another mobile wallet provider which has its own Prepaid virtual card service too.
The best thing about Udio is that you will find some cashback or discount offers running all times on your food purchases!
Udio Prepaid virtual card VCC is powered by RBL Bank (Ratnakar Bank limited) and can be used to avail all offers for Ratnakar Bank limited
Click here to Download Udio Prepaid card from Google Play Store
Virtual Card Service # 3 – Payzapp by HDFC Bank
HDFC is one bank which always comes up with loads of offers by tie-up with online e-commerce stores, while maintaining HDFC account is a difficult task, but getting an HDFC virtual card VCC isn't .
Now, you can easily get a Prepaid virtual credit Card from HDFC bank by downloading and installing the Payzapp app.
Once you download and register with your mobile number it will automatically create an HDFC card for you. Thus, you can now enjoy any cashback offer which was running for HDFC bank customers 🙂
Click here to Download HDFC card – Payzapp app from Google Play
Virtual Card Service # 4 – DigiPurse by Union Bank
Digipurse is a UPI payment app or mobile wallet made by Union bank of India, you can easily register your mobile number with the DigiPurse app and get a mobile wallet along with a Prepaid Visa Card powered by Union Bank of India
Though there aren't much offers running for Union Bank of India customers, you can always use the card to store money & use for online transactions, so that the number of default transactions to your own bank's debit card are reduced.
Click here to Download DigiPurse app from Play Store.
Virtual Card Service # 5 – PayApt by IDBI Bank
IDBI Bank too provides a prepaid virtual debit card service which you can use to pay for your online purchases as well as avail many discount offers run for IDBI Customers.
You must load atleast Rs.1 to your Payapt wallet after registering your mobile number, to view your Prepaid m-Visa Virtual Card.
Click here to Download PayApt Virtual Card by IDBI app from Google Play
Virtual Card Service # 6 – M-Clip by Bank of Baroda
Bank of Baroda too lets you avail offers by way of its virtual prepaid card app – M-Clip.
M-Clip gives you a prepaid visa debit card powered by Bank of Baroda, which can be used at any of the online merchants.
Like Payapt, you must however load atleast 1 rupee to your m-clip wallet to be able to see your Bank of Baroda virtual card.
Click here to Download M-Clip Virtual prepaid card app by Bank of Baroda
Virtual Card Service # 7 – Slonkit – DCB Bank
Slonkit is basically a money-management app, which gives you insights so that you can track your purchases as well as efficiently manage them,  but it comes with a Prepaid virtual card too.
You can use your Slonkit card to purchase online via entering the details and you can even request an offline Slonkit card inorder to use it offline at POS / e-POS merchants.
Slonkit card is powered by DCB Bank, and thus can be used to avail offers for DCB Bank customers.
Slonkit Card requires an activation fee though.
Click here to Download Slonkit App from Play Store.
Virtual Card Service # 8 Digibank by DBS Bank India
Digibank is a unique service by DBS Bank – You can register your mobile number & get a Digibank e-wallet with a VISA virtual Debit card.
Thus, you can load money into your digibank wallet & then use your VISA virtual card while you shop online.
The best thing about Digibank is that you can easily convert your Digibank wallet into a free-bank account anytime, and you don't even need to visit the bank.
Click here to Download Digibank by DBS App & get your Card from Play Store
Virtual Card Service # 9 – Yes Pay by Yes Bank
Yes Pay is another way except FreeCharge to get a Yes Bank card.
The Virtual Debit Card (VDC) by Yes Pay is powered by MasterCard and can be used for all your online purchases and get the discounts meant exclusively for Yes Bank customers.
Besides, Yes Pay also works a UPI Payment app for Paying via UPI in India
Click here to Download Yes Pay by Yes Bank app from Google Play
Virtual Card Service # 10 – Zeta – RBL Bank
Zeta classifies as a Virtual Debit card (VDC) with dynamic pin, which is really a unique feature.
You can have unique pins generated for your Virtual card via the Zeta app.
Also you can get your prepaid Virtual Mastercard powered by RBL Bank for offline transactions.
The offline card can be used to pay at any e-POS machines and has the dynamic pin feature, thus you need not worry on remembering or saying pin publicly as you can generate new PINs for new transactions.
Click here to Download Zeta Super card app from Google Play
Thus, these are the various prepaid virtual credit or VCCs card providers in India, earlier ICICI too used to issue virtual credit cards VCCs via its Pockets app, but recently they have stopped doing so. Incase if you face any problems or have any doubts feel free to comment below 🙂