How to Merge or Combine Multiple PDFs for Free on Mac OS X (Join Many PDFs into a Single One)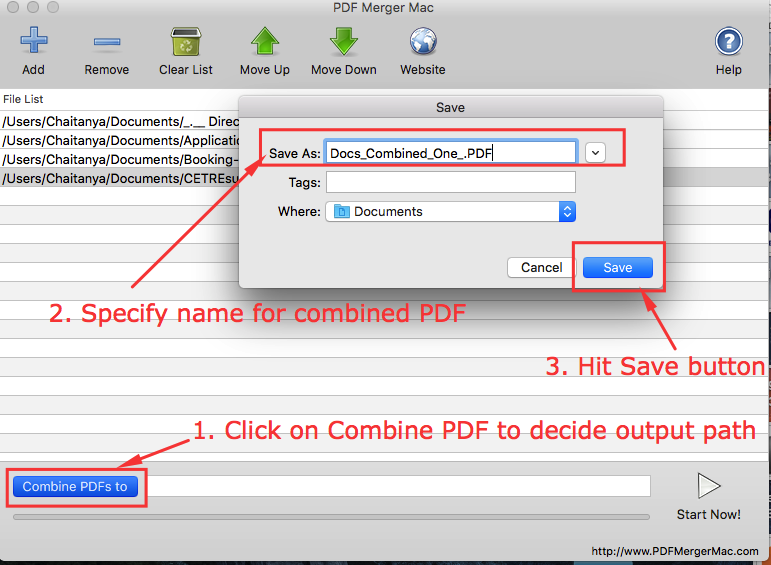 Many times we need to combine or merge multiple PDFs into a single one, but are unable to do so due to the different PDF page orientations or types of PDF Files. Here's an easy tutorial on How to combine or merge Multiple PDF files into a single one on Mac OS X for Free using PDF Merger Mac . The app is small , easy to use and works on all Mac OS – Mountain Lion, Snow Leopard, Mavericks, El Capitan & Sierra too!
Pre-Requistes : 
How to Merge multiple pdfs into one using PDF Merger App –
Once, you have successfully installed and launched the PDF Merger App, first of all we need to add the PDF files we need to Merge or combine.  To Add files –  You can either drag & drop the PDF files to Merge  or Click on "Add" button and then select the PDF files to merge as shown in the image below –

Step 2 –  Now, after adding the files to the App – We need to decide the order in which we have to combine. Inorder to decide the order, select the file which you want to move & click on the "Move Up / Move Down" button to decide the order as shown in the image below –

Thus, you can even customize the order for combining the PDFs.

Step 3 – Deciding output path & file name – Now, we need to decide the file name & output path of the PDF by using the "Combine PDFs to"  option as shown in the image below –

First specify the path & file name of PDF file as shown in the above image.
Then click on the "Save" button to save the path.

Now, once you have entered the filename & location after clicking on "Save" button , Simply click on "Start Now" button as shown in the image below –

That's it ! you have successfully Combined multiple PDFs into one on your Mac OS X . If you face any problems or encounter any issues feel free to comment.