How to Clear Cache,Cookies for all Browsers on Mac OS X for Free using CCleaner App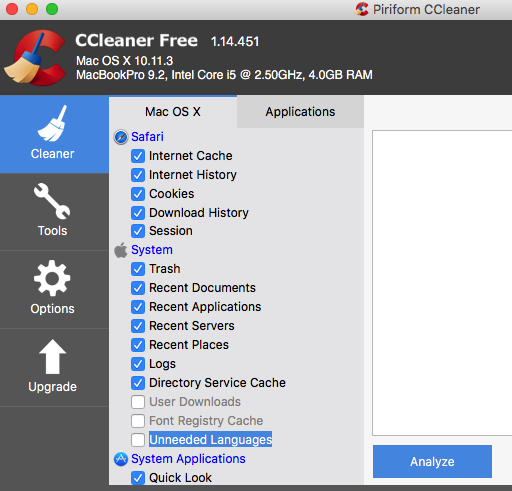 Browser Cookies, Cache & app caches start accumulating in the System as soon as you start using respective app or Browser. The Cookies & cache files not only decrease the available free storage on your system, but also slow down your system causing the app , browser or system to hang many times. The browser cache also contains your saved sessions "remember me" Thus, periodically clearing browser cache files & cookies is highly recommended for security purpose too. Here's a complete tutorial on How to Clear cache files & cookies for all browsers for free on Mac OS X using CCleaner app
Tutorial to Clear Cache & Cookies for any Browser on Mac OS X by CCleaner –
CCleaner is a leading app for windows to clear cache & temporary files. Besides, it can also be used as an uninstaller app for Mac OS X. Thus, we will be using it to clear cache & cookies.
First of all, Please download & install CCleaner app for Mac OS X from the link below –Click here to Download CCleaner app (.dmg) for Mac OS X .
Here's a simple tutorial on How to install .dmg app on Mac OS X.
Now after you have installed CCleaner app by dragging and dropping the CCleaner app by dragging & dropping icon on Applications folder, please launch the app.
Make sure that the "Cleaner" option from the left menu app is selected, app will show a window with the "Mac OS X" & "Applications" tab as shown in the image below –

Now, select the app name & options which you want to be deleted – e.g Browser Cache, Browser Cookies & tap on the "Analyze" button

The app will now analyze the system for temporary cache files & cookies for the previously selected app which can be deleted to free up space, without any compromise on the system performance and functioning.
After the analysis is completed, it will now show a list of files which can be deleted and the amount of space which can be freed up as shown in the image below –

Here on the analysis complete page , Click on the "Run Cleaner" button as highlighted in the above button to start the cleaning process.

That's it! You have now successfully cleared cookies, & cache files for any browser or app on Mac OS X for Free!

Making your system faster and even increasing available free storage!
Thus, CCleaner is a very utility free app to clean cache, cookies on Mac OS X. Though there are many such clear cookies app but very few are free & are as functional as CCleaner. Enjoy a faster Mac OS X (Sierra, Mountain Lion, Snow Leopard,Yosemite, El Capital etc)