Top 3 Free Internet Recharge apps which give Free Data Pack in India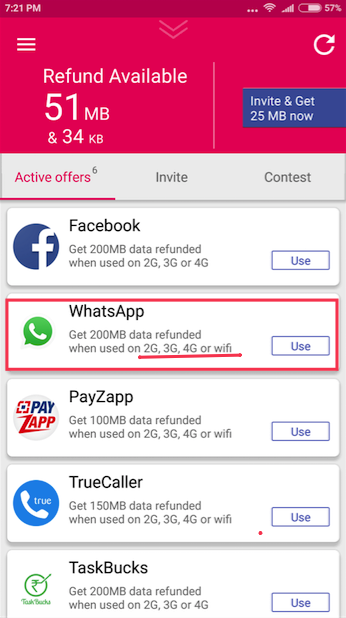 Its been sometime we wrote about the free recharge apps which give free recharge for downloading apps and completing offers. We guess you might earned a good amount of talktime by using the apps mentioned in the linked article, but now we bring you sometime which is even more sweeter! – Free Internet Apps for India which give free internet data pack to all operators in India. So, read on below to find out how you can get free internet packs on Airtel, Idea, Reliance , Jio , Tata docomo , Aircel or basically any mobile operator –
Top 3 Free Internet giving Recharge apps in India –
App No.1 – Databack 
Databack is our favorite amongst all the free internet recharge apps as unlike other apps it gives you free internet credits even if you use the target apps over WiFi. Plus, it has Internet refund offers for almost all popular apps such as Facebook, WhatsApp , TrueCaller etc too..
How to get Free Internet data via Databack –
First of all download Databack app from the link below –
Click here to Download Databack app for Android from Google Play
Now, once you have downloaded and installed Databack launch the app. Make sure your internet connection is active(preferably cellular data 2G/3G).
It will show you with Databack offers as shown in the screenshot alongside.
Now simply tap on any of the icons of app and click on "Use" to start getting your data refund. For example, if you want to get data refund for your PayZapp usage – Launch databack app and tap on "Use" from inside databack app next to PayZapp .
Your desired app will be launched and a green strip will appear confirming your data refund is active as shown below –

That's it now keep using the app it will automatically add data consumed into your databack account, which you can use to redeem your free internet data in India.

Note- You will get your data refund of WhatsApp, Facebook only if you open the WhatsApp / Facebook app via Databack app . You won't get any data refund for using them directly.

 Besides, you can even invite your friends to install the Databack app as you will get Free 5Mb per each friend referral!
App No.2 Earnbytes app by Earn Talktime
Earn talktime is a trusted and old name since the complete free recharge app came into force. Now, Earntalktime has built an inbuilt feature into app called "Earnbytes" . Earnbytes lets you earn data simply by launching your desired apps like WhatsAp, Hike, Facebook via its own interface.
However, unlike Databack earnbytes doesn't offer data refund for App usage over WiFi connection. But, its still a worthy alternative to Databack app as it has some offers which are absent on Databack.
The Method to get your Free internet is pretty simple same as of databack-
Click here to Download Earntalktime app 
App No.3 Gigato
Gigato is yet another free internet giving app , which hosts some different offers which are absent on Databack or Earnbytes.
We however, didn't find the ones for the apps which we commonly use the most e.g WhatsApp, Hike hence we placed it at the third position.
But if any of the previous two doesn't have a data refund offer for any app, and Gigato has it you are still in profit for getting free internet data.
Click here to Download Gigato from Google Play.
So, these are the current Best 3 Free Internet Data recharge giving apps in India which give you free internet packs for using app. If you face any issues, or know of any other such good app feel free to comment.