How to add Equalizer on Mac OS to iTunes, Spotify for Free!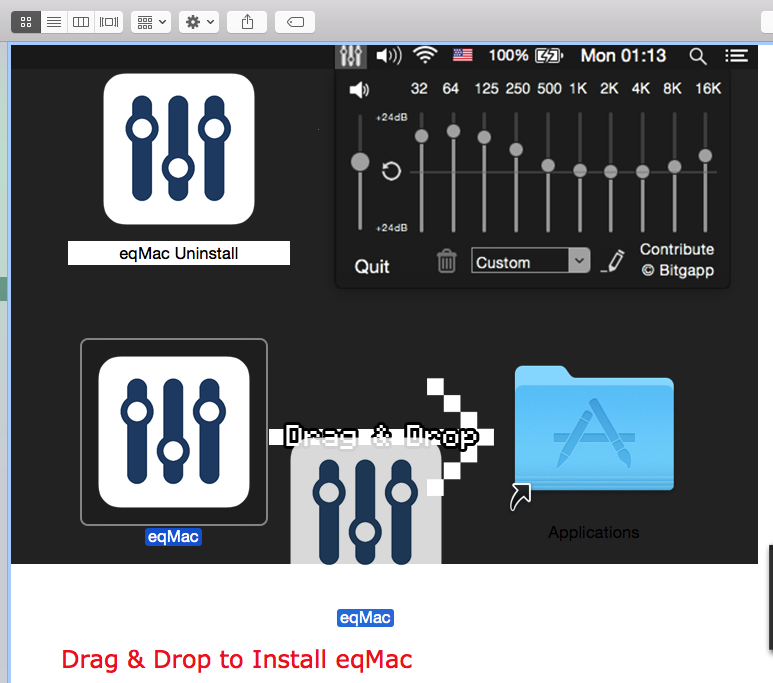 All audiophiles and music lovers know about the importance of Equalizer, but sadly the default iTunes Music player on Mac OS X doesn't come with an equalizer. Neither does the Spotify app for music streaming has an in-built equalizer. So, here's a free app which will add a great working Equalizer to Mac OS X  (Mavericks,  Yosemite, Mountain Lion & El Capitan as well)
How to Install Equalizer on Mac OS X –
First of all, Download the eqMac app for Mac OS X from the link below (its free of cost unlike Hear app) and can be classified as a Boom app alternative –
Click here to Download the eqMac Equalizer for Mac app (.dmg) file.
After downloading the eqMac install the downloaded .dmg file , by dragging and dropping the app image to Applications folder as shown in the below image. A detailed tutorial to install apps from .dmg file can be found here. (Tip – open the .dmg file by pressing ctrl key + mouse click to install)

Now, after dragging & dropping the eqMac icon the app will be installed.

Launch the eqMac app, it will ask you permissions to modify the sound output , permit the app to required audio access.
The eqMac app will now be showned up on your TopBar as shown in the below image –

Now simply adjust the corresponding toggles to change the Bass , Treble and adjust the equalizer to Bass , Flat , Jazz , Rock or any other type of Songs & Audio.

You can directly change the audio output from the topbar which no other equalizer app provides for free!.
Also eqMac isn't a media player and changes the system audio Stream it works with iTunes, Spotify, Google Chrome (Youtube) or any other media app installed on your Macbook. Thus eqMac is a highly recommended app.
Note – Inorder to disable the app, simply Close the app by clicking on "Quit" in the drop-down menu and your Audio would be back to the normal Mac OS Output.