How to use Android Mobile & iPhone as Mouse in Mac OS to move the Mouse Pointer over WiFi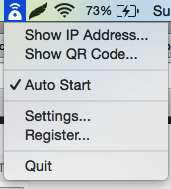 Your Android mobile or iPhone's smooth touchscreen panel can be used to control the mouse pointer on Mac OS. Not only the mobile screen can act as a touchpad, but you can even control your Mac OS mouse pointer using your phone's gyroscope,or motion sensors. Thus, the mouse pointer will move as you tilt your phone! Sounds interesting ? Here's how you can control your Mac OS Mouse pointer using your Android or iPhone, iPad!
Pre-Requisites –
Method to Use your iPhone or Android Mobile as a Wireless Mouse –
First of all, Install remote mouse on Mac OS & your phone and get them connected on the same WiFi Network.
Now, launch the Remote Mouse App on your Mac OS , from launchpad or spotlight.
Once you have launched the Remote Mouse app on your Mac OS , it will align at the topbar as shown in the alongside image. The image indicates that the Remote mouse server has started.
Now, Open the Remote Mouse app on your Android phone or on iPhone which is connected to same WiFi as that of Mac.
After opening the app on your Mobile device, it will first scan for the available servers to which it could act as a remote as shown below –

Here in the list of devices in your network tap on the name of the Mac OS device to connect it.

That's it , It will now automatically get connected. Thus now you can use Your mobile's touchscreen as a wireless mouse & trackpad. You can even use the Mobile as Wireless Keyboard.
Tap on Mobile screen for left click, two finger tap for right click, You can now use your Mobile as a Wireless Remote for a variety of purposes as listed below .
Benefits & Applications of Remote Mouse –
You can show off your Geeky Side, by controlling the mouse pointer without touching your Laptop!.
You can use your Mobile as a wireless Presenter remote to control your Powerpoint presentations via Mobile.
Mobile Remote also contains an inbuilt keyboard so that you can even type in on your screen and control it remotely.
Last but not the least you can even use your Mobile as a Mobile Remote.
All this for free!