3 Ways to compress images / Photos without losing quality! | Compress png, jpeg images online without affecting quality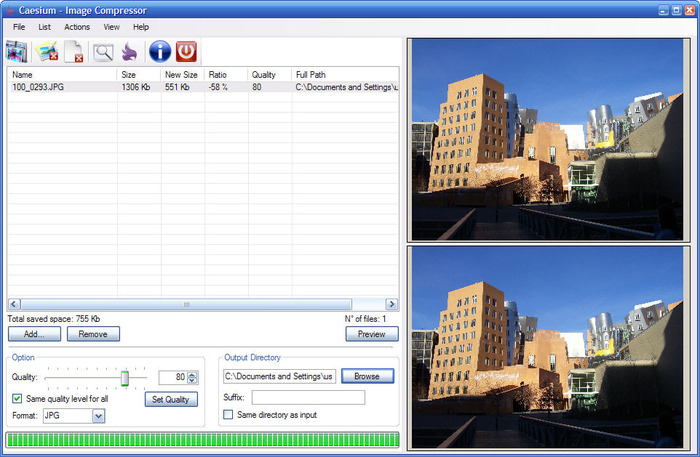 Recently I needed to send some images through gmail (or e-mail them) but i wasn't able to upload or add them as attachments as they were really bigger in size and hence the uploading failed , also the large number of photos taken over from my iPhone and other digital cameras is simply increasing their data size and thus reducing the available storage. There's a simple solution for the above problems – Compressing the images, which can help us dave the image inner details as well as reduce their size, So here's the solution to how to compress images / photos without losing quality !
3 Best free ways to compress images / photos without losing quality ! –
Way # 1 – Using Caesium Image compressor
Caesium is a handy app to compress images / photos upto 90% of the original size without affecting the quality. To compress images using caesium add your photos to the list on the program's interface (or simply drag and drop them) and select the quality you want to keep for them. Once your list is ready, click the Compress button and let Caesium compress it. Once all the photos have been compressed, you can check the results and compare sizes thanks to Caesium's data and the Preview function.
Click here to download Caesium app for Windows
Way # 2 – Using Compressor.io to compress images online on your mobile / Mac
For all offline purposes we recommend using Caesium, but when it comes to compressing images on mobile we need to use online tools – Compressor.io is one such online photo compression tool which will help to compress images online. All you need to do is upload images using the "Select File" option, and then selecting the compression format. Compressor.io also supports lossy / lossless compression which highly helps in saving minute details of the image being compressed online. Compressor.io supports jpeg,png, svg and gif images compression!
Click here to visit Compressor.io
Way # 3 – Using other online images compression websites – TinyJpg.com & TinyPng.com
Although there are many online image compression utilities available, I highly recommend using tinyjpg.com and tinypng.com , as they support advanced lossy compression which also helps in preserving transparency. TinyPng and Tinyjpg have the best algorithms of image compression and the difference between the original image and the compressed one is not noticeable one ! thus, providing the most accurate defined image that too at reduced size!
Click here to visit TinyJpg.com compression utility.
Click here to visit TinyPng.com compression utility.
So, these are my personal favorite and tested tools used for compressing the images/photos , If you encounter any issues while using the above or know of any other such good utility feel free to comment.