Free instant Rs.10 by CashOn App – New Free Recharge app| Earn Rs.25 per referral!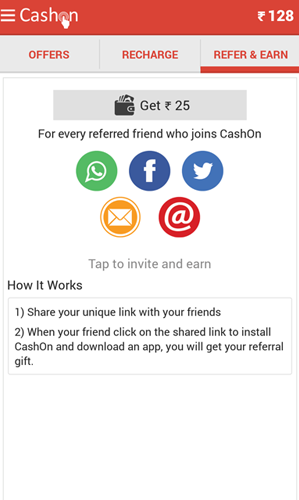 Heya folks! , the free recharge apps giving arena is increasing even faster than the Indian economy . In such a stiff competition, we have a yet another free recharge providing app – CashOn.Cash On app thus has adopted some unique marketing strategies to get a share and its giving away instant Free Rs.10! . Keep on reading for more features of Cash On app –
Features 0f CashOn app –
Cash On app gives you Rs.10 as welcome bonus, totally free!
Like other apps, it allows you to get free recharges by simply downloading the apps listed in the offers tab.
The earned credits can later be redeemed to get free recharge!
Unlike other apps which are totally in English, the CashOn app is available in various local languages, which is indeed a good move ! guaranting rural population penetration in Indian local languages for the app!
Besides, completing offers by installing apps , You can also earn money by reffering your friends to the Cash On app. Cash On app currently has one of the best referral schemes in the market and it gives you Rs.25 per friend referral!
Note – Do make sure you select PlayStore option whenever you try to complete an app download offer while downloading through the CashOn app!
Though the app is new it gives a good amount on app installs as well as the recharges are processed instantly!
we highly recommend trying the app!!. you can also read about other 10 best free recharges apps currently in the market