5 Awesome YouTube extensions to enhance YouTube usage/experience! [Chrome/Firefox]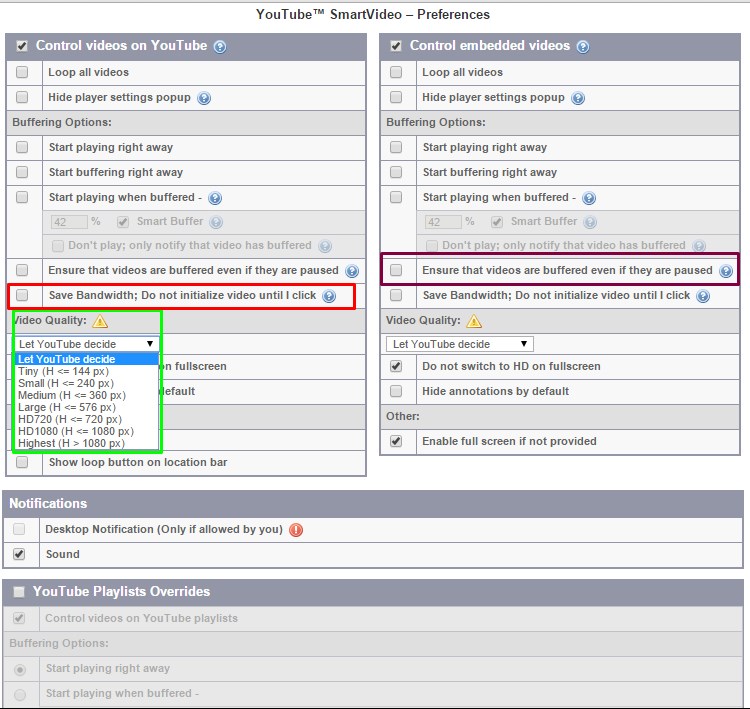 Its almost impossible to find an internet user who hasn't used YouTube! but sometimes YouTube experience isn't that great because of Ads, Buffering while loading videos , unrelated comments , or autoplay of videos . So here are the 5 Best & Awesome extensions which will enhance your YouTube experience and make a pleasant viewing!
Extension # 1 – SmartVideo for YouTube
SmartVideo for YouTube stands tall at No.1 position in our article because of the sheer number of customization options and settings (YouTube video optimization) it provides. SmartVideo is free to use and provides a lot of features such as –
Ability to decide/fix the video quality permanently so as to you don't have to change the video quality everytime.
Stop the buffering of videos once paused (Uncheck the option highlighted by purple box).
Stop/Disable autoplay of YouTube videos until clicked on the play button.
It even has options of Smart Buffering to ensure optimum viewing on slower internet connections.
It even shows the time remaining for the video to start playing (Time required to resume playback during the starting/mid-way buffers).
Click here to download SmartVideo extension for Google Chrome.
Click here to download SmartVideo extension/addon for Mozilla Firefox.
Extension # 2 –  ImprovedTube 
I had quite a lot of fun while using this extension – especially by using the Playback Speed option! , it was fun watching dance & listening music in slow-motion or in speed-up 🙂 . Besides, this the ImprovedTube extension also has options for –
Changing the Player Size – To cover full browser windows, etc.
To pre-define/fix the Video Quality.
To hide Video Annotations,Description and hide comments.
Changing the Playback Speed.
and to disable Auto Play in Videos and Playlists to conserve bandwidth.
The only drawback of this extension is that once you change the settings in ImprovedTube, it won't work until you reload the YouTube video tab.
Click here to download ImprovedTube for Google Chrome.
Firefox users can use the combination of these two addons to get the same functionalities –
1. Click here to download No Comments – YouTube for Firefox.
2. Click here to download YouTube enhancer for Firefox.
Extension # 3 – Floating YouTube extension + app!
I was spending a lot of time on YouTube decreasing my productivity, until i found the Floating YouTube extension which allowed me to watch my favorite show simultaneously while i was working on blog! And i found it pretty awesome – The only drawback being it couldn't play Copyright Music videos of India. I hope the developers will resolve this bug soon. Rest assured the app is awesome! . The app only loads the video in the widget once the URL is input onto it,for automatic playback of video in the widget do use the app in combination with the Floating YouTube extension.
Click here to download Floating YouTube App.
Click here to download Floating YouTube extension
Extension # 4 – Magic Actions for YouTube
Magic Actions for YouTube simply takes your YouTube viewing experience to a higher level , it provides a large set of functionalities some of which include –
Applying Color filters to the video (Grey Scale , Sepia , etc ) without reloading (By clicking on the blue-colored highlighted box).
Control the video volume by Mouse Wheel! .
Instant Screen Capture (Clicking on the button high-lighted by yellow box).
Changing the Video window/size & YouTube theme by clicking on the button highlighted by Green Color (The most centered button in the newly obtained button-set on installation).
Dimming and changing everything to black/white-on click of a switch besides the YouTube logo (highlighted by pink color in the image).
Thus, you will find Magic Action more and more interesting, the more you use it.!
Click here to download Magic Actions for  YouTube for Google Chrome.
Extension # 5 – Stop Video Download extension
Many times we need to quickly shift tabs to do some important work and the YouTube video continues to consume bandwidth even if the pause button is pressed. In cases like this the Stop Video Download extension comes in handy!
It adds a neat looking Handy "Stop Button" which can be used to stop the video and to preserve the bandwidth which couldnt have been preserved by the conventional pause button!
Click here to download Stop Video Download extension for Chrome.
So, these were the 5 most extensions which i found to be most awesome for enhancing YouTube experience. Feel free to comment if you face any problems or if you know of any such awesome extensions like these