Earn Unlimited Talktime Through EarnTalktime App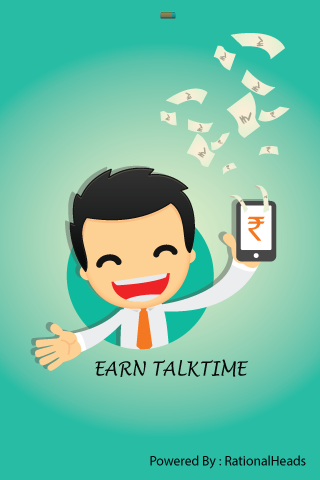 Hello friends,
LATEST UPDATE :- EARN TALKTIME HAS INCREASED REFER TALKTIME RS.10 PER FRIEND JOINING

Good Morning to all yesterday m shared Vodafone Trick and again today m come with Earning App which through You can easily Make money in app wallet and this money You can use to Recharge Your Mobile . EarnTalktime App is supports all operators for recharging this app provide Instant Recharge. This app is a part of the Best 10 Apps to get Free Recharges which we have selected and Reviewed 🙂 .
Introducing the all new experience of earning while you recharge your or your dear ones phone. All you need to have an android phone to download earntalktime.com. Earntalktime not only gives you an joyful, easy, user friendly way of recharging mobiles but also offers discounts on shopping, watching videos. What more!!! you earn even while you invite your dear ones download this app. earntalktime.com also offer personalized offers on basis of your profile, location and preferences. The rewards you get against each offer you opt, will be in terms of cash that you can utilize to recharge your own and yours friends/families PrePaid mobile number.
HOW TO Get Unlimited talk time through EARNTALKTIME App
Download this app here And after successful download open the app ,and input your mobile number.
You will get a verification sms and you mobile will get verified Next you will get to the app's dashboard.
Firstly complete your profile and
then goto offer to earn some
money.
Download the apps ,enjoy them and get free recharge in exchange After you get 20 rs in you account redeem it from the redeem section You can recharge yours as well as others number
Minimum redumption amount in Rs50 u can easily earn Rs50 and EarnTalktime is provides Rs.60! for referrals if u Refer your link with Your friends and anyone who download your link through You get Rs 20. rest Rs.40 will be credited on 1st April 2015
Where is your Refer Link
First go to EarnTalktime Mainpage and you can see Invite click on INVITE AND refer your link to ur friends and say to download this app for unlimited Talktime.
after completing all offers and referring through u Can Make easily Rs50 and Recharge your mobile .
For more apps like this please visit 10 Best Apps to get Free Recharges/Talktime Article
If you have any doubts/queries feel free to comment 🙂