3 Ways/Tricks to download Bing image of the day on your PC using Chrome/Firefox/BingDesktop [Bing Background Image]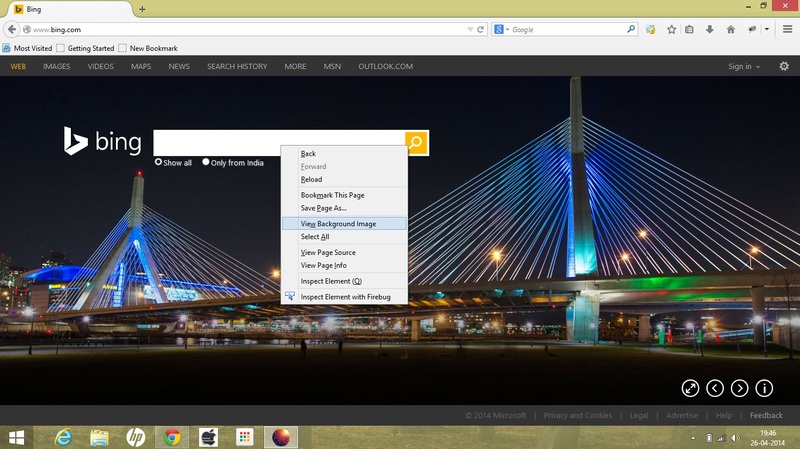 Hello guys, most of you might have noticed the background images posted on bing.com ,popularly known as which change on a daily basis and would have wanted to save them on your PC, download  Bing background image and use as a wallpaper . Rejoice its possible in this post i will reveal 3 Ways/Tricks to download the Bing Background Image and Save them on your PC..
Trick / Method I : Mozilla Firefox — Google Chrome Trick following..
Navigate to the Bing Homepage http://www.bing.com in your Firefox Browser.
Navigate to the image you want to download using the navigation arrows shown on the Bing homepage at right hand side bottom side, now after you reach the desired image , right click on the "View background image" ,you will get a menu shown like this
d
Now click on "View Background Image in the Dropdown Menu"  and it will open the Image with its URL , as shown here
Now , you can copy the URL and download the image or simply right click on the image and select "Save image as" option to save the Image! and that's it easy! isn't it ..?
Trick / Method 2 : Google Chrome
Navigate to Bing Home page and browse to your desired Download Image using the arrow keys.
Now when on the image,right click on the image and select the "Inspect Element Option" in the dropdown menu shown here
Now, you will see a bottom tab in the google chrome and it will contain the image URL as shown below  –> in the next image, you can copy the image URL and download it using IDM or navigating in chrome and selecting "Save image as"  after opening the Image URL in the image.. here's a screenshot of the Inspect element –>
Thus, you can download any Bing Image using these simple steps.. 🙂 But, the drawback of using Browsers for downloading images is that only the Last seven images are available 🙁 in order to browse the entire Bing Image Gallery..and download them we will have to use the Bing Desktop App
Method / Trick 3 Bing Desktop App
The previous methods allow to download only last 7 bing images,if we need to download the complete gallery it isn't possible by prev methods, hence , we use the Bing Desktop app.  to download the gallery, the steps for downloading any wallpaper from bing gallery are as follows
Download the Bing desktop app from here, and install it.
After installingjust browse from the topbar app and browser for your favourite image and set it any image as wallpaper.. as shown here–>
Now your desired bing image is set as wallpaper , if you want to get the Location of the .jpg file just right click on your desktop wallpaper and click on "personalize"
Now click on wallpaper/desktop background, a dialog box shown below is showed up on your desktop
Now you will get the location where the bing Desktop app saves your download image, you can get it by howering your mouse over it as shown in the above picture 🙂
Congrats! now thus you can download any image stored on bing as well as save them, share set them up as wallpapers.. and Bing really has an amazing number of pictures which are really classic! so do check it out 🙂 Thanks! if any problems/queries/suggestions feel free to comment 🙂