Weather forecasts are the daily driver for millions of people across the globe. Have you seen the latest iOS and Android smartphone widgets? Both these OSs feature weather widgets on the Home Screen providing quick information about the current weather to the users. There are plenty of applications that need weather APIs to provide accurate and updated information to the users. Choosing the right API provider can save hundreds of dollars each month if you go with an affordable weather app like Visual Crossing.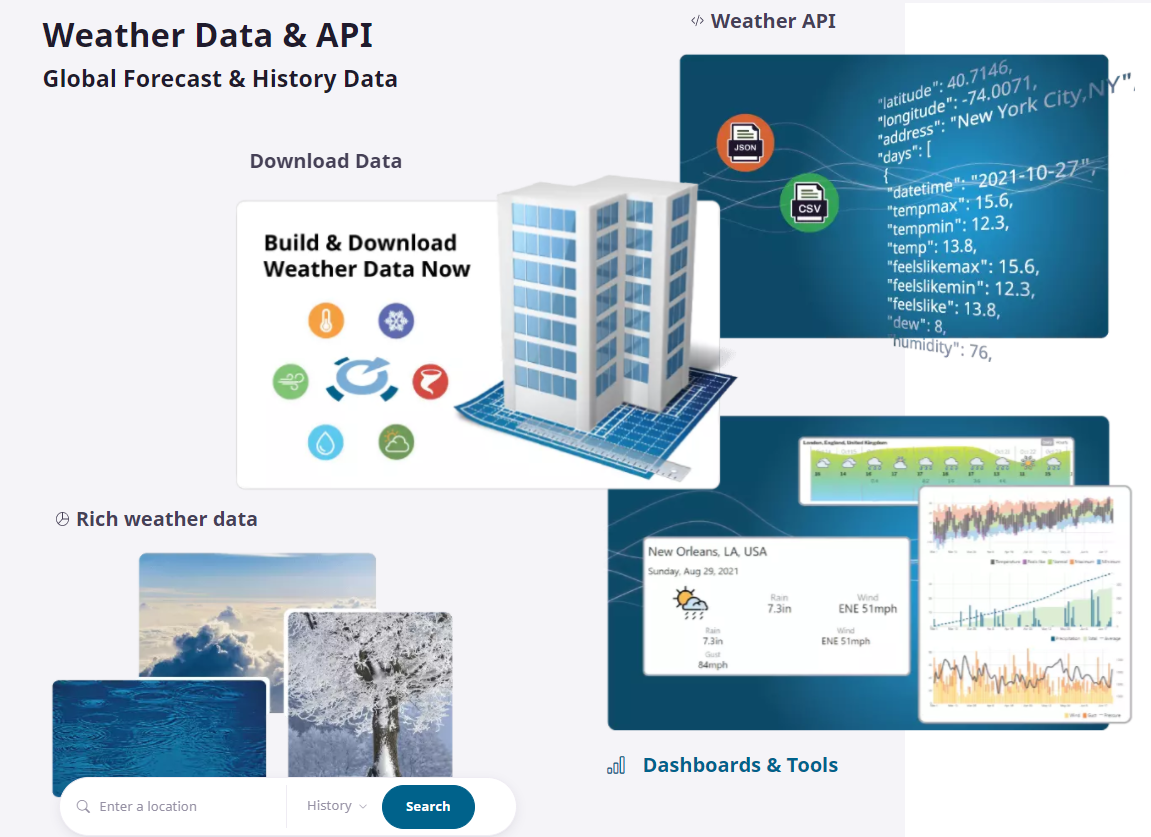 About Visual Crossing
If you are looking for one of the best and most accurate weather data solution for business/personal project, Visual Crossing is something worth considering. Moreover, all users get 15-day full access to worldwide weather forecasts and ultralong range forecasting using the statistical climate modelling. Beyond the common weather measures such as rain and wind, some powerful functionalities such as degree days, solar radiation, and weather alerts are also available.
Collect Weather Data

To view the weather data, all you have to do is enter your location and select between – 'History' or 'Forecast'. For example – I have searched for the historic weather data of Florida. The results are as follows: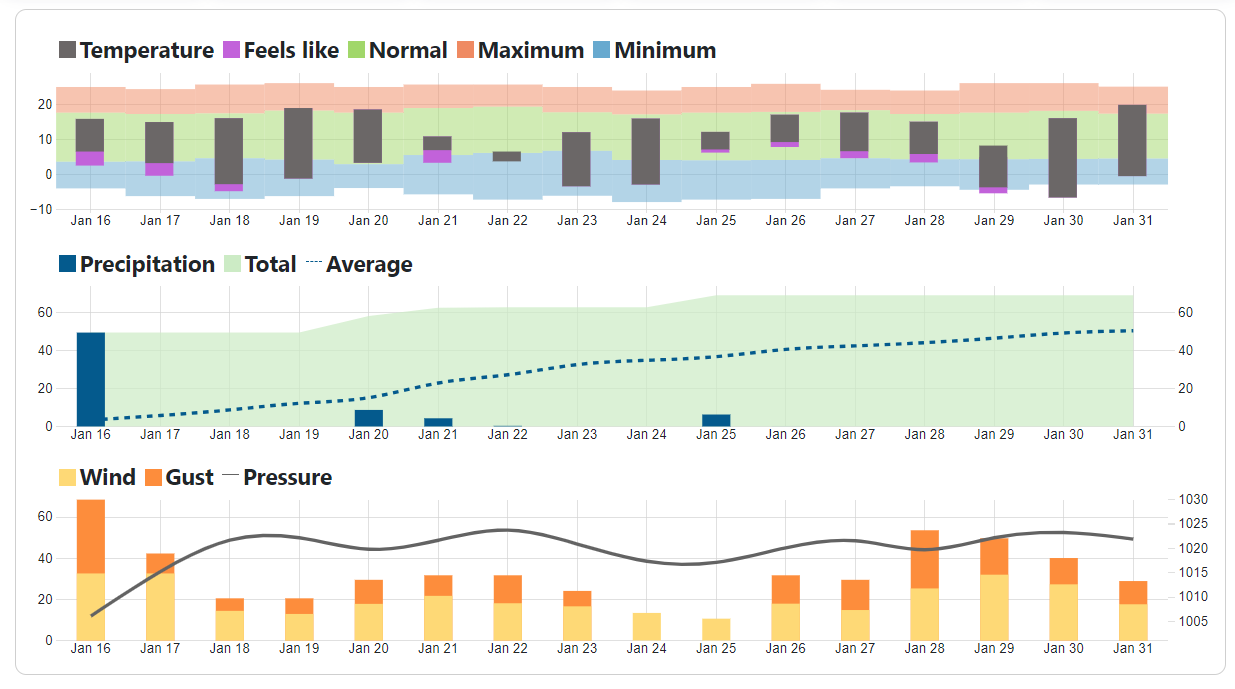 Anyone looking for the weather data can select between different ranges, choose to build an API, download the report, and more.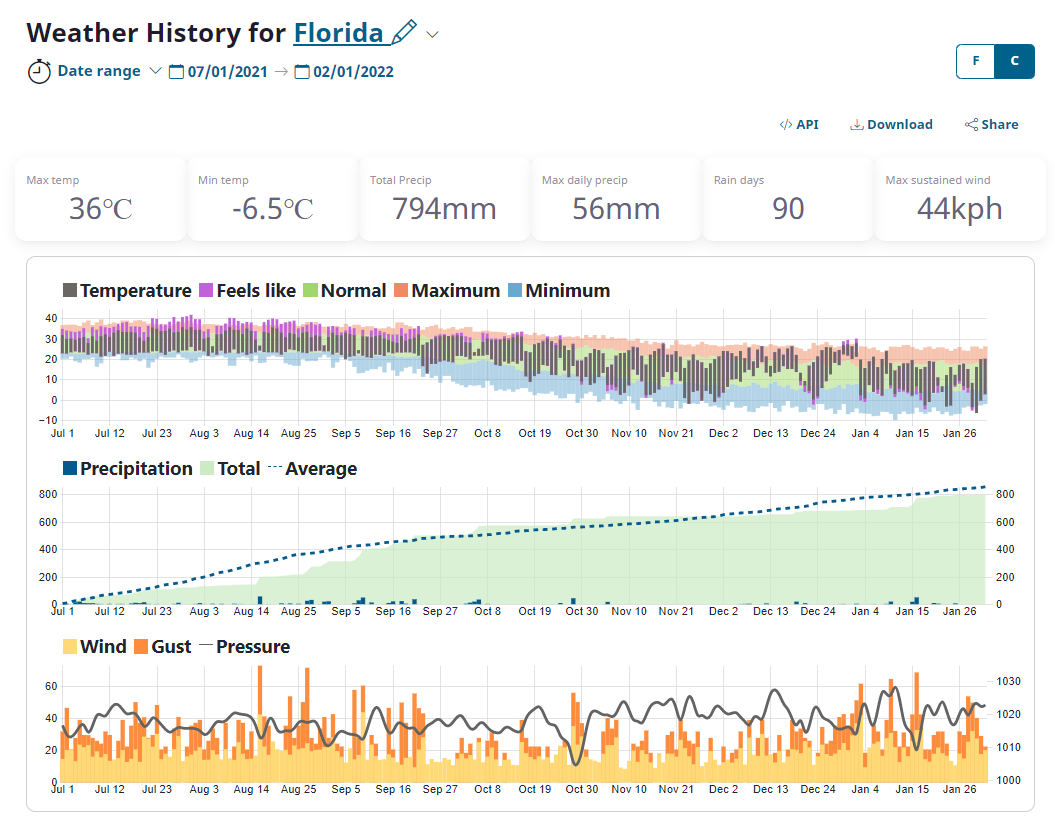 The data gives valuable insights on Minimum and Maximum temperature in the selected date range, precipitation, wind, and even the rain days.
Similarly, you can view the forecasted weather data for a date range.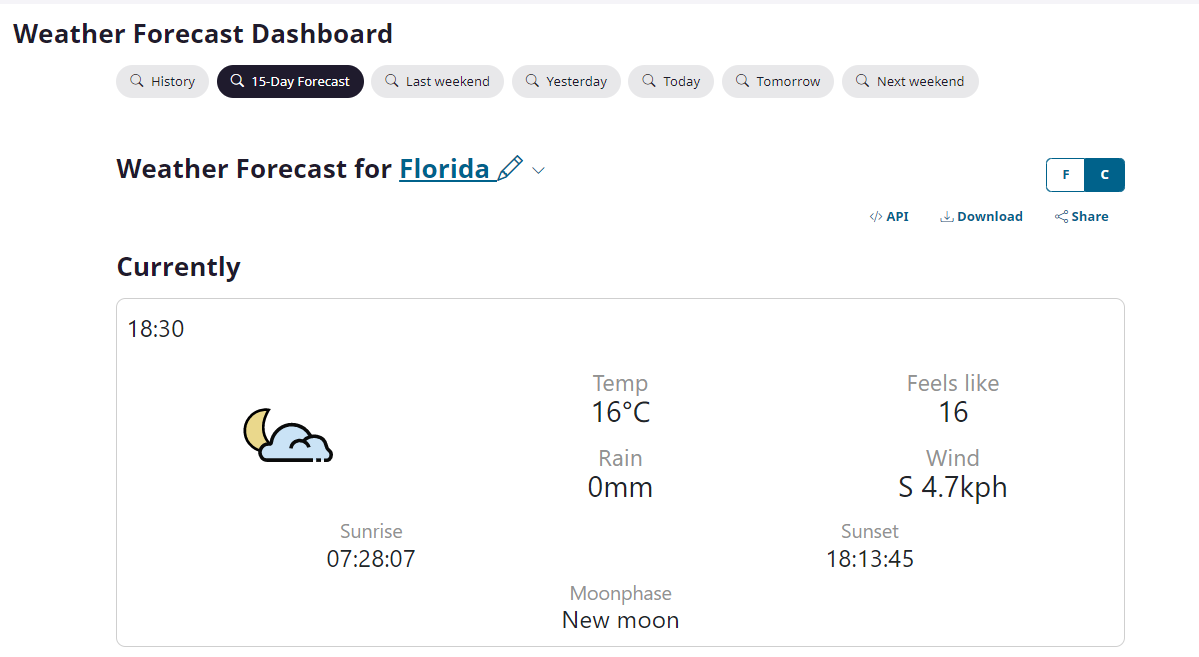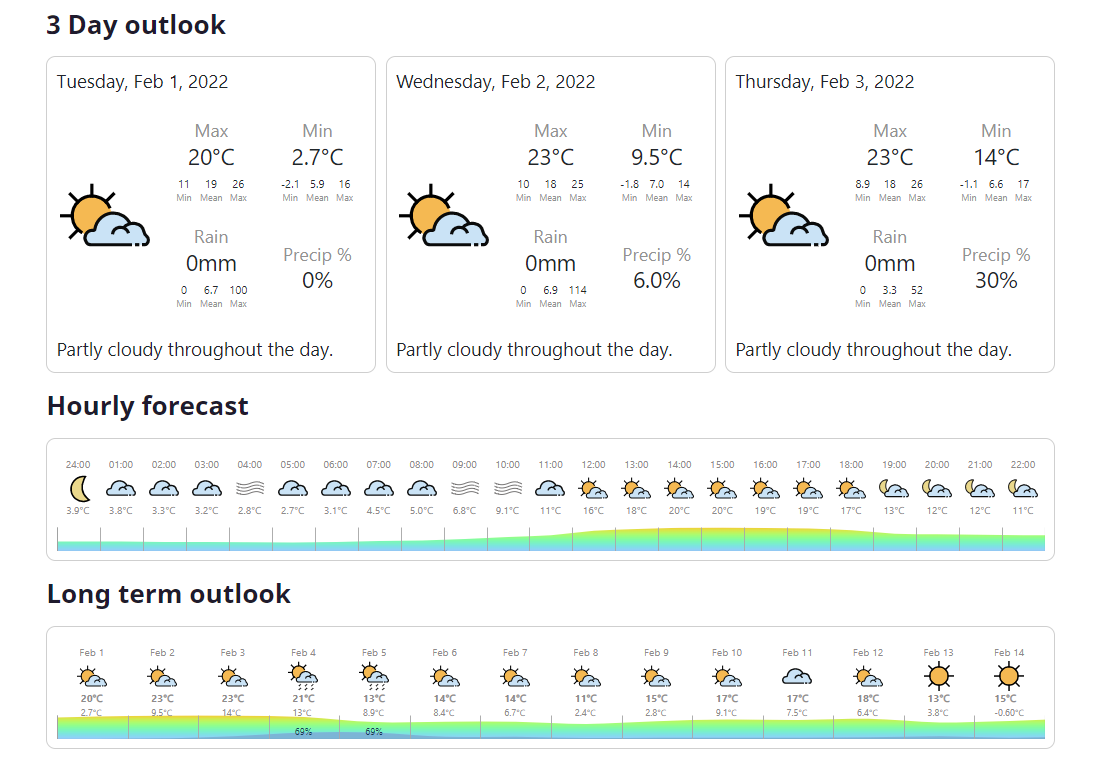 The longest available forecast is for 15 days for all users. You can download the reports in different formats such as Excel, JSON, and even on Power BI dashboards.
Get/Build API
Having your own weather API sounds interesting, right? You get a single API for both historic and forecasted weather. You can build your own API, by simply entering the location and hitting "Create Query" button.

It will take you to the API builder, where you can create your own weather API.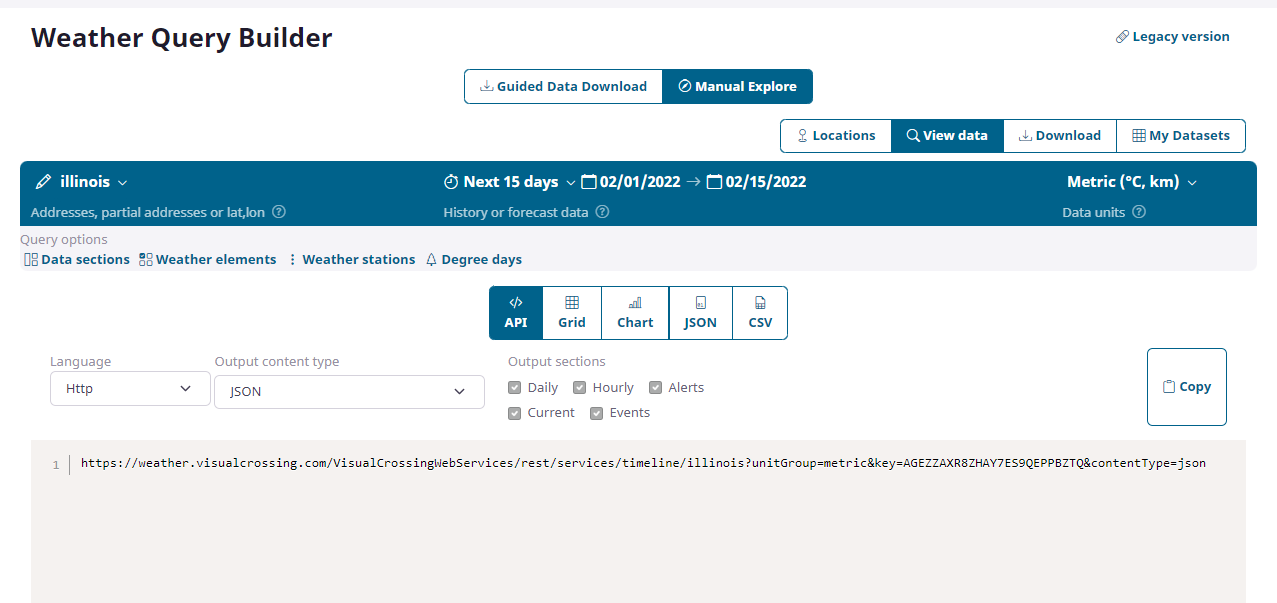 You can replace any weather API that you might be using. Some of the major highlights of Visual Crossing Weather API are:
Provides best real-time weather data in a single API
Provides sub-hourly, hourly, and daily data reports
Retrieves real-time conditions, weather alerts and details about significant events
You get 50+ years of historic weather data as it has 100,000 weather stations
Get your results in CSV and JSON
Look up by Address, ZIP Code, Lat/Lon & more
Plus, it has a rich resource library that guides you to create APIs, integrate this APIs and replace other APIs with the one created by you.
Find Normal Weather
Not only historic and forecasted, you can find the real-time weather updates of any location in the world.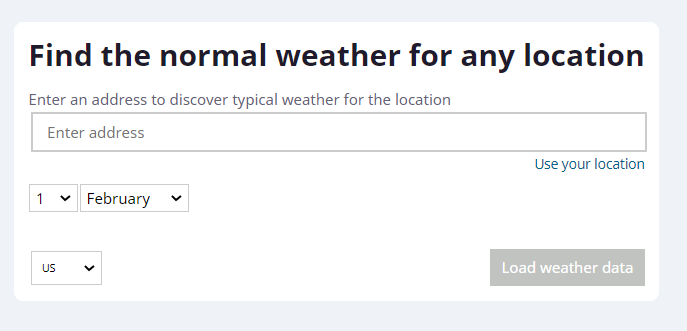 All you have to do is enter your current location (address), select a date, and click on 'Load weather data'.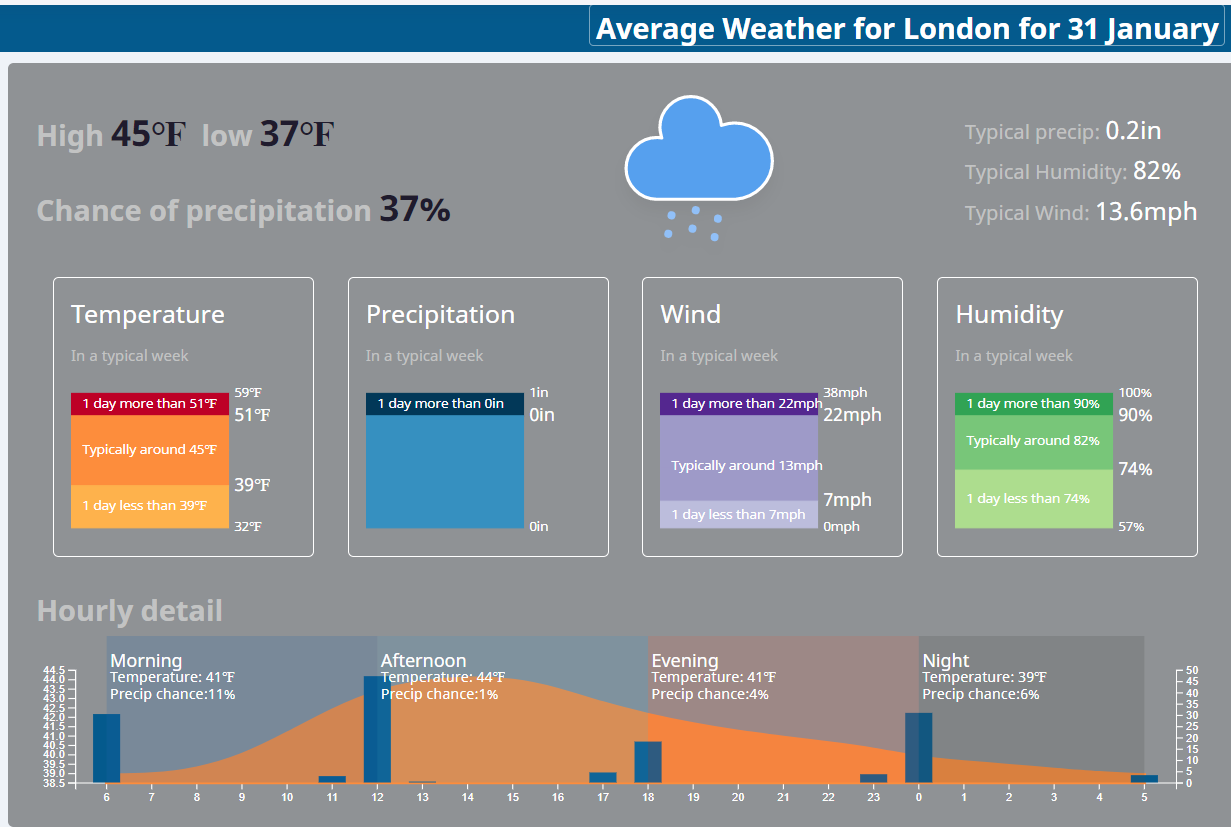 Frost Dates
It even tells you the frost date for specific Zip Codes of the US, so you get a brief idea of what type of weather to expect in coming future.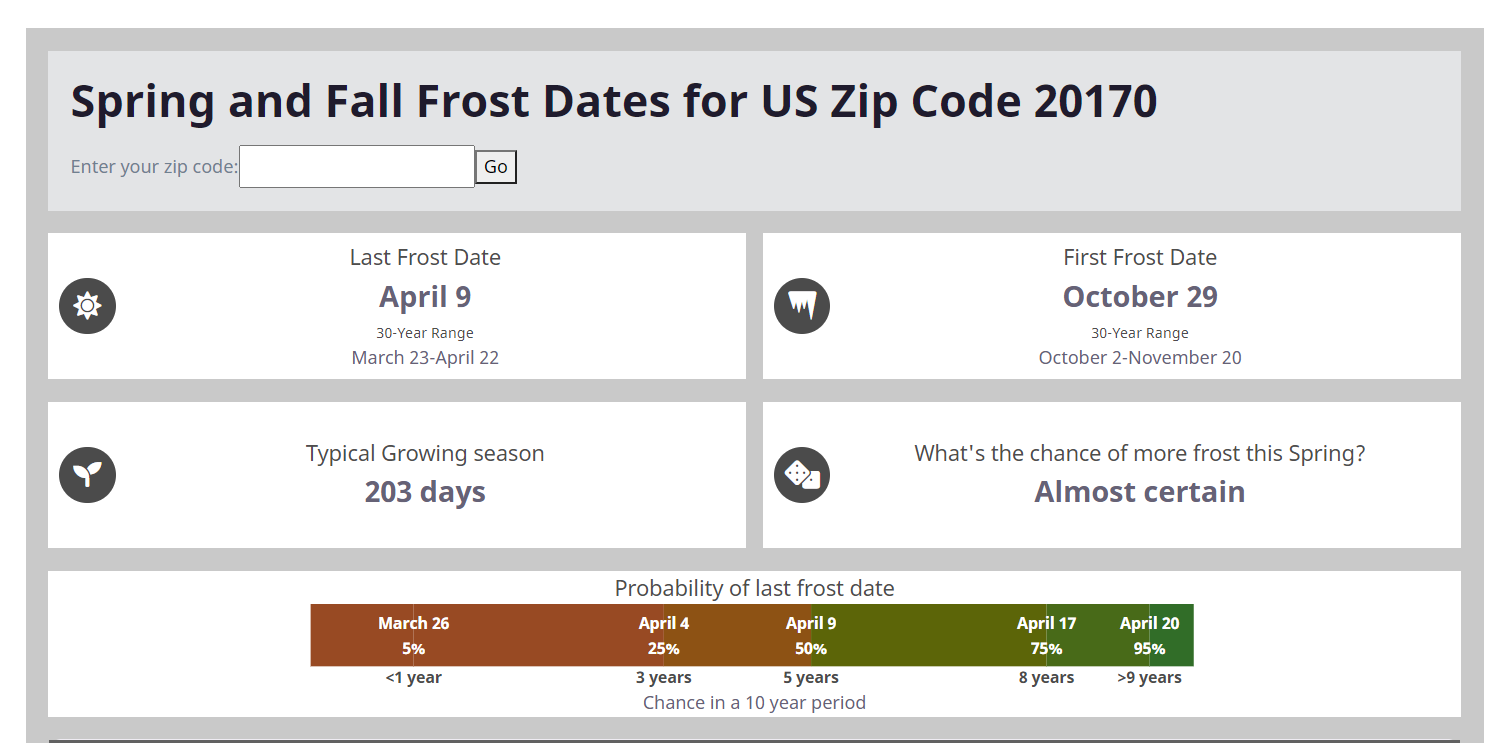 Maps for Micro-Strategy
Get effortless & sophisticated mapping for your business using Visual Crossing. Visualize your data to create heatmap, cluster, hotspot, and voronoi diagrams with a few clicks. Analyze your data as a map without any time-consuming, expensive mapping tools. Some of its key features includes:
One-Touch Formatting and Visualizations
Macro-based Label Editor
Printing
Value-based Thematic Sequences
Multi-layer Maps
Advanced Selections
Pricing
It offers a free plan and there are several other paid plans as well. Each of the paid plans comes with extra features as shown in the image: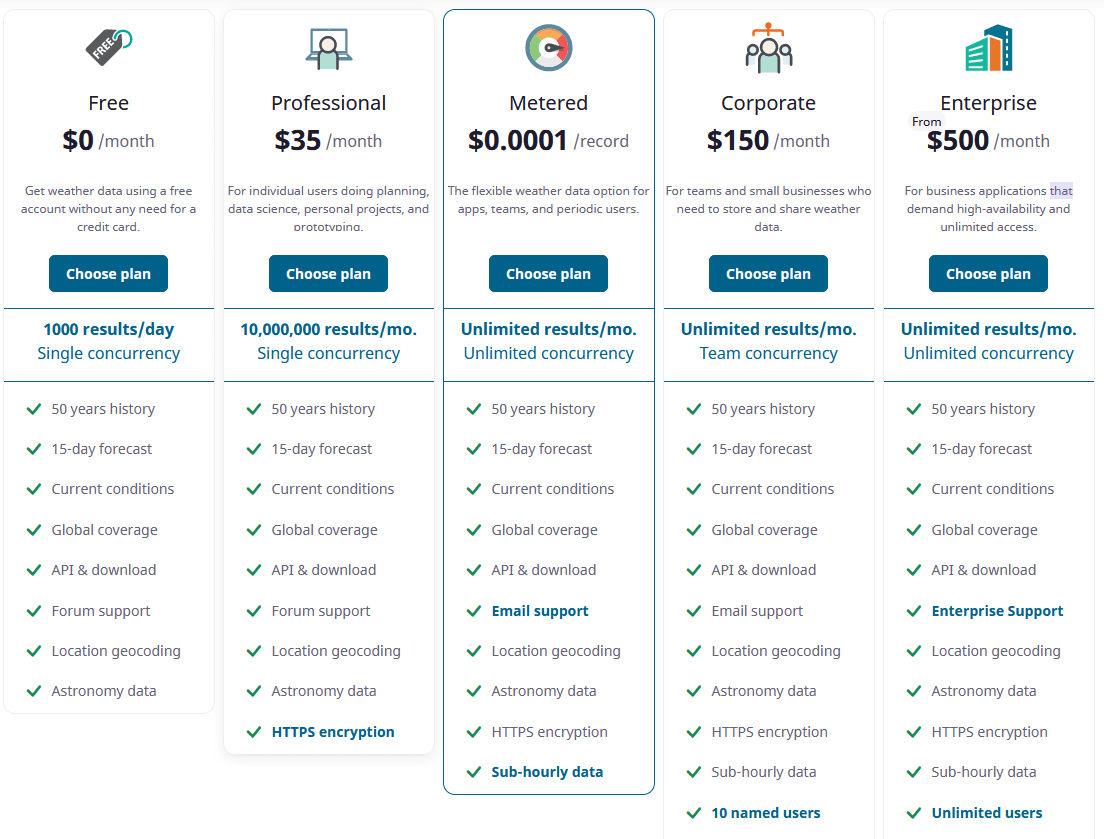 If you choose to pay annually, you get 2 months added subscription. Isn't it a great deal?
The Bottom Line
Visual Crossing boasts to be the leading provider of weather data and enterprise analysis tools to the data scientists, professionals, and academics. For nearly two decades, Visual Crossing has been providing the enterprise-class solutions to some of the largest businesses across the world at lowest cost. If you are looking for the most accurate weather information for any purpose, Visual Crossing is worth considering.