[no_toc]
Doratoon Review: The Best Online Cartoon Maker You Can Try
During the last few decades, there has been a drastic change observed in terms of carrying out different operations. Nowadays, businesses are diverted towards using digital tools for different purposes. One of these digital tools is video.
To keep up with the trends, Doratoon offers you the best, a very easy-to-use video maker. Doratoon brings you the best and easiest video maker that you could ask for. To start working now on Doratoon, all you need to do is to visit their website and make an account.
Introduction to the Best Online Cartoon Maker – Doratoon
What Makes Doratoon Intriguing for Users?
How Doratoon is Helping People of Every Sector?
Why Should You Prefer Doratoon?
The Best Online Cartoon Maker – Doratoon
Doratoon is an online cartoon maker and is a perfect platform for individuals who are beginners in the field of video making. The website provides you with thousands of designs to use. There are several designs for each and every type of industry. Be it lifestyle, marketing, holiday or education, or any other sector, there are designs available for all.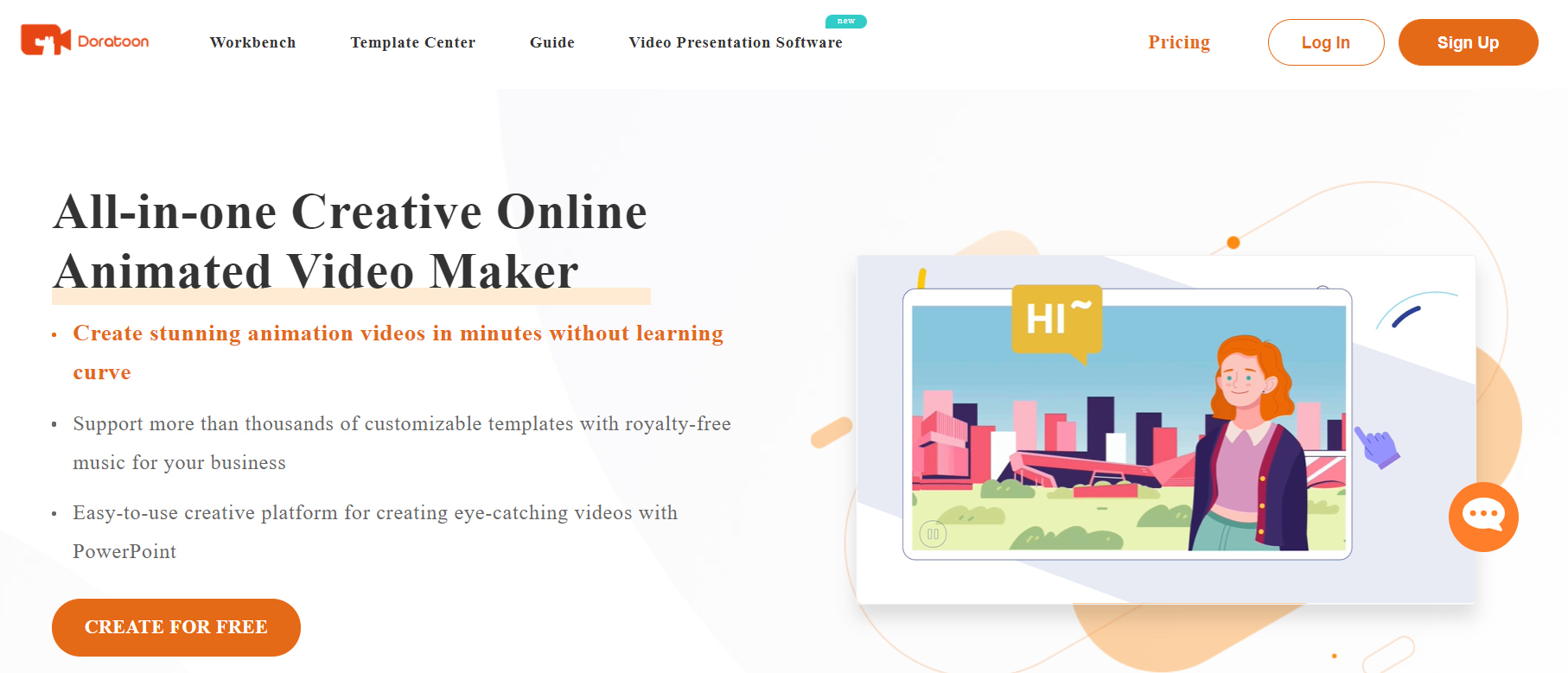 There are unlimited, customizable options on the website too. As you select a design and start working on it, you can decrease or increase the duration of the video. You can also use Doratoon as a video editor.
You can upload the video you want to edit on the website and edit it as per your liking. There are so many available tools on the page that you can use to edit your video. With easy uploading and editing options, it also provides an easy, one-click download option too.
What Makes Doratoon Intriguing for Users?
Doratoon holds a distinguished position among all the other video editors. It provides very astounding features to its users, such as:
To make the video-making experience easier and hassle-free for the users, Doratoon provides the option of AI Dubbing. With this feature, it is capable of converting the inputted text into video dubbing. By using Artificial Intelligence, the feature becomes much more efficient and accurate.
It prevents the user from adding extra efforts for this purpose. Instead, it can be done automatically and, of course, free from errors.
Characters are an integral part of any video. Doratoon is an excellent video animation maker. Since it offers thousands of different animated characters to you, all of these characters have original actions and facial expressions.
These characters are related to different business sectors along with the relevant props to use with them. For example, if you want to make a video about a chef or food business, you can select the chef's character for your video. To make it more interesting, you can also add different food-related props such as cakes, fruits, etc.
Presentations can be very boring and mainstream. If you want to make your presentation more interesting, you can convert it into a video. You can add different video animation effects as well. This video maker can help you to make your presentation unique and interactive for your audience.
Adding subtitles in the videos can be very difficult. Plus, there is always a chance of making mistakes that compromises accuracy. Hence, Doratoon's smart subtitling feature helps the user to prevent such mistakes.
As you click on "Smart Subtitle," speech recognition is activated. Doratoon offers a much easier and effective option for adding subtitles in the video.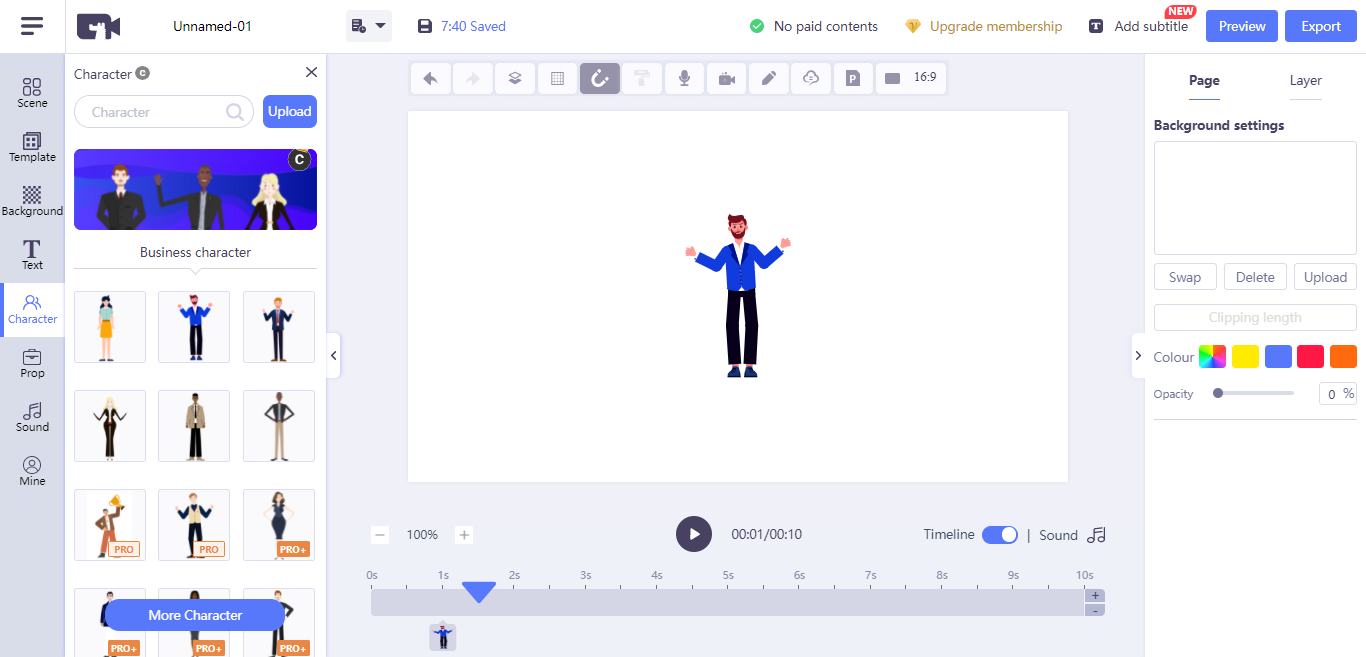 How Doratoon is Helping People of Every Sector?
Doratoon is not just restricted to one sector. Instead, it offers several designs to its users that may belong to any sector.
Let's imagine a scenario. You are a Project Manager, and you have planned and developed a project idea. Now, you have to present your idea to everyone at a conference. You can use several video designs for project management available on Doratoon in this regard. You can also add infographics using Doratoon.
Nowadays, social media is widely used for advertisement purposes. If you are a social media manager in a firm or just an individual who wants to market their product on social media, Doratoon online cartoon maker is the perfect tool for you.
You can make videos to upload on any social media platform such as Facebook, TikTok, etc. You can also make explainer videos or promos for social media to get in touch with potential customers.
The HR department can make their training sessions more interesting and interactive using Doratoon. Apart from training videos, HR can also make videos using Doratoon for a workplace event or also to communicate within the organization.
Giving orientation to each and every new employee is also a lot of hard work. To make the process more efficient, HR can make videos on Doratoon to give orientation to new employees.
Doratoon can be a very useful tool for the education sector as well. Students can also present their projects using Doratoon video maker. Teachers can also use Doratoon to lecture their students. Using the designs on Doratoon, they can prepare their videos on different subjects such as firefighting, safety rules, and Olympic games.
To explain the assignments and syllabus of the course to the students, Doratoon can be a perfect tool for teachers.
Why Should You Prefer Doratoon?
Doratoon offers so many easy-to-use services to its users.
The interface of Doratoon is very user-friendly. It even helps a beginner to create an amazing video. By following some very simple steps, you can design an excellent video. It is a tool that offers so many video animation options to its users that they can use very easily.
The designs provided do not belong to just one sector. Instead, it provides so many animated characters as well as customizable designs that belong to various sectors. It provides significant versatility to its users.
Doratoon understands the needs of its users. It offers 500 MB storage to its new users with a free trial for life time. This helps the users to understand more about the tool.
Doratoon does not require any specific browser to function. It is a video creator that is compatible with any browser that you are comfortable using. It provides the best video-editing experience to its users on any browser they like to use.
Closing Remarks
Doratoon online cartoon maker is a tool that anyone with any level of expertise can use. With lots of ease, it provides a lot of options for the users where they can not only edit a video but can also create a new one.
It makes sure that its users get the opportunity to present their great ideas using these animations so that they can share their ideas in a more efficient way. By using several available designs, the users can make a perfect video as per their requirements.