SyncMate Review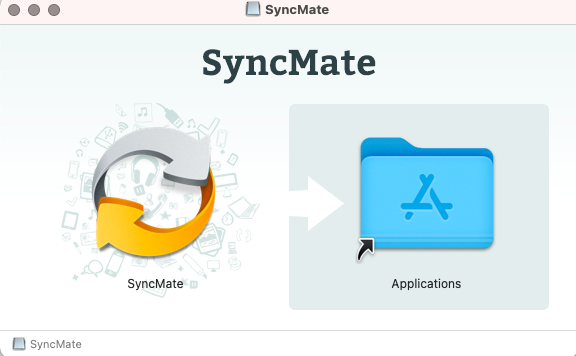 The android platform supports plenty of backup software to take backup of data from Android device to PC. In fact, most Android users use Google Services to keep their data synced and backed up on multiple devices. However, things are different for those who use macOS. If you are using a Mac and looking for software that syncs data of multiple devices and PCs, then SyncMate is here for you. Let's see how this software is helpful to all Mac users.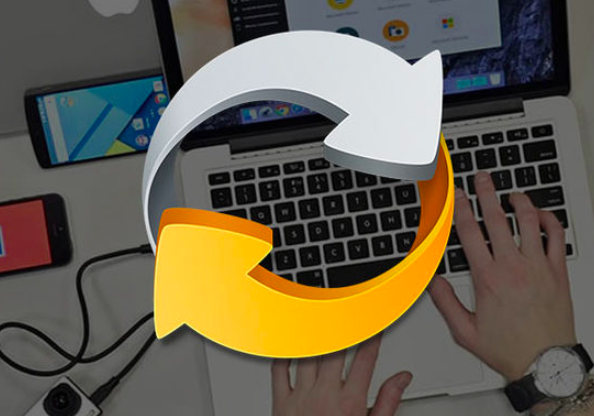 What is SyncMate?
SyncMate is an all-in-one software designed for Mac users to take backup of different types of data from multiple mobile platforms and PC platforms. This versatile sync software allows Mac users to keep all of their devices synced and backed up from one single place.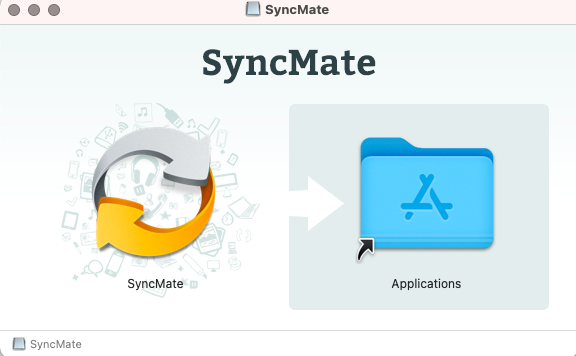 Unlike other software and apps that provide backup services are limited to only a few services and platforms. However, the SyncMate software supports a range of services that most Mac users use on the web. Let's find out what services does this software support!
SyncMate Supported Services
SyncMate supports almost all types of services that a PC user uses. Starting from Android to iOS to Windows services, you can easily add your device or the service to sync with this software. Here's the list!
Android Smartphones
Android Tablets
iOS Devices
Another Mac
Multiple Google Accounts
Mounted Devices
Dropbox
MTP Device
iCloud
Microsoft Services
External Hard Drives etc.
All of these services can be added by the user to sync on your Mac system using the best sync software for Mac i.e. SyncMate.
If you are confused about what types of data you can sync and backup using the SyncMate software, then here we have compiled a list of data which you can sync and backup on the SyncMate Software.
What can I Sync with SyncMate Software?
SyncMate Software supports all types of services, for that reason, the sync option relies on the device that you are using. If you use the Android device, then the list of things that you can sync would be different from the iOS device. To give you the best information about this, we have listed down everything that this software can sync on a Mac system.
Photos:
Choose the photos or the folders that you want to sync between your device to Mac and vice-versa. You can customize the sync option as per your needs.
Folders:
When you select the Folders option, you would be presented with the list of available folders that can be synced between the devices. Of course, the customize option lets you choose specific folders to sync.
Music:
You are also allowed to sync the music library between the devices. Just select the Music option from the device and start the sync process by clicking on the Sync option.
iTunes:
This option lets you sync your Mac's music library to a different device. This option presents you with the list of tracks available on your Mac iTunes.
SMS:
SMS option allows you to sync your SMS. The system sorts out all the messages as per the recipient's name.
Calls:
The calls option lets you sync the call logs with the call duration and other options. You are allowed to sort out the list of the call logs by missed calls, received calls, etc.
Calendar:
You can also sync the Calendars of different devices on a Mac using this software. You can simply choose the device that you want to sync and start the sync process to bring all the calendar events to one single place.
Safari Bookmarks:
Mac users can sync the Safari Bookmarks from iOS devices and other Apple devices to a Mac by using this sync feature.
Backup:
The backup option allows you to take backup of your device's data to a separate folder on a Mac system. You can also set this feature to automatic to take backup of the device's data automatically when you connect to your Mac system.
How does SyncMate Software Work?
SyncMate Software serves an intuitive user interface. The software is designed for all types of Mac users. Let's see how does this software work for you.
The first thing you need to do is installing the Software on your Mac system. Go to the official website, and download the setup file. Follow the basic instructions to get it installed on your Mac system.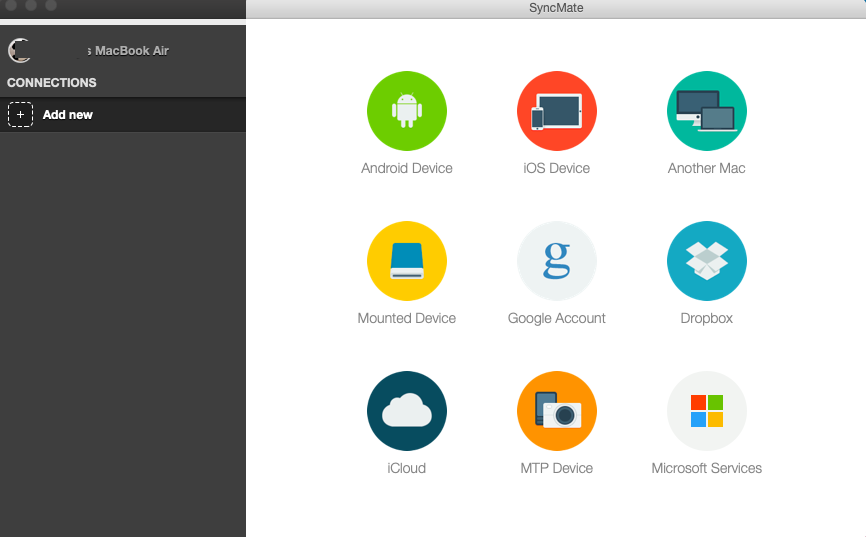 Launch the SyncMate app on your Mac system. You would be presented with a list of services that you can sync with this software. You can simply select the service you want to sync and then connect it to the Mac system.
If you choose the Android option or iOS device, you would be asked to connect the compatible device to your Mac system using the USB cable. The software will then prompt you with the available options that you can sync with your Mac system.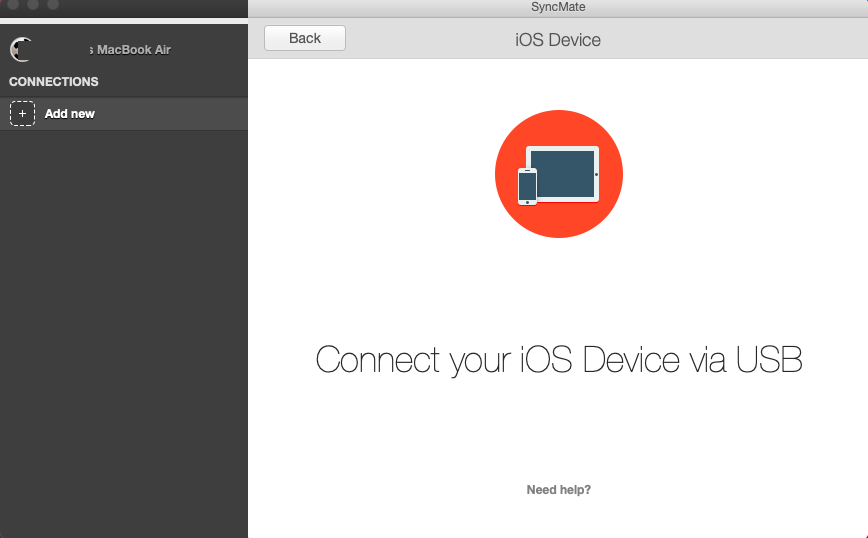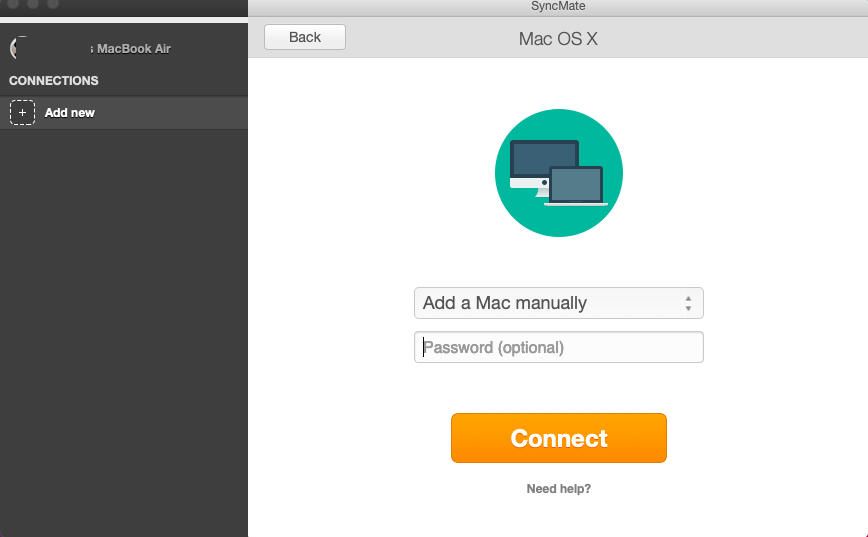 You can also add a device manually by selecting the add device button from the left sidebar. This lets you keep everything synced. You can also customize the services as per your needs using this software.
Here's the video tutorial which you can follow to understand how this software works for you.
SyncMate Pricing:
SyncMate software is available for beginners for free. If you want to test out the software and its features, then go for the free edition of the software. The free edition offers limited services to sync.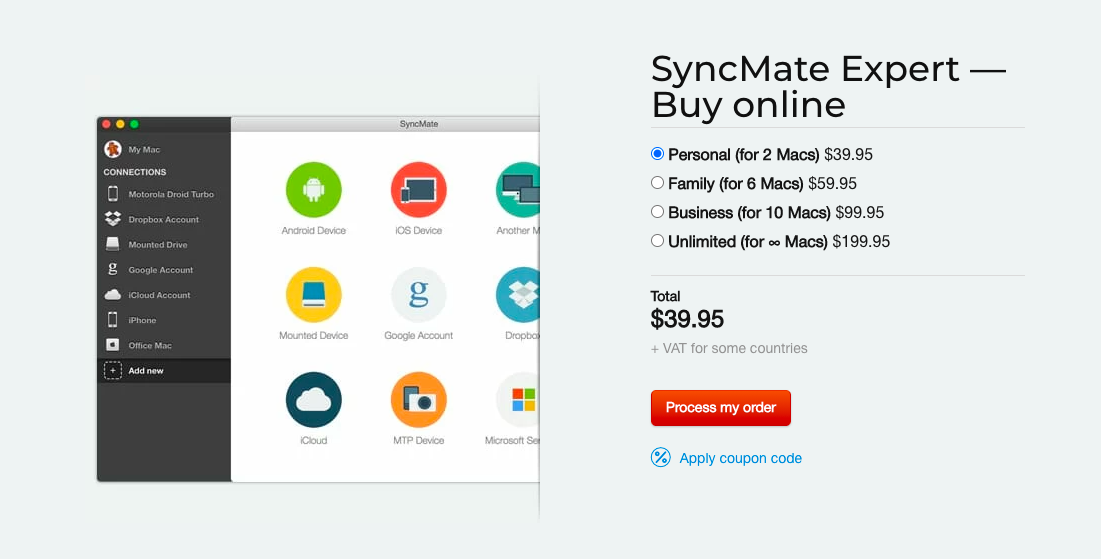 The premium version of this software has four different plans. You can go with the 2 Macs, 6 Macs, 10 Macs, and Unlimited Macs plan from their official website. Depending on your needs, you can select the suitable option from the given plans.
Conclusion:
SyncMate is undoubtedly the best solution to sync your multiple devices in one place. The multi-functional software allows you to keep all of your devices and their data synced. You can also choose a suitable plan to use its services depending on your needs. Test out this free sync software now!