Top 3 Best Fax Apps for iPhone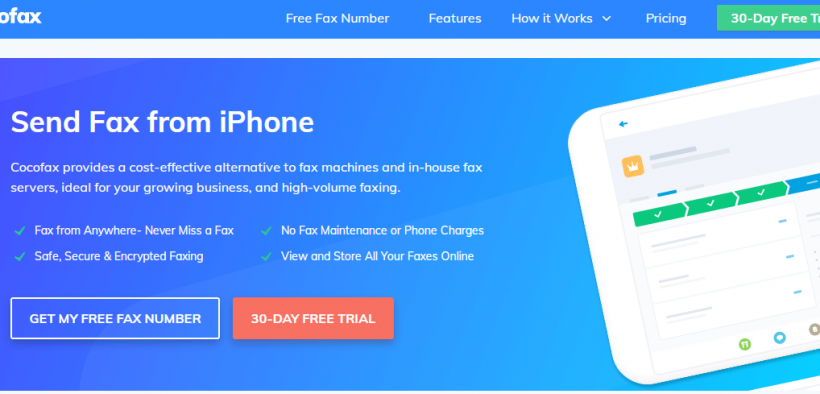 Several companies offer online faxing or electronic faxing. You can receive and send faxes through a web interface or email. With online faxing service, you can eliminate the cost of fax line, ink supplies and a fax machine.
Nowadays, it is possible to receive and send faxes on iPad and iPhone devices. Remember, electronic faxing can outweigh traditional faxing machines. It helps you to access faxes quickly, even without an additional telephone.
Fax apps for iPhones are free and need special credits to send and receive faxes. Some locations need credit to send and receive faxes. Here are the top 3 best fax apps for iPhone to manage your fax communication.
1. CocoFax
Can you fax from your iPhone? Yes, with CocoFax you can manage your fax communication. A dedicated app is available for iPhone users. If you need a free fax number, CocoFax can be the best choice for you. It allows you to send a fax from different places. You can manage international faxes even from your iPhone.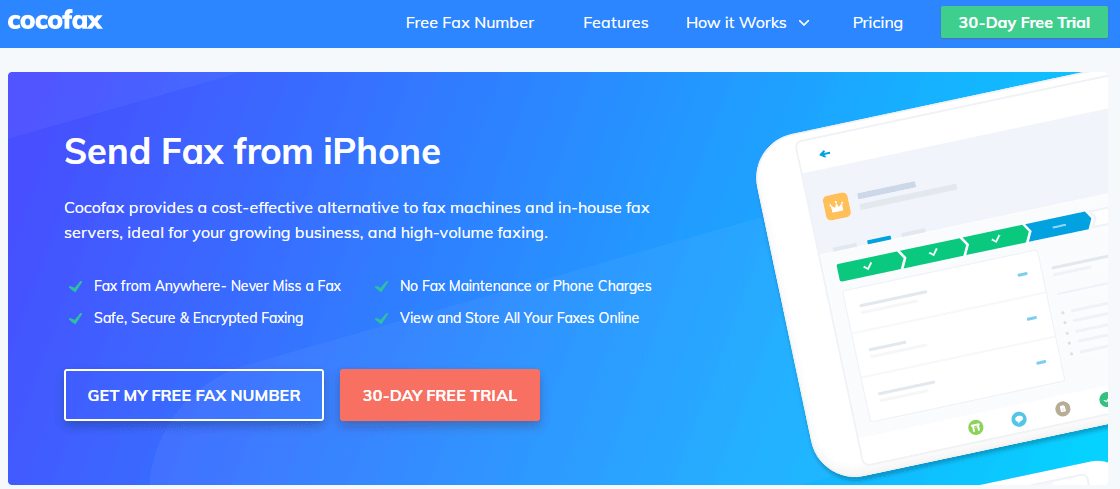 It helps you to send faxes instantly without a fax machine. You can get the advantage of encrypted, secure and safe faxing. CocoFax's online services can be managed without setup fee. No doubt, CocoFax is one of the most reliable, secure and easy fax services.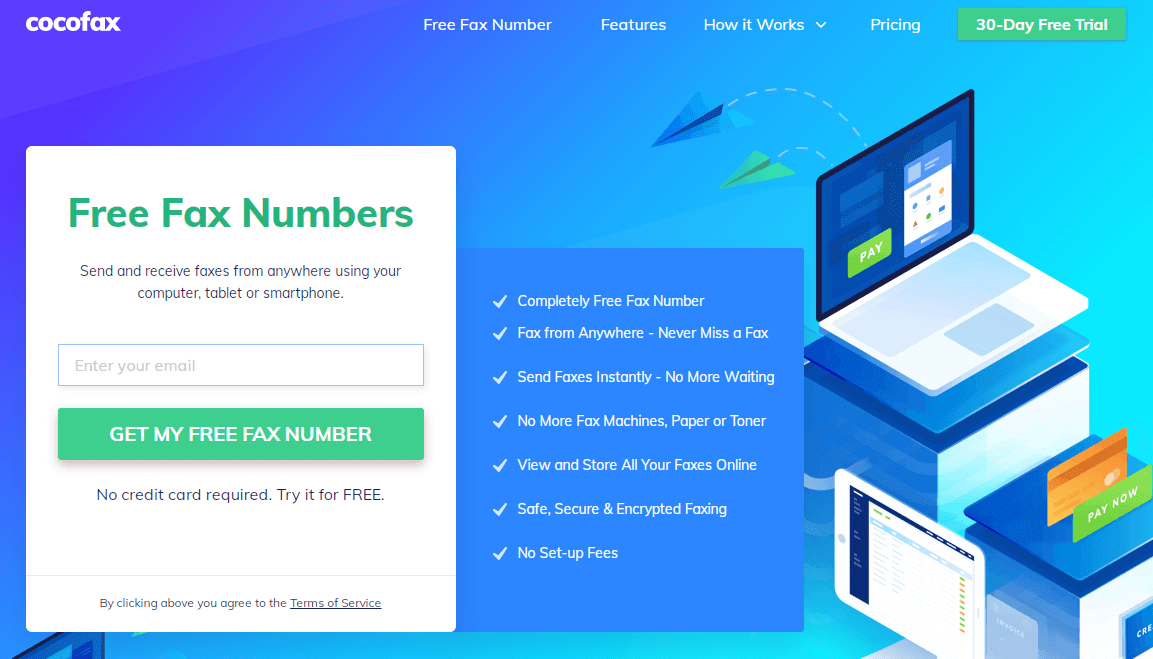 After the recommendations of TechRadar, PCMag, CNET, Forbes and numerous other platforms, it can be easy for you to trust on CocoFax. This reputed brand is currently offering fax services to over millions of customers.
CocoFax allows you to send and receive faxes from any device as per your convenience. There is no need to worry about portability and security. The procedure of receiving and sending faxes will become similar to emails.
Fax files are encrypted with AES (Advanced Encryption Standard) 256-bit to protect data in transit. CocoFax uses TLS (Transport Layer Security) and SSL (Secure Sockets Layer) for secure data transfer. It is a secure HIPAA compliant fax solution to protect your data. You will get freedom to receive and send free faxes without buying a fax machine. See these simple steps:
Step 01: Sign up to this reputed brand and get a free trial of 30 days. Choose your favorite fax number and use this number for free for almost 30 days.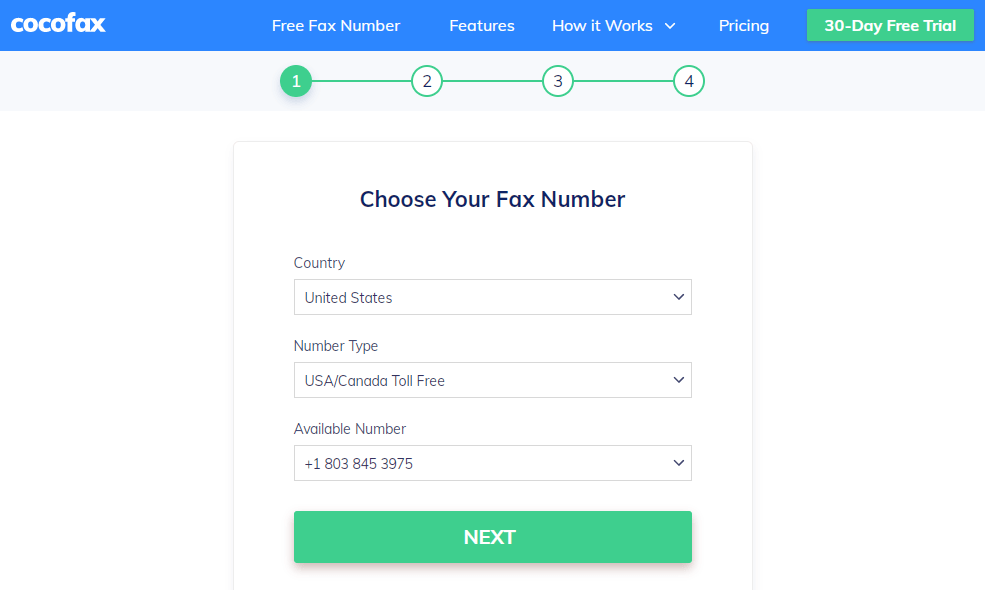 Step 02: Use this number to send and receive faxes. Remember, you can see received faxes in the inbox. Check out dashboard of CocoFax to see inbox, sent and draft sections.
Step 03: After one month, you have to upgrade your plan to use the same fax number permanently.
CocoFax makes it easy for you to turn your tablet, computer and smartphone into a virtual machine. Get email notifications for every sent and received fax. With CocoFax, you can avoid the expense of a fax machine, paper and toner.
2. PC-Fax.com
iPhone users can send and receive free fax without a fax machine. They can download the PC-Fax app for free and start receiving and sending faxes without any registration. You can send one free fax in a day. To send more faxes, you have to pay the price.
Users can send one page in a day to almost 50 countries. For instance, send faxes to Russia, Japan, Hong Kong, China, Australia, Canada/USA, and several European countries. Inbound faxing needs a monthly subscription of €5. You will get a dedicated number to manage your fax communications.
Feel free to use free faxes without any registration. You will need UuID of your machine for identification purposes only. With iTunes, you can upload your document directly in this app. These documents will be stored in a container of the app.
It allows you to send a document to one contact from an address-book immediately. If you want to send more than one document, you can choose a suitable package. To fax 50 pages, you have to pay €12 and €31 is fixed for 250 fax pages.
3. Genius Fax
Genius fax is famous for its simple pricing structure. It is not available worldwide. If you need a secure method to manage fax communication from iOS devices, Genius fax can be a suitable choice. There is no need to visit a dreaded fax store.
It is a fast and straightforward way to send and receive faxes. Feel free to subscribe to a number for almost 1, 3 and 6 months at USD 4, 11 and 21. Receiving and sending cost per page may vary between $0.39 and 0.99.
You can buy a monthly package of almost $3.49 per month. Genius Fax supports numerous international destinations, such as Germany, Portugal, Brazil, Argentina, Germany, France, Japan, UK, Canada, USA, Australia, Puerto Rico, Hong Kong, Italy, etc.