Best Instagram Tool For Safe Growth Combin 2.1 For Windows And Mac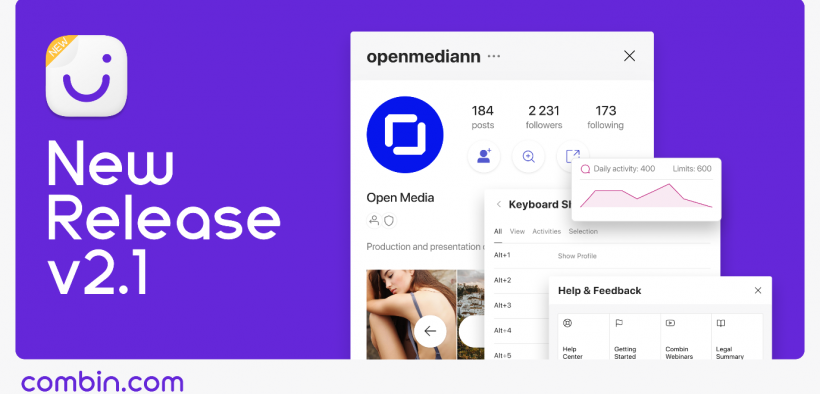 Instagram is a one-stop place to reach millions of people around the world. From celebrities to politicians, you can find the most popular people on earth on Instagram. If you are an individual planning to grow on Instagram, then you must subscribe to marketing tools that will grow your following exponentially.
What is Combin?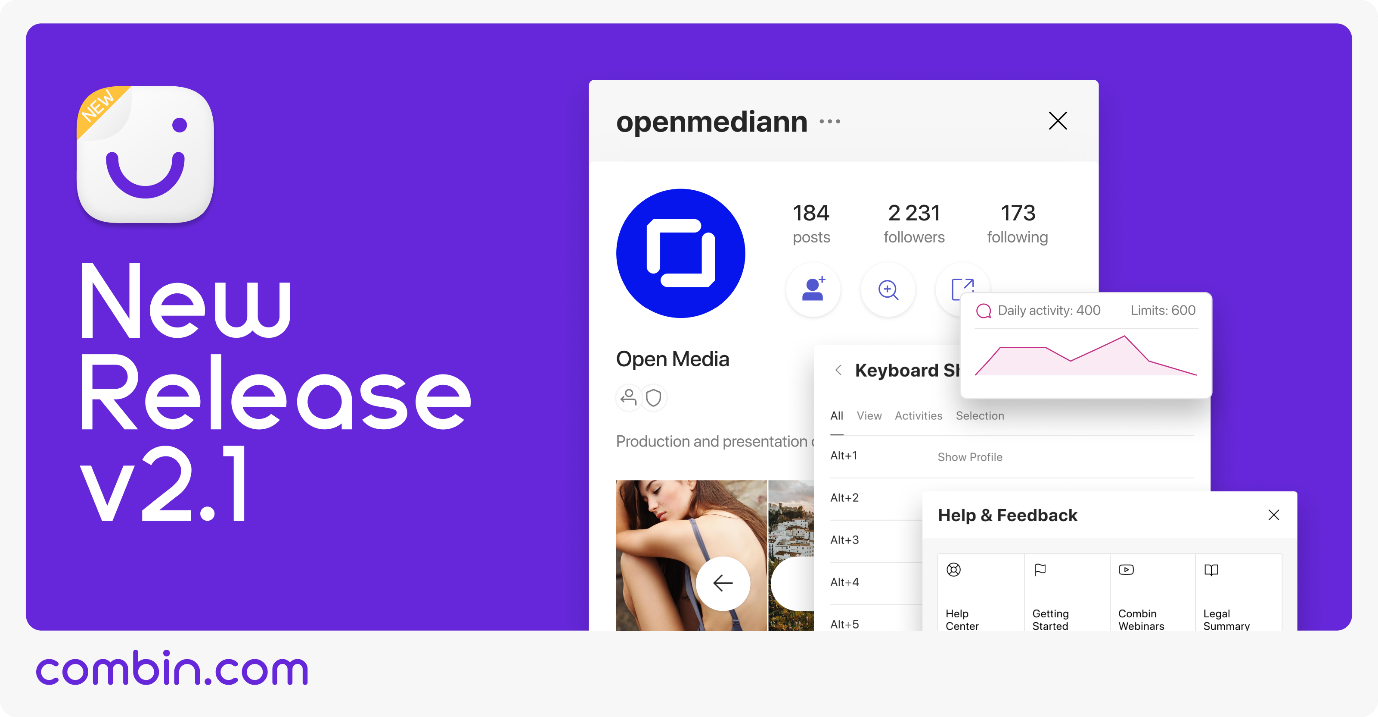 Combin is an Instagram marketing tool for agencies, brands, and individuals. The developers designed the Combin tool to drive genuine people in your profile and get real followers. The Instagram marketing tool is not a magic wand that controls millions of people. Let us explain, how it works and how you can take advantage of the existing features to grow.
1. Advanced Instagram Search
If you have a masterpiece to showcase to the world, and don't know how to reach them, then Combin has a solution for you. You can find the advantage search and then find profiles and publications that target specific Tags, Location, Queries and Interactive map for accurate results. You may not get an instant response from the community, but you can build a natural following over time.
2. Audience Management
In the audience management feature, you can manage followers and follow in one place. Recently, I got one Instagram follower and after I followed him/her back, I got unfollowed. The inbuilt feature detects people who don't follow you back and keeps you updated about it. Start engaging with the audience by commenting and liking the latest posts. Of course, you can schedule tasks for single/mass following/unfollowing.
3. Updated New User Preview & Photo Preview

The Combin 2.1 packs new features that allow researchers to take a quick peek at the profiles without opening them. You can preview 10+ latest posts of a profile without opening it. By hovering the mouse cursor, the biography shows up on the screen. By previewing the photo, you can check out the photo content engagement such as Comments, Geotag, Number of likes, and more.
4. Instagram Limits Display

The popular social media application started to limit down the user's capabilities to fight against spam. Every account subjected to one rule, and it is extremely difficult to keep track of it. Combin is initially freeware and some extended options are available for those who buy a license service and it offers different packages, which limits the number of followers, comments, and likes per day. Now, you can check out how many Comments, Likes, Follows, and Unfollows left in the account.
5. Search Copy

Use the advanced Create Copy for identical search parameters and you can adjust the filters as well. Click on the search button located left sidebar, and then click right-mouse to select "Create Copy" of the hashtag.
6. Sound Notifications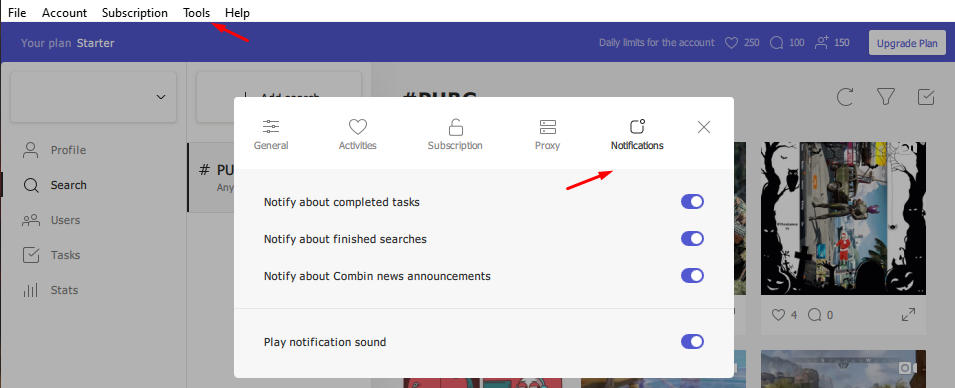 In the Combin 1.0 version notifications alerts were missing and many existing paying customers demanded it. In 2.1 version. The Combin added sound notifications and it will inform customer about the completed Tasks, Searches, and News. Enable the feature manually by clicking on Tools > Preferences > Notifications and enable every option in the notification.
7. Comment Time
Instagram marketing exceeds an individual imagination and to meet your goals, Combin added specific targeting comment search. In the comment search option, the customer got filters that allow them to adjust time, date, and location to find the relevant results. The "comment time" individual marketing strategy allows the customers to target specific and relevant audience in one shot.
8. Cross-Platform Application Available

Combin supports Windows and macOS application. Also I ran a test thoroughly to check if any bad codes or adware are coming with this software using VirusTotal, and found its clean.
How to use Combin on Windows 10?
Regardless of the operating system environment, the interface & navigation remains the same on Windows and Mac OS X. The machine requires minimum hardware on the paper such as 1 GHz processor, 1 GB RAM and 200 MB free storage.
Step 1: Download the program from the official site, and then log in using Instagram credentials.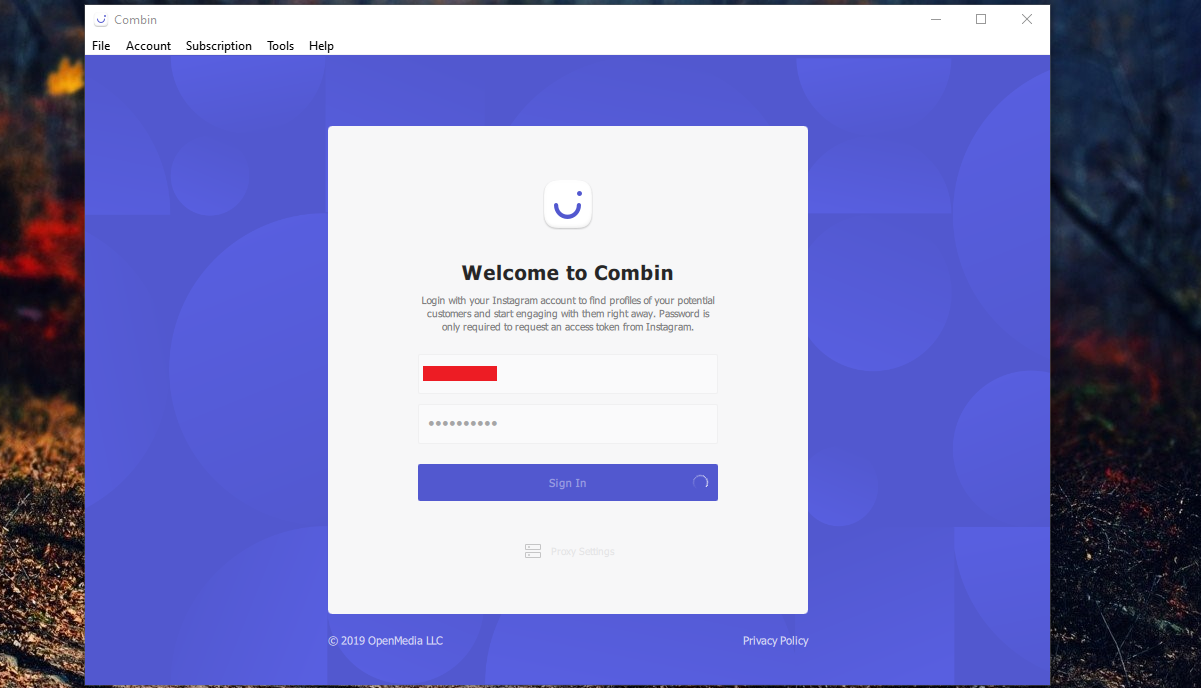 Step 2: I want to follow the people, who are following me right now. In the dashboard, you can find the "users" button and click on it to proceed.

Step 3: Click on the followers, and then not followers, and start unfollowing those who are not following you back.
I have noticed that Combin works a bit slow to keep Instagram spam protection happy. Do not close the program from the task manager because it applies actions slowly.
The Combin is a marketing tool in every aspect, but the official software developers maintained user-friendly desktop-class environment. Learning the navigation consumes less than ten minutes because there aren't unnecessary features in it.
Bottom Line
Combin is initially freeware and some extended options are available for those who buy a license service that charges 1) Personal for $10 per month, and 2) Business for $30 per month. The company does not want to leave freebie disappointed, so they have added starter account that provides 250 likes, 100 comments, 150 follow/unfollow limitation to the account.