LambdaTest Review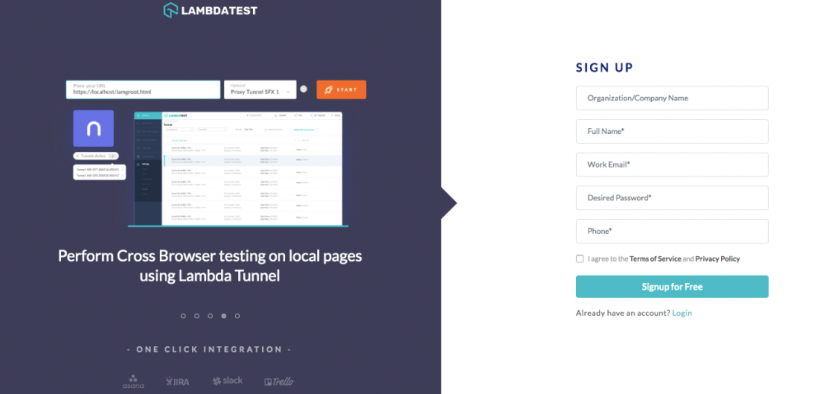 If you are into Website or Web App Development Industry and design a variety of websites, then you must be equipped with a number of advanced software and tools to help you out with your queries and other issues which are happening during the testing process. If you are looking for reliable web testing software for your website-developing needs, then LambdaTest is the most advanced toolavailable on the market.
What is LambdaTest?
LambdaTest is an advanced cloud-based testing solution available for webdevelopers. This platformis highly used by website or web appdevelopment teams in the organizations for managing we based cross browsertesting and its related tasks.
Being the latest webtesting solution, LambdaTest offers a number of useful features to make your web-testing and patch-related tasks easier. It is a cloud-based software which stores your data and sensitive information over the cloud.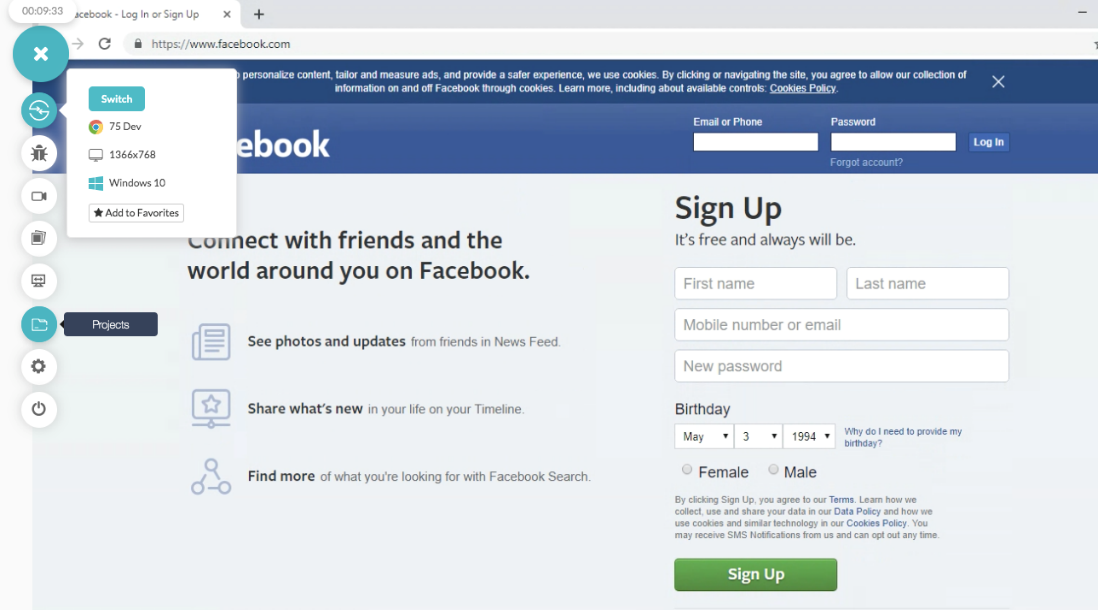 If we talk about some of the useful Key features of this platform, then this software includes live browser testing on a combination of 2000+ bbrowsers & OS, multiple browser support, visual UI testing, real-time testing through the browser and many other more which are essential for the webdevelopers.
Since the platformsupports all the web browsers that are available on the web world, it lets users perform live testing of their recently developed locally hosted websites or any of the public websites using this tool on a computer.. All-in-one, the software tests everything running on the Internet.
Apart from this, LambdaTestallows users to generate real-time screenshots while exploring different websites through it. There is a separate section available on the Dashboard for taking full pagedscreenshots. Depending upon your basic needs, LambdaTesttakes long screenshots of web pages for multiple browsers, in different resolutions and different operating systems.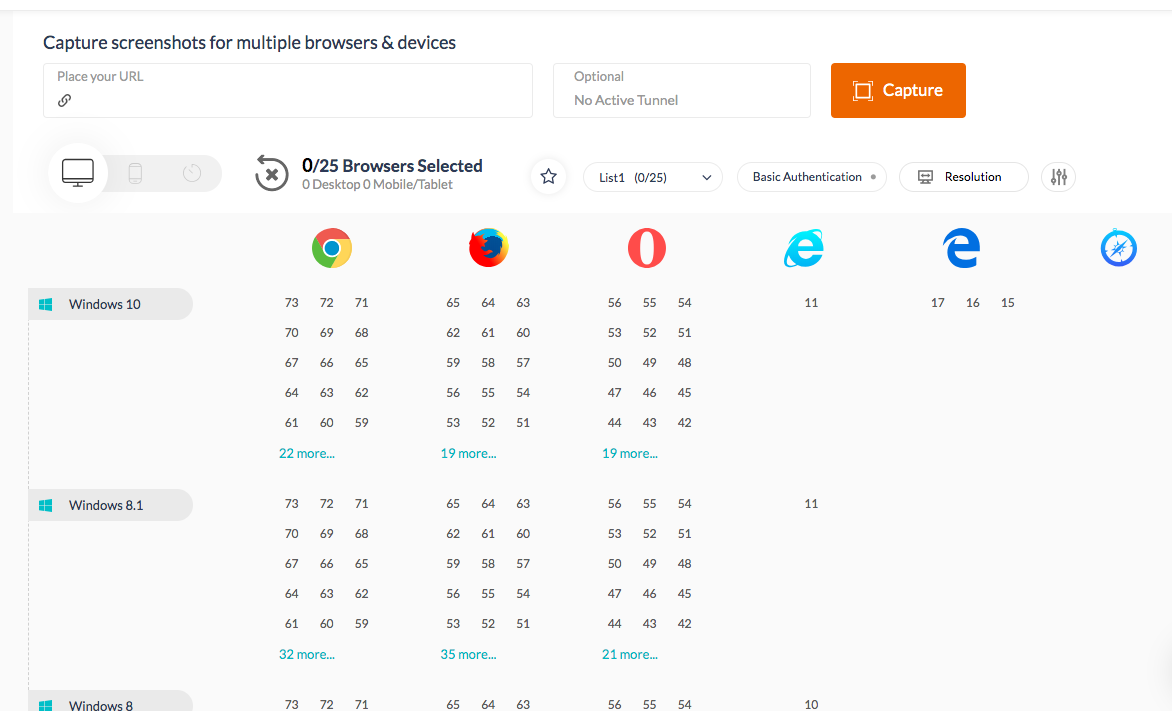 Since software and web developers are using different types of tools to work collaboratively, LambdaTest lets them integrate with a variety of services with just one click. The integration feature with different web-testing and communication services is essential and very useful to save a lot of time while working on a particular task.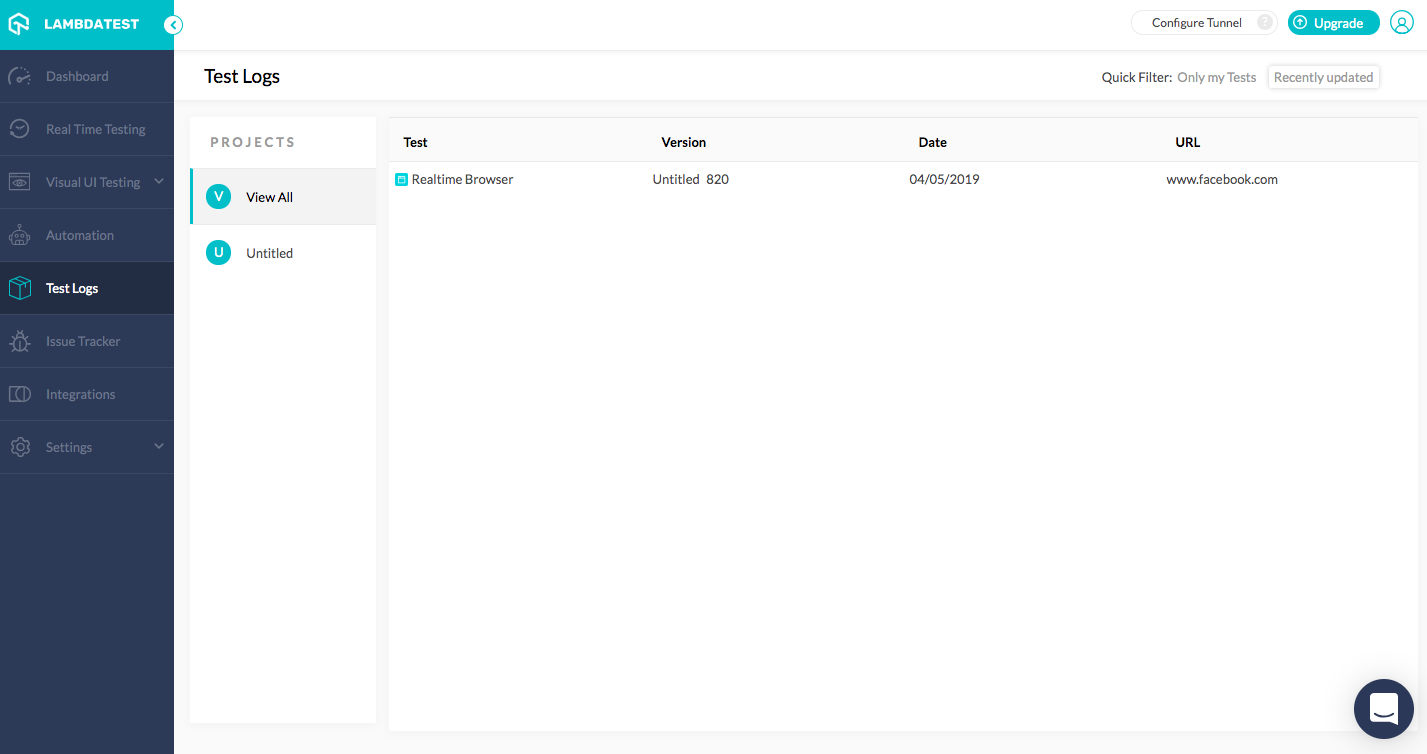 Talking about the integration, the LambdaTest can be integrated with services like Jira, Gitlab, Hive, Slack, Bitbucket, Bugherd, Asana, Azure DevOps, Mantis, Trello, Paymo, Clubhouse, Github, Teamwork, Monday etc. All these services can be integrated easily with this platform so that you can easily communicate with your team members and can share things between them with just a few clicks.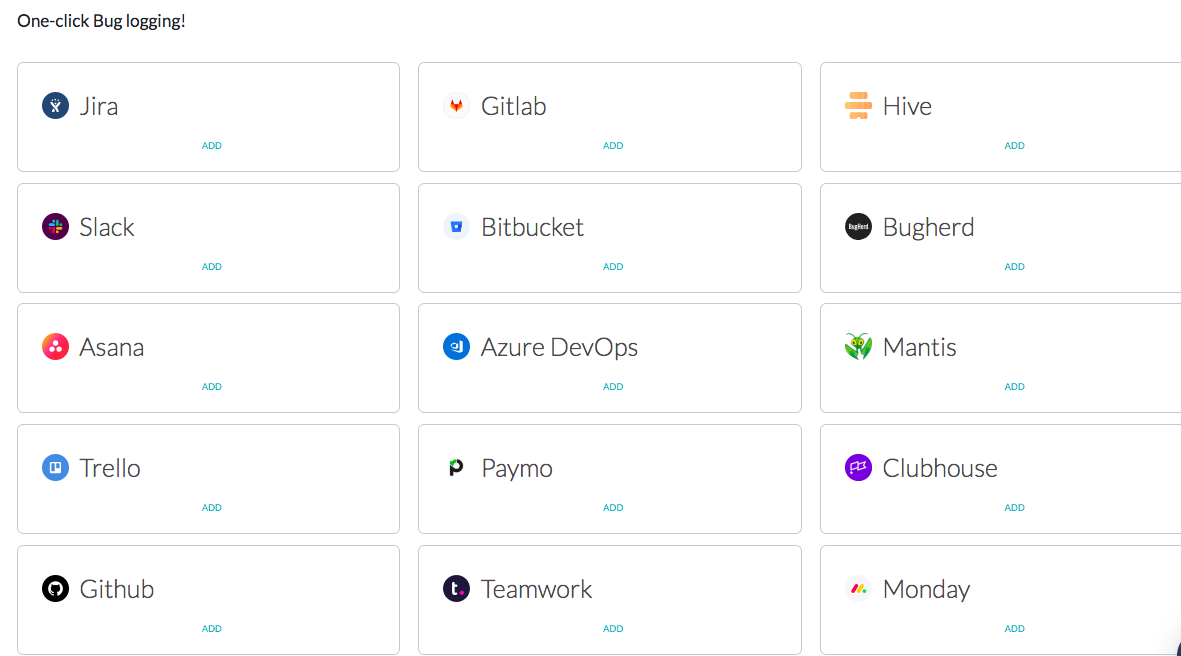 Apart from this, LambdaTest also adds Plugins of WordPress and Google Chrome with just one click. You can use this Plugin while exploring different websites through the Google Chrome browser or while working on a web-designing with the WordPress Platform. This plugin will work in real-time and enables the developer to test out things with just one click on its icon.
How to use LambdaTest?
LambdaTest is designed for everyone who is interested in the developing side of the Internet world. It is a cloud-based platform which doesn't require extra storage space for your multiple projects.
Since it's a web-based tool, you need to first Sign up for this platform. To do so, go ahead and visit its official website. Click the Signup button and you will be presented with a Signup form. Fill in the details and create your account there. You will be asked to verify your account.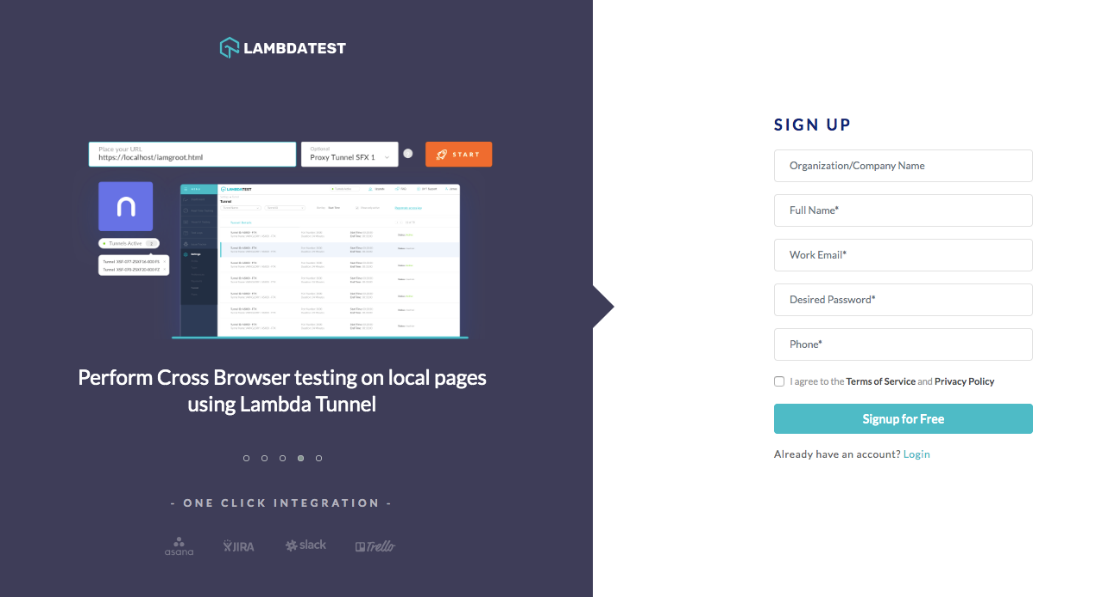 Once you are logged in, you will see a decent interface of the tool with a set of useful options. The Dashboard looks pretty simple and there are a number of useful options available for you at the left-side bar. You can explore all these options as per your requirements.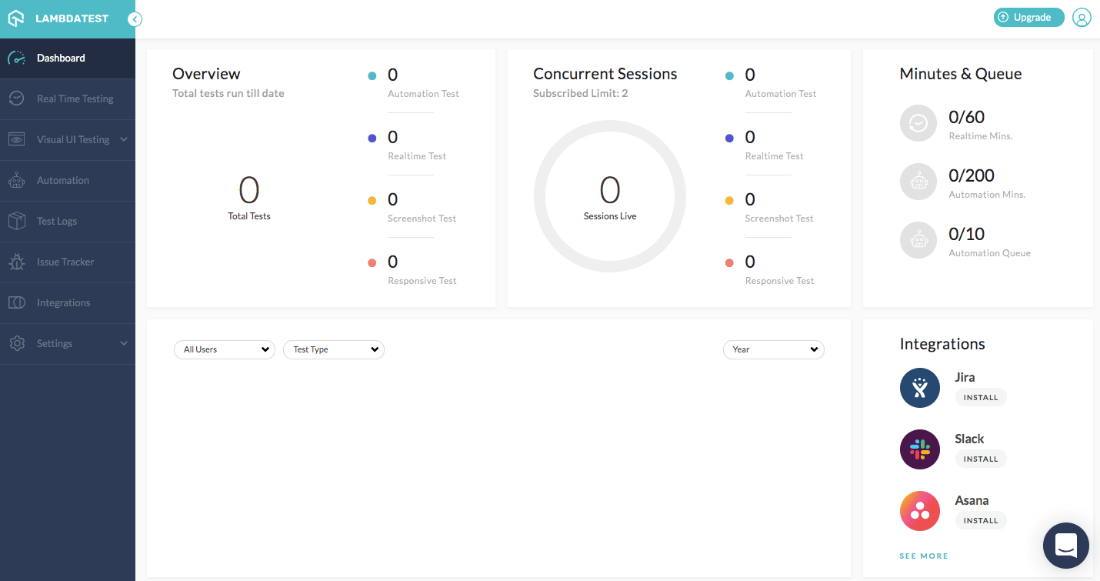 If we talk about the functions, you can make use of its Real-time Testing feature that lets you test out different websites in real-time. You will be asked to enter a URL of a particular website and then click the Start button. The tool will fetch the required information and you will be able to proceed further.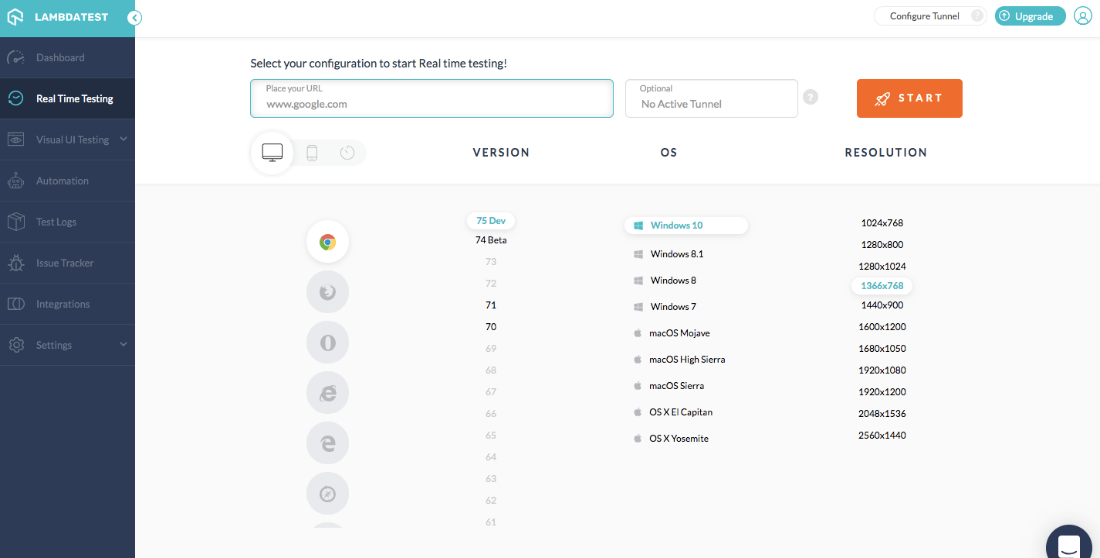 Just like this, there are a number of other useful functions available on this software which are already mentioned above.
LambdaTest Subscriptions:
LambdaTest lets you test out its basic features for free. You can create a free account using the Sign-up process on the platform. There are multiple subscription plans available with monthly and yearly plans.
Depending upon your basic needs, you can choose the suitable plan from three different options I.e. Lite, Live and Web-Automation. These three plans are available for users of different fields and needs. The Lite plan is for free and it comes with basic features only. The Live plan comes with some limited features and functions. While the Web-Automation plan is a feature-rich plan and is there for the professional software developers.