Cleantalk Review: Best And Top WordPress Security Plugin to Scan Your Site for Malware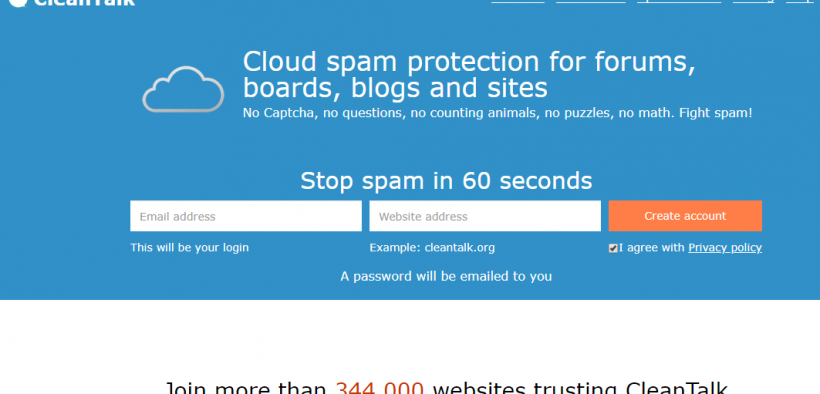 WordPress is a popular open source tool for creating your own website. It provides a platform for bloggers and is an open source content management system. The increasing popularity and continuous growth of WordPress have made it vulnerable to security threats and attacks. WordPress Security Release alone was not capable of handling all types of attacks. So the WordPress Security Plugins were released. CleanTalk's WordPress Security is one of the most important security plugins providing protection from the Brute Force attacks by creating a firewall.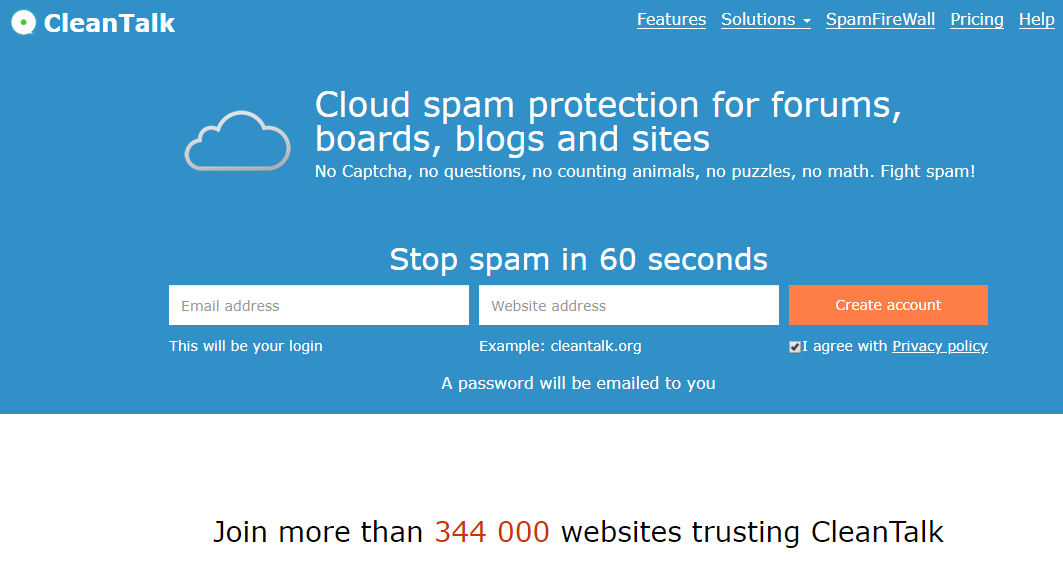 A security plugin applies optimized algorithms to prevent security breaches. There are different types of security attacks a WordPress website faces every day. Few of them are:
1. Malicious Software: The hackers leave malicious software or script when they hit the website which is known as malware. The security plugin should scan all the files, contents, data files, database, DNS changes, comments or any post to detect the malicious code which could be hidden in the website's source code or URL. After scanning the malware if found are removed by the security plugins.
2. Brute Force Attacks: Hackers try to log in to the website with thousands of possible username and password combination through automated scripts. Security plugin blocks such users and prevents WordPress from giving sensitive information like username, password, and multiple entry point options to the hackers.
3. Zero Day Exploits: Hackers use to attack the obvious vulnerability issues present in any kind of website using bots. Security plugins use known algorithms and security firewall to stop them.
4. Spear Phishing and Social Engineering: These techniques are used by hackers to crack the most difficult passwords also. The two-factor authentication feature of the security plugins protects against this risk of password cracking. The banks, financial institutions, and various websites use this feature.
5. Rate Based Throttling: To date, this attack is known to be the most critical one. The websites, databases, servers, and networks are hacked using bots or automated scripts. Genuine customers can't access the website and search engine crawlers. The security plugins come to aid by blocking the IP address if the access request exceeds the limit of a maximum number of requests from that IP address. The bot crawlers are also prevented from aggressive crawling.
6. Country attacks: Hackers attack sites using IPs of different countries and networks. Security plugin blocks specific countries from accessing the website.
7. Password Cracking: The password audit feature of security plugins find out whether the password of the admin account is weak or strong and suggest the changes accordingly.
8. Spam Ads: Hackers post spam ads on the websites they have hacked. These ads usually include the link to some other malicious website or a virus to download. Security plugin regularly scans the site for any kind of spam ad. It identifies and removes them.
9. Hacker Reckon: The information like software version, operating system version, and software installed, etc. are used by hackers to find vulnerabilities. A security login prevents the website from passing such information to the hackers.
Cleantalk Security Plugin Solutions
Once you install the plugin and activate it, you need to go to the settings to configure it for the first time.

As a first time use, you can click on "Perform scan" button to scan your website for vulnerabilities.

The overall first-time scan will take some time around some 5 to 10 minutes. Once the complete scan overs, it will suggest you with the optimizations needed to safeguard your website.
Security Log
In the Security Log tab, you can see the number of brute force attacks for the past 24 hours.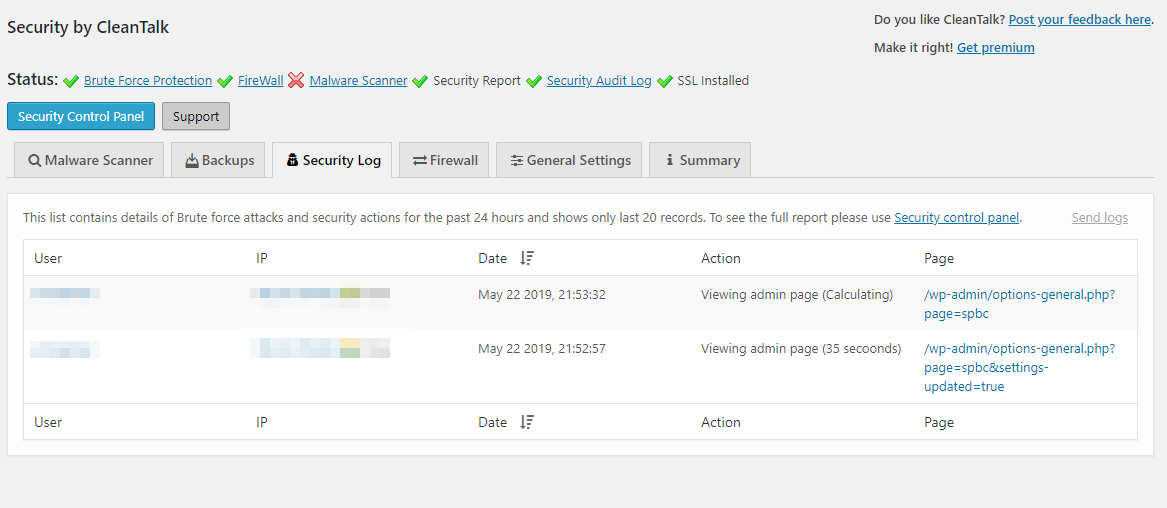 The traffic control will block those which sends many requests at a time to your website. Mostly helps with the DDOS attacks from your competitors or hackers who plans to take down your site.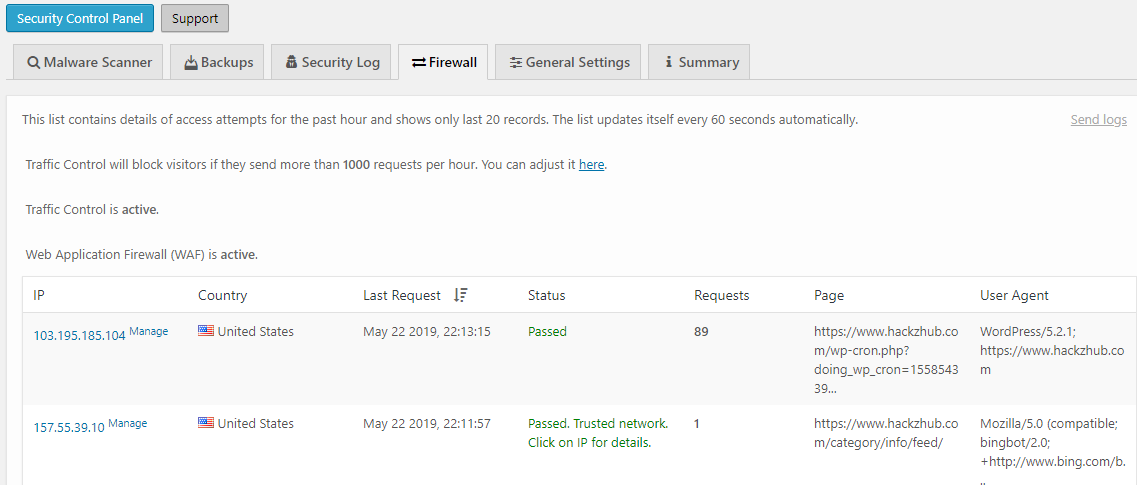 Security Control Panel
Most of the applications main things can also be controlled by the main Security Control Panel.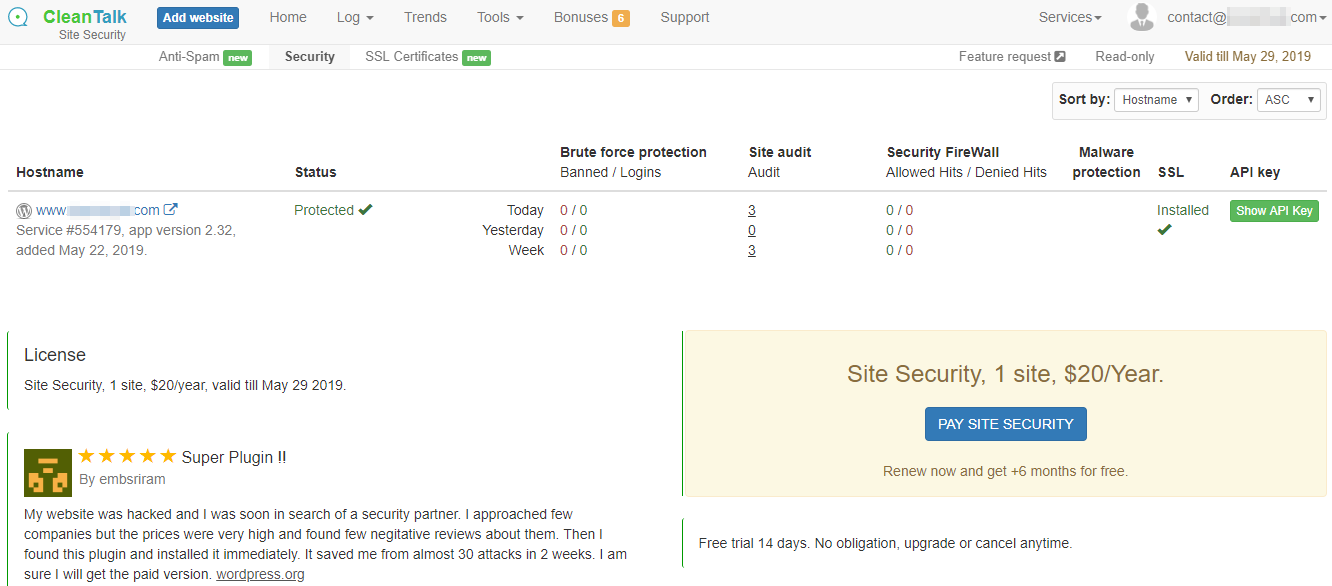 Features of Cleantalk Security Plugin
Provides protection against Brute force attacks
Sends security report every 24 hours
Has login attempts and password searching security log
Security audit log keeps track of actions in the WP Dashboard
Security FireWall blocks access to the website by IP networks and emails
Blocks access to the website by countries
Gives notifications for admin authorizations i.e. informs about any unauthorized entrance to the WP Dashboard
Uses the CleanTalk Database of dangerous IP Addresses
Security traffic control tracks every single visitor
Malware Scanner scans files to find out if there's any hacked file or hacker code
Daily Auto Scan
Has Quarantine option
Web application FireWall protects against known and unknown attacks
Backend PHP logs
Malware Auto-Cure automatically deletes the dangerous code of the scanned files
Two-Factor Authentication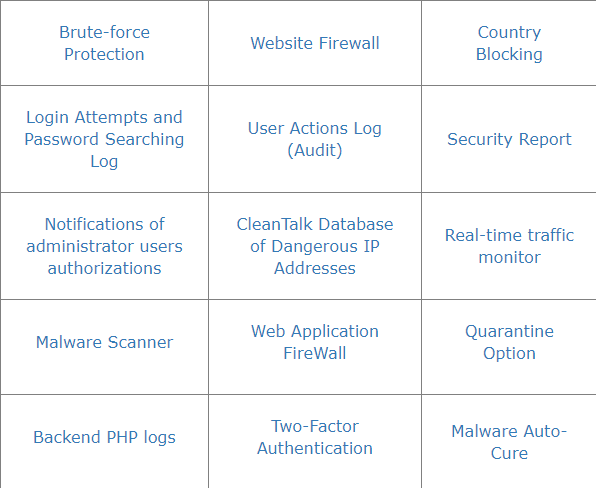 Pricing
This security plugin is free to use where most of its main features are available. But if you need some special features for more protection then you should consider upgrading your subscription to premium one by paying 8$ per year for a single website.
Final Verdict
CleanTalk's WordPress security plugin is a premium one for the WordPress site. The end to end protection system prevents and secures the site from brute force attacks, brute force account counting, blocks IPs and users using a firewall, provides security for WordPress forms and the backend filters malicious IPs, networks and countries. The reports on daily security logs, audit logs are sent through emails to the users so that they can analyze and monitor vulnerabilities to their sites.