WinXMediaTrans Review And Giveaway Of The Pro Version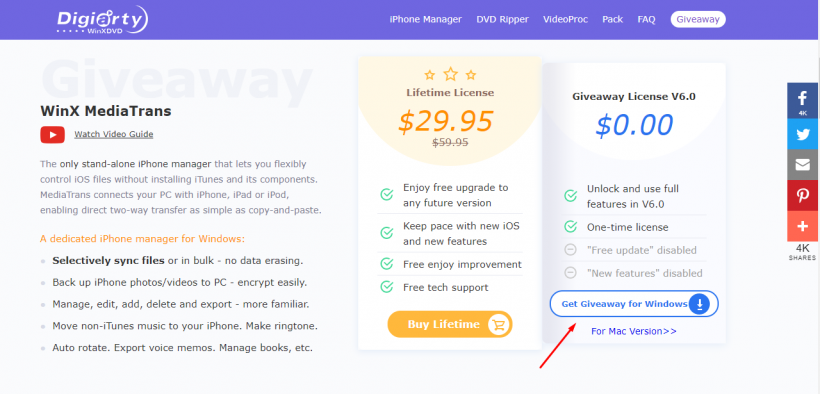 Apple introduced iTunes to help the iOS users to connect their devices to the computer. But Apple loves to have fullcontrol over the consumers, so they have added certain limits to the iTunes. However, it did not stop third-party software companies to develop iTunes alternatives.
We may not be able to all iTunes alternative software, but we are going to review WinXMediaTrans.
WinXMediaTrans Review – iTunes Alternative
WinXMediaTrans is an Apple iPhone, iPad, and iOS devices manager or you can call it an alternative for iTunes. The WinXMediaTrans software enables you to take full control over your device and perform tasks and use the features at maximum.
What makes WinXMediaTrans different from the rest of the third-party manager?
MediaTrans Features:
WinXMediaTrans has a strong security feature that enables you to transfer files from /to PC or manage your device securely. You can eradicate file leak with Encryption, and the MediaTrans uses 256-bit AES, 1024-bit RSA, Argon2 and PBKDF2 encryption to enable the protection on your Windows PC and Mac PC.
It is a major problem with iTunes that you have files deleted or lost while syncing your phone. But, MediaTrans securely protects your files while transferring and you can create a back up right away as well. In simple words, you can transfer files without losing any data.
If you are a Windows user, then you have an amazing feature that allows you to transfer music files between iPhone and your PC or you can do the opposite as well.
You can create a new playlist, edit, add, manage, edit artist info, and more in a few clicks.
One of the major features of the WinXMediaTrans is that you can convert any video file to iOS device compatible MKV format. It also reduces the size of the file to 50% to save your internal space. And it can also convert music and eBook to iOS device for smooth playback.
There is no limit on transferring like 1080P format videos or 4K videos because it supports the latest video formats codec.
You might already know that you can transfer many files to your iPhone or iPad like video, photo, music, ebook, voice, aand other files directly, right? But by using WinXMediaTrans, then you can transfer any file to your iPhone and can also use your iPhone as a secret USB driver to take words, PDF, Excel and anything anywhere.
and view the documents without any limitations.
In case, if you have a music file or video file purchased from iTunes, then it is DRM protected to avoid copyright infringement,and you can remove it by using the DRM removal tool in the WinxMediaTrans.
You can also encrypt any file to protect it from unauthorised users all around the world, and MediaTrans utilises the most powerful open-source encryption.
Learn more about iTunes VS WinX MediaTrans
How To Transfer Files Using WinXMediaTrans?
Allow us to show you how you can start transferring data from computer to iPhone in a few clicks using WinXMediaTrans.
You can transfer files like Photos, Videos, Music, Books, Voice, Ringtones, and Use iPhone as a flash drive. And you can enter into WinXMediaTrans giveaway to get a free licensed of this nice iTunes alternative for Windows.
Step 1: Launch the WinXMediaTrans and connect your device to the computer. In this case, we are going to copy the photos from iPhone gallery to the computer because you want to free up space and keep the photos at the same time, so click on "Photos."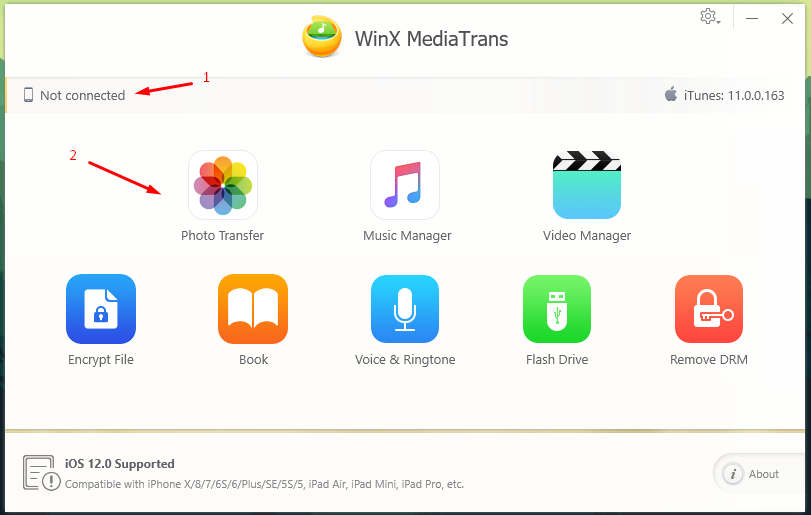 Step 2: The photos will begin load,and it will take one second to ten seconds to complete the scanning,and the photos will load completely.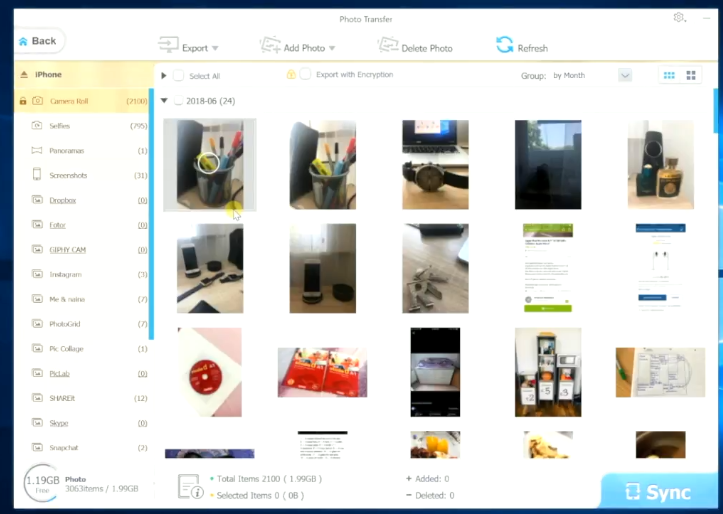 Step 3:Now, click on the images to select, and then click on "export" on the left top menu. The exporting will begin,and it will take a few seconds to one minute depending on the number of images you have selected and file size as well.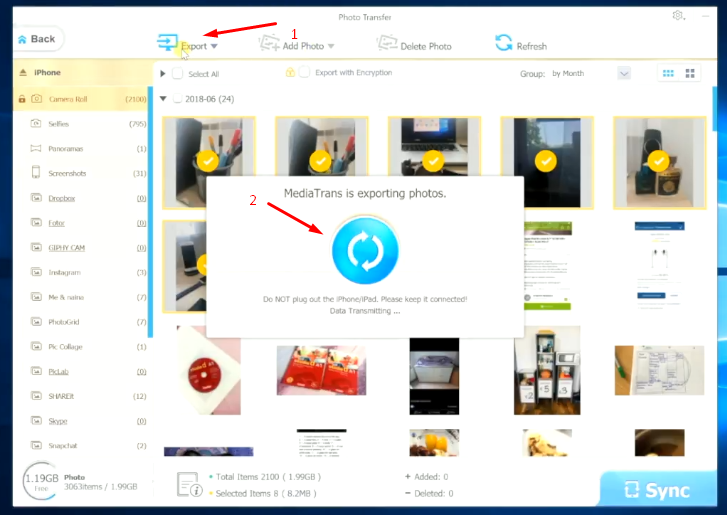 Step4: Once the exporting completed, and then the destination folder where all Photos or Videos or anything saved will be in that folder.
You have to do the same thing with rest of the features.
How To Get WinXMediaTrans For Free?
WinXMediaTrans comes at a price, but we got you covered because the software company has decided to giveaway WinXMediaTrans premium version for free in a giveaway.
Yes, you can earn an opportunity to win the giveaway.
First, you have to go the official giveaway page of the WinXMediaTrans and then download the giveaway version that provides you one-time license that helps you to access the premium features for free.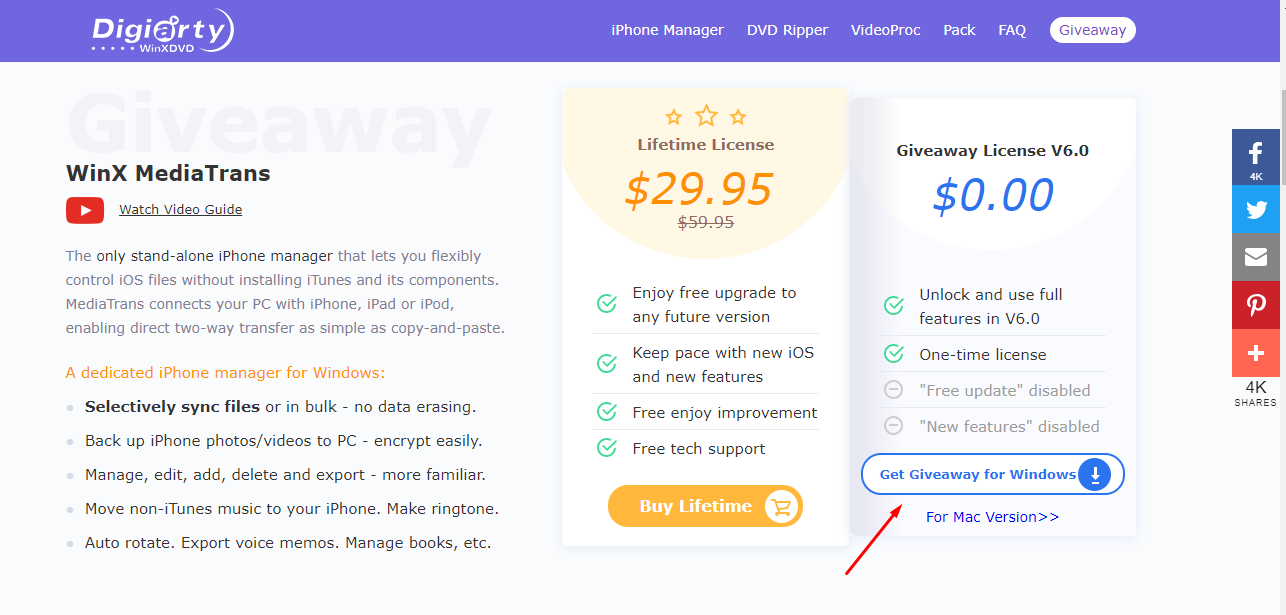 Scroll down, and download the "get giveaway for Windows" and the set-up file will appear on your screen and currently, I am running giveaway version.
Conclusion
Everyone can download the giveaway version and access the premium version without paying a single penny. Let us know what do you think about it in the comment section.