TimeText An Easy And Top Scheduling App For Android And iPhone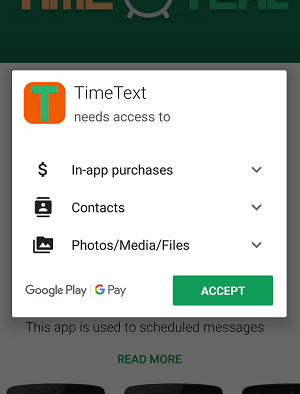 The world has evolved over the years in science and technology. The technology-based companies are investing billions of dollars in R&D so that they can produce new things. The new things are keeping every employed person and business people busy. No one can deny that professional life is now hurting personal life and many people are having difficulty in managing their personal life.
We have to learn how to maintain our relationships along with our job and business at the same time. You can use Android and iPhone's technology to stay up to date and use it maintains your relationships and never misses anyone's birthday, anniversary, and important day.
A group of intelligent developers have come together to provide you with a simple solution to never forget the important day of your parents, relative, sibling, and important people in your life.
What is Time Text?
The TimeText is an automatic message sending an application that sends scheduled messages to your loved ones on an important day, even when you forgot about it. The idea will remind you of pre-prepared messages that we use to have on Nokia phones.
The TimeText Android and iOS application developed by a group of people who were having a hard time maintaining their personal and professional life at the same time. There is no bigger sin when you forget an important day with your loved ones. The developers tested the beta version for a long time until it has solved their problem.
How does it work?
You have to add a number.
You have to add a date and time, and that's when the application will send the message.
Now, add the text message.
Then save the message.
The task is completed.
The date, time, the message will be sent to the recipient on the day you have scheduled it.
You can send greetings to your friends, family, relatives, clients, and more to let them know that you have not forgotten about it. The TimeText will also remind you at the same time, so you can quickly work out something.
Time Text Interface
TimeText is no complex application and anyone who spends playing around with the functions for a few minutes can master the features. Allow us to give you a short tour of TimeText so that you can understand its features and interface.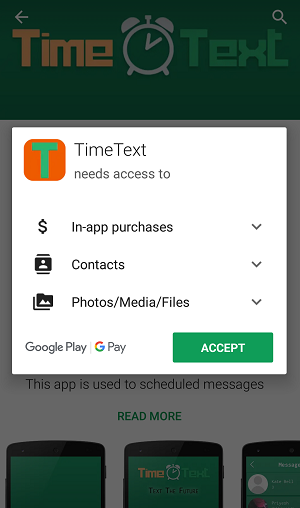 TimeText is available for iPhone's and Android devices, and the file is size is only 5MB. You can read the permission grant list, so you can find that TimeText does not collect the data of your personal information. Overall, it does not collect sensitive data from your, which is a great thing.
You have to create a free account with TimeText and add basic details about you like email, name, password, and other basic information.
Allow us to show you how you can sign up for a free account and begin your journey TimeText.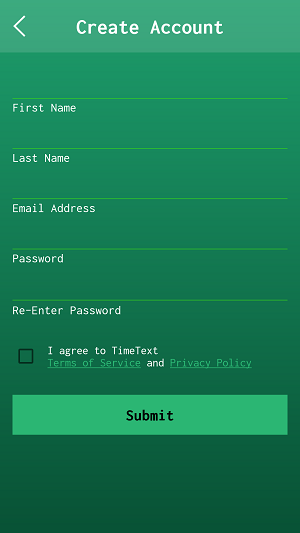 Enter your details in the empty fields. Make sure to enter a valid email address because you are going to need it later on to verify the email address.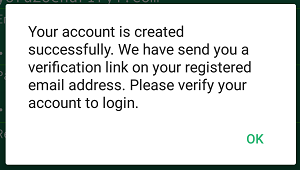 Now, you have to click on "verify" to confirm your identity.
The dashboard will look easy to understand, and we will tell you everything about the dashboard.
Allow us to explain you the functions available on TimeText app.
Messages: If you have saved any scheduled messages, then you can find in it.
Compose: You can create a new scheduled message.
Shop: You can find paid add-on in the shop, and that's where TimeText is planning to monetise it.
Contacts: In the contacts, you can browse saved contacts from your phone book.
Cancel: If you don't want to send any scheduled message, then you can cancel it.
Settings: You can customize TimeText in the settings.
The interface of TimeText designed to support newbies.
How to Schedule a Text SMS?
The official developer team of Time Text app designed it keeping the smartphone beginners users in mind. So you won't find any difficulty while navigating it.
Navigation is extremely simple on TimeText, and I have never reviewed any application with easy to navigate interface. However, we are going to show you a glimpse of it so that you can understand it.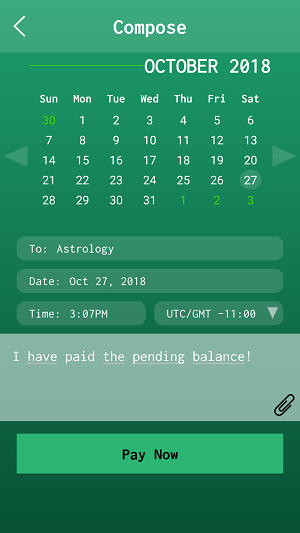 You have to select the year, month, and date.
Now, you have to add the contact from your phonebook.
Now, you have to add the time.
TimeText does not know which country you hail from, so you have select time zone manually from your smartphone.
Add your message,
Now, click on "pay now."
You have to pay few bucks so that the TimeText will send the message on the date, time and year.
That's it!
Conclusion
The TimeText application is easy to understand and does not cost you a penny to download it. You have to pay few bucks to send scheduled messages because the messages will be cancelled when you don't have enough credits and when your phone switched off, right? TimeText is an excellent application, and I would like to know your ideas and suggestions in the comment section below.