PeepSo – The Top Social Networking Plugin for WordPress With Video Uploading Option
It is important to keep website engaging and different from other competitors to attract more traffic to the website. For WordPress users, plugins can help in this aspect which will introduce networking options in their websites. Social networking community can help people from all over the world to gather at one single platform to interact with each other. It is a great way to attract visitors by allowing them to communicate with people around the world. PeepSo is such plugin which allows WordPress developers to build an engaging social networking platform in their website.
What is PeepSo?
PeepSo is an open source social networking plugin which can help you to build social networking site or online network community like Facebook on your WordPress site itself. It is free to download and use with most of the core features available with free version. However, most of attractive features are available after upgrading to premium version. There also few add-ons which will can be utilized for monetary benefits.
Features of PeepSo:
As mentioned before, PeepSo comes with free core add-ons with large number of premium add-ons that handle attractive functionalities. In free core version, we will get accessibility to use basic social networking features like:
PeepSo core is main add-on which is required to get the community started and it allows developer to activate main plugin and all remaining add-ons.
Moods add-on allows members to express their mood by posting it as status from 16 different mood options available. Private settings of posts can be controlled by members.
Tags add-on can be used to tag other members of community to posts and photos.
Location allows members to give information about location to other community members.
Activity stream and dashboard for community management.
Apart from these, free core add-ons, for effectiveness you can use premium extensions as below:
Friends' add-on to allow members to connect with other community members and add them as friends so that they can look at each other's profiles.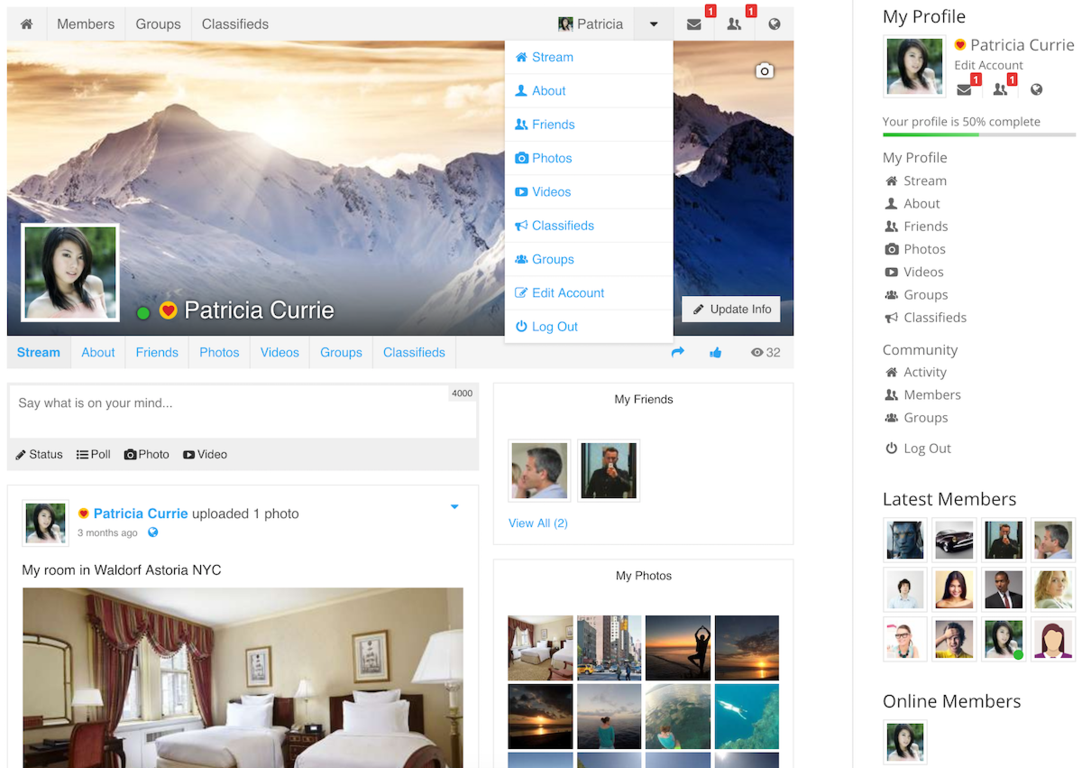 Photos and Video features allows members to post their photos, Videos and photo albums to the community and other members can like and comment on them.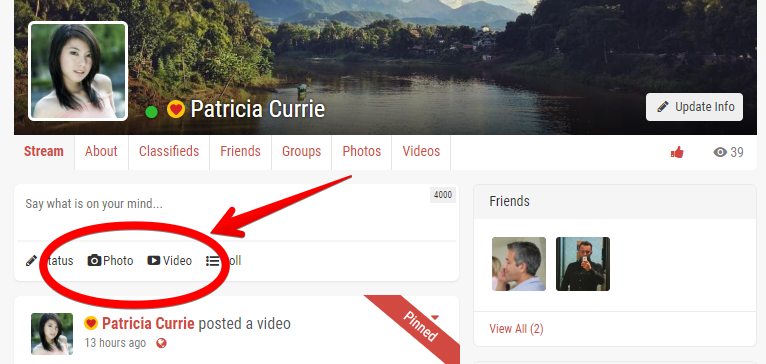 Groups feature allows members to create group within the social network with certain members.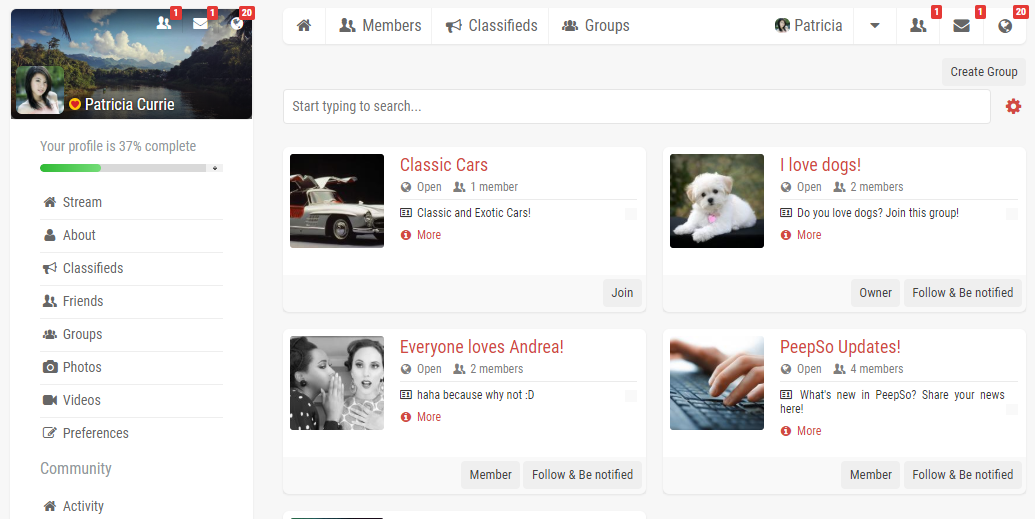 Extended Profiles is an add-on feature with which the blog admins can allow the network members to share more details about them with the community.
Chat add-on is an option through which members can talk with each others in private messaging or through real time chat.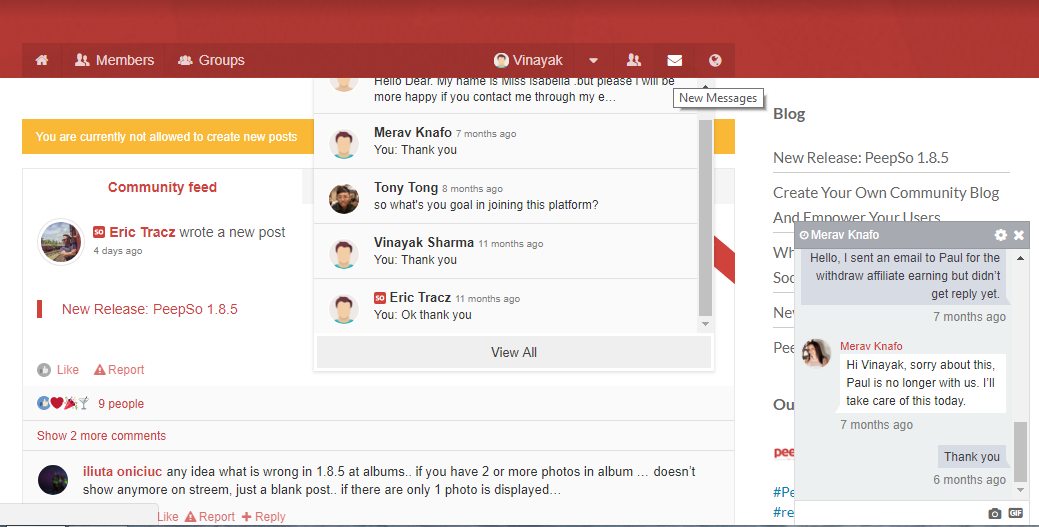 Reaction is another great add-on that allows members to react to posts instead of just "like" option.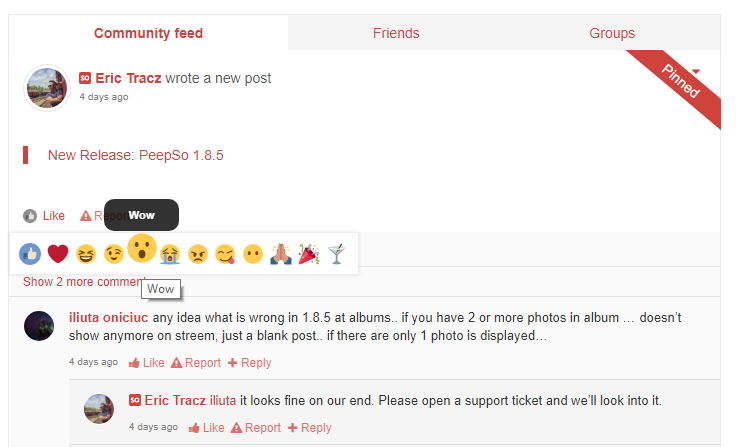 Along with these add-ons, other small features like Word filter, Blog posts, User limits etc., which can be add engagement to your network.
Apart from these core add-ons, there are some add-ons which can be used for monetary benefits which we will discuss in other section.
Newly Added Video Uploads Feature
1). Video Feature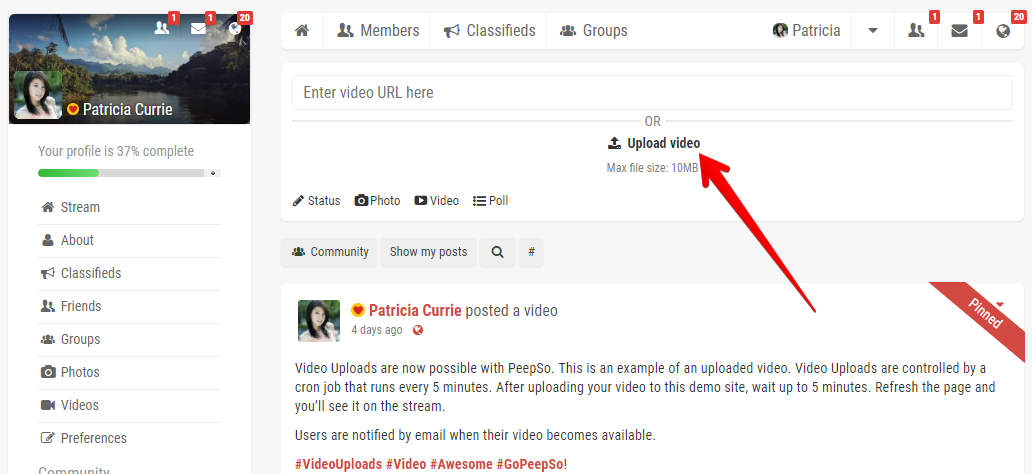 Recently in the new release of Peepso, their team implemented video uploads feature, one of the very rare feature which you can't even find in any other social networking plugin. You can just upload any of your videos just in one click as shown in the below image:
Peepso allows video uploads of maximum size limit 5 MB. This video upload feature is controlled by a cron job that runs every 5 minutes. So you just need to upload the video and wait for few minutes. Then refresh the page, you will find the video uploaded successfully. You will also receive email notification as confirmation after every video uploads.
Not only just video uploads, you can even share links of videos in your post. The video will be displayed in a wide area for easy and clear viewing.
There are totally two new widgets this plugin creates. One is my videos and other is community videos. In my videos widget, you can find all the videos uploaded or shared by that particular user. In the latter one, you can find videos from all the community members. Depending on the users privacy setting, the videos in the community widget will be loaded.
Almost all major third party video sites like YouTube, Vimeo and many other are supported by this new video plugin.
Enjoy using this new feature of Peepso.
2). LearnDash Integration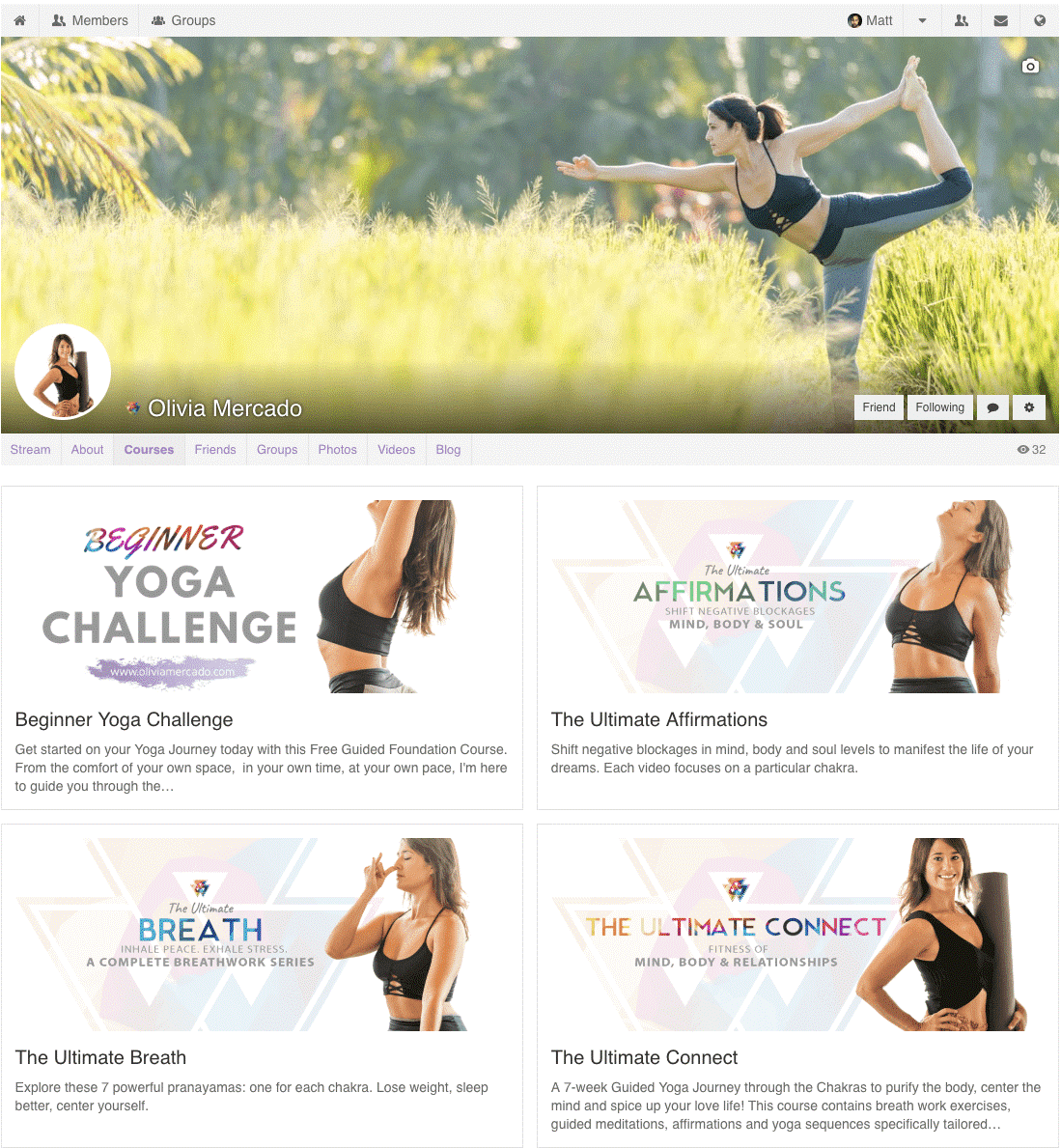 The other newly added feature is LearnDash Integration which Peepso is trying to implement for very long time and now at last this feature is successfully implemented. This plugin will help you add the learning management system to your community.
In the courses tab, you can see the courses that you are enrolled in. Not only this, you can even see what others are enrolled in by visiting their profiles. A beautiful post get created on the activity stream when someone enrolls for a new course. One of the worthy feature for growing your community.
Setting Up and Configuring PeepSo:
First we need to create an account on PeepSo so that we can have account access to the plugin. We can directly create community from the settings. The home page shows you the activity from friends and other connections in community. At the right side links to important account pages which gives feeling as good as using well developed social network like Facebook. The chat system is also great and it is as good as best chat systems of well famous social networks. PeepSo allows you to upload photos and videos, it is one of the few plugins which allows to uploading videos up to size of 5MB.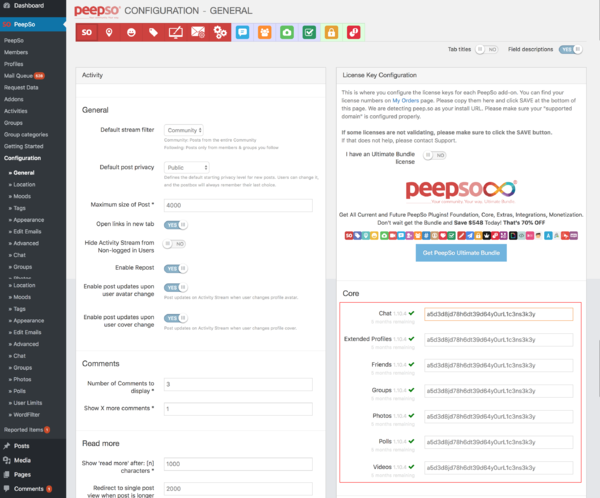 Configuring your community:
It provides one of simplest and broad number of options to configure the network. PeepSo admin dashboard gives great overview of activities such as user engagement, recently made comment and user demographics. List of all plugins installed will display on right hand side of admin dashboard. Configuration area allows you to change many aspect of community which is divided as Config settings, appearance, edit mails and advanced options.
In config settings area, we can change settings for many features such as social sharing, reporting, verification of accounts, Recaptcha and terms & conditions. Emails alerts and Notification can also be configured in this area. License key are required for every plugin.
In activity settings, main activity stream can be controlled like control the maximum size of posts, number of posts to list and limiting comments on posts. Also, photo settings can be modified. In appearance area you can change user profile settings like avatars and displaying style of user's name. CSS template used for website can also be modified. Also, every single type of email that is sent to users can be customized. And there are so many other configuration settings. This is really impressive that PeepSo has given so much importance to users taste.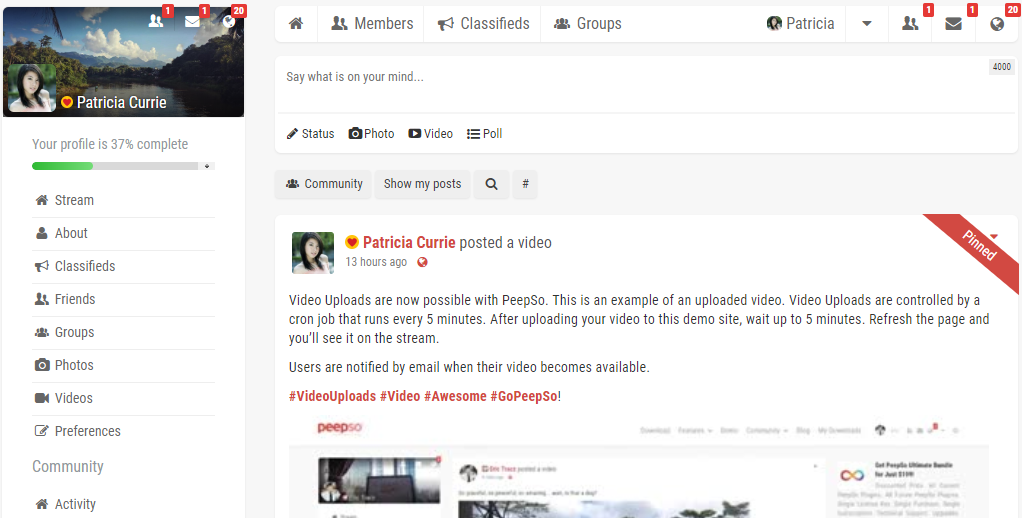 Using PeepSo for Monetary Purposes:
As mentioned previously, there are some special add-ons available that will allow website administrator to add advertisements and paid memberships. They are:
WP Adverts allows showing paid advertisements on website, which can be used by all users.
Advanced Ads allows displaying specific ads to only specific community members based on their profiles.
Paid Membership Pro provides users list of membership offers that they can use to have smooth experience in networking.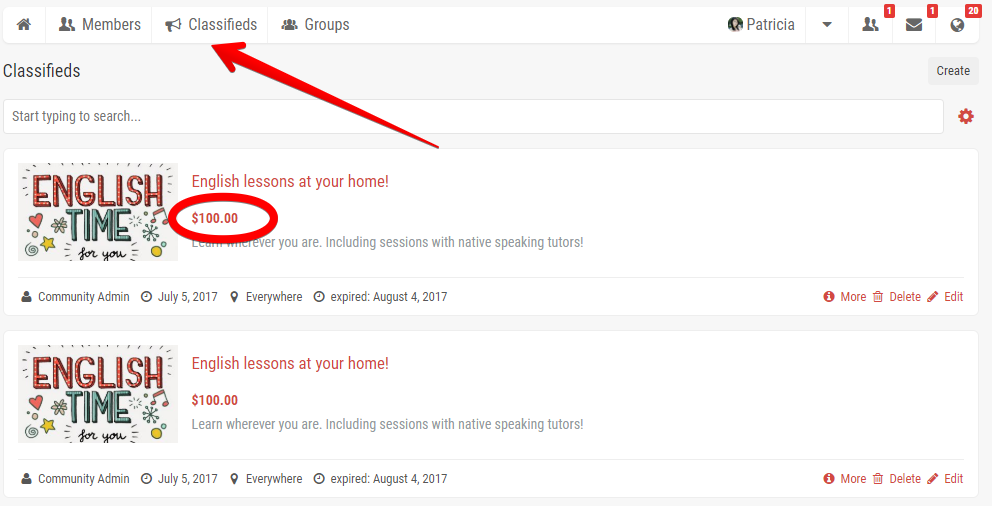 Pricing:
Recently, PeepSo even reduced their service pricing if bought in bundles. In this bundle, you will get access to all the plugins of Peepso. So it is worth buying this if you want to save some money. There are three bundles of membership available in Peepso. Ultimate Bundle which costs $249 and caters single site whereas PeepSo ultimate bundle for 3 sites and 5 sites costs $ 499 and $749 respectively. All features, both free and premium add-ons will be given access along with any future plugins with yearly subscription. However, add-ons can also be bought individually, like all core add-ons costs $161 and each extra add-on costs $19.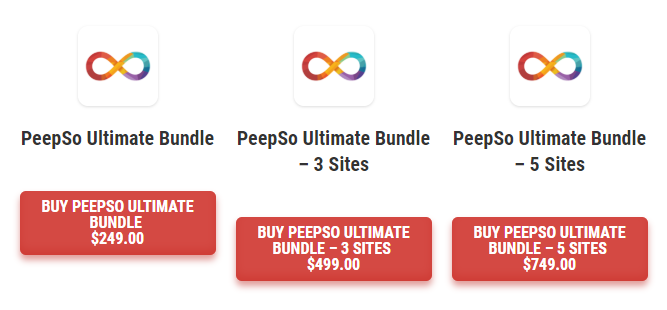 Final Verdict
PeepSo is a great plugin for website developers who are looking for integrating a social networking in their Site. Excellent features and great admin configuration options will help administrators to maintain their network directly by them. PeepSo has made it simple for amateurs of WordPress with simple settings. So, I would suggest using PeepSo in your website for great networking experience.