AudFree Spotify Music Converter For Mac OS X Review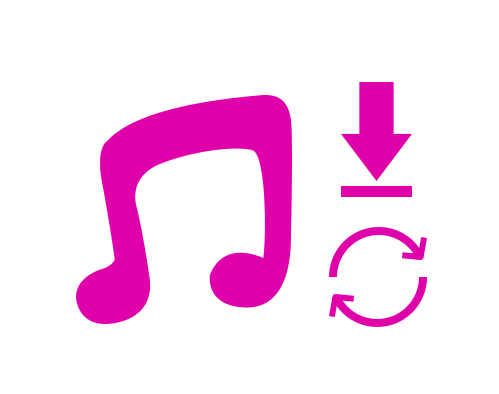 Spotify is undoubtedly the most popular online music streaming platform with over 70 Million active subscribers. The platform is available with two different versions, a free version, and a premium one. For using extra features, you can subscribe to a premium plan, and you would be able to explore the Ocean of Music. Many Spotify users always look for the way to convert the music in Mp3 format, so that they can play it offline to any other devices. AudFree Spotify Music Converter for Mac is now available for the Mac users. This tool lets both, free and premium users convert the Spotify music quickly.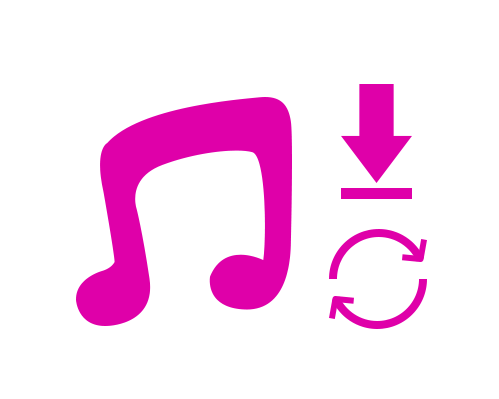 Fortunately, this music converter tool allows you to download the music file in different formats such as MP3, AAC, WAC, M4A, FLVAC, etc. You can get your favorite music tracks downloaded in these formats to play them offline on any other devices. Spotify's Premium version allows the subscribers to download the music to hear offline. However, you can only listen to the downloaded tracks from within the Spotify app. You can't listen to on other music players or can transfer it to different devices.
This tool resolves all of your music-related issues with the Spotify app. You can easily convert the files from Spotify's app and can get all of your favorite tracks downloaded.
Features:
Get all of your Spotify Songs and music downloaded in various formats to listen to them offline
Perfect DRM Removal Software which bypasses DRM Protection
Lightweight version runs smoothly on your device.
Easy to use tool with a decent user interface for everyone
AudFree Spotify Music Converter tool is compatible to run on your Mac system. Fortunately, the tool is available for free for testing purposes. After this, you can go for the premium version to get maximum features which are absolutely useful for you all. Before getting this tool, you need to fulfill the necessary system requirements for this tool.
System Requirements:
Supported Mac OSs: Mac OSX 10.8, 10.9, 10.10, 10.11, 10.12, 10.13 and Mac OS High Sierra
Required RAM: 512 MB
Processor: 1 GHz and above
Spotify Web app
Make sure you have all the above listed system requirements. Once confirmed, you can proceed further to download and install this tool on your system.
How do I convert Spotify Songs with AudFree Tool?
As mentioned above, this tool is available for free to download for testing purpose. Following steps will guide you to install this tool and convert the Spotify music quickly.
Step 1:
First, you need to visit the official website of the AudFree Tool. Click on to the following link.
Download AudFree Tool for Mac
Step 2:
Click the Green Download button which is a free version for Mac users. Downloading process of the tool will begin itself.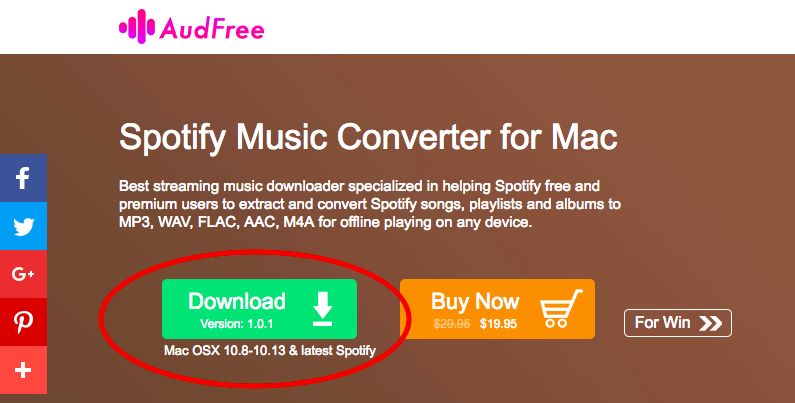 Step 3:
Once the setup file is downloaded, double click on to the file. You will be asked to agree with the terms and conditions. Select the Agree button to move ahead.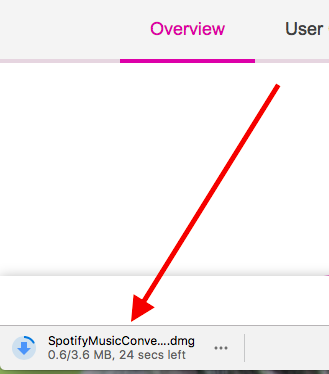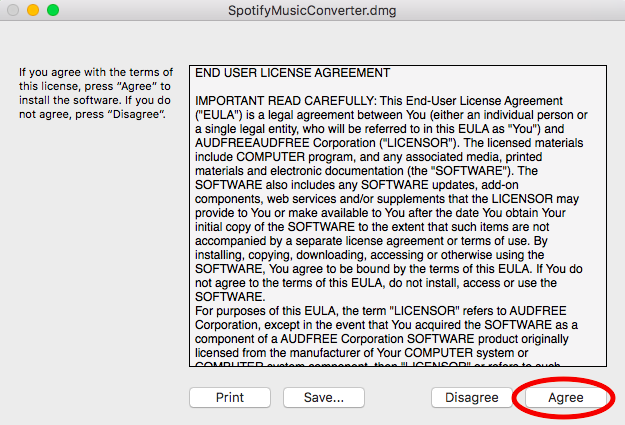 Step 4:
Now, you will be asked to drag this application to the Applications folder of your Mac system. Simply press and hold the icon of this tool and drag it to the Applications folder using your mouse.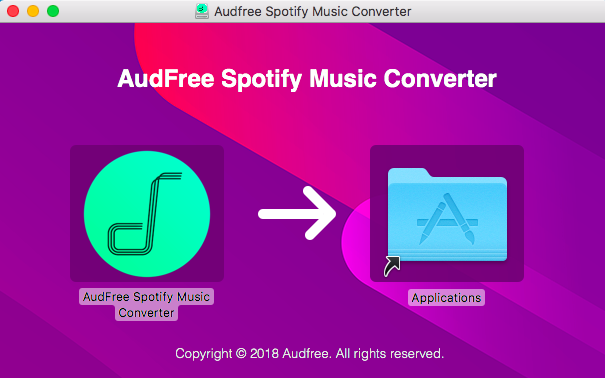 Step 5:
Go to the Dock and Click the Applications Folder. You would see the icon of AudFree Spotify Music Converter app there. Click on to the app's icon.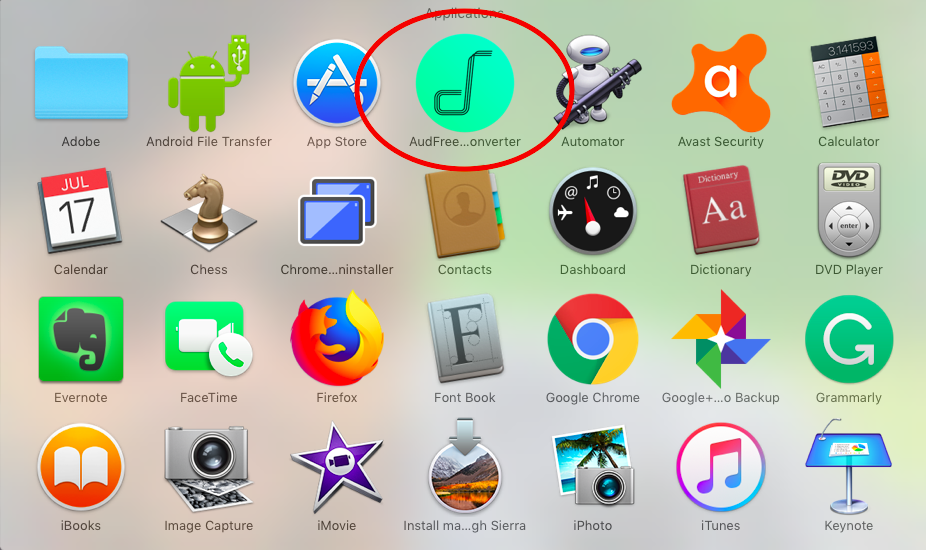 Step 6:
You would see the front-page of the Spotify's app. (Make sure you have Spotify Web app installed on your system. If not, you need to install it before using this software. The software requires synchronization with the Spotify app.)
Step 7:
Click on to the + button from the upper right corner or search for the music you want to convert using this tool by using the Keyboard.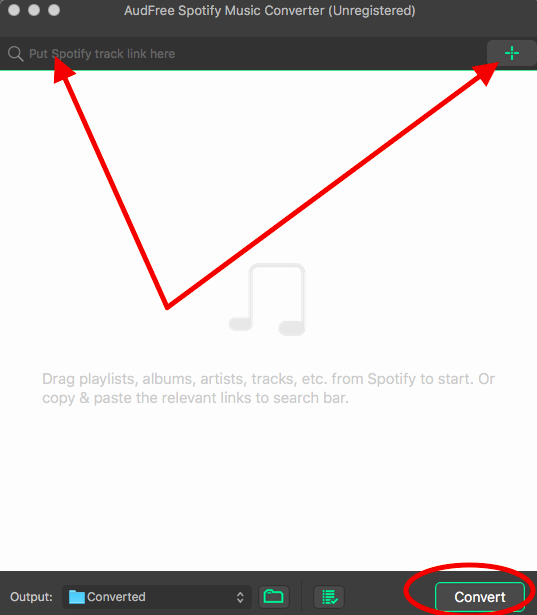 Step 8:
The software will ask you to select the output of the file. You can select the format, channel, sample rate and bit rate.
Step 9:
At last, click on to the Convert button.
That's all you have to do to get your Spotify's Music downloaded. The conversion process will take a little time to complete. Once done, you would be able to select the Download button and downloaded the songs to your Mac system.